One of my passions in life has been collecting rare Sports Memorabilia. In most cases the offered material is one of a kind.
1902- 1907 Springfield Ponies Imperial Cabinet Photograph.
Massive and magnificent image derives from the personal collection of 1909 Pittsburgh Pirates back-up catcher Paddy O'Connor, who is pictured as one of the players in this posed shot. Image size is 14x19", with mount extending to approximately 21x24". In original frame (25x29"). Photographs from this era presented in this dimension are extremely scarce.
$1000
1909 Jack Johnson vs. Jim Jeffries Contract Signing Cabinet Photograph.
For the racist element of white America, the national nightmare begins. Though Jack Johnson had claimed the Heavyweight Championship of the World in 1908 with his victory over Tommy Burns in Sydney, Australia, it was only with his 1910 destruction of Jeffries that the American public felt forced to accept his reign. This rather playful image of the contract signing belies the ugly sentiments that boiled beneath the surface (though surely we would not suggest that every white American felt threatened by Johnson's emergence). The photo appears to have been issued as some form of alcohol advertisement, as text at bottom right states, "Signing of the articles of the Jeffries-Johnson contest over a case of Pommery." Johnson is easy to spot, and Jeffries sits at the left shoulder of the mustached man at center, identified as promoter George Little. Near the right edge we see the familiar face of American League (baseball) president Ban Johnson, the 14x13" viewable area elicits few condition concerns, mainly a chip to the cardboard mount at upper left corner. Professionally matted and framed behind glare-proof glass to dimensions of twenty-two inches square.
$1800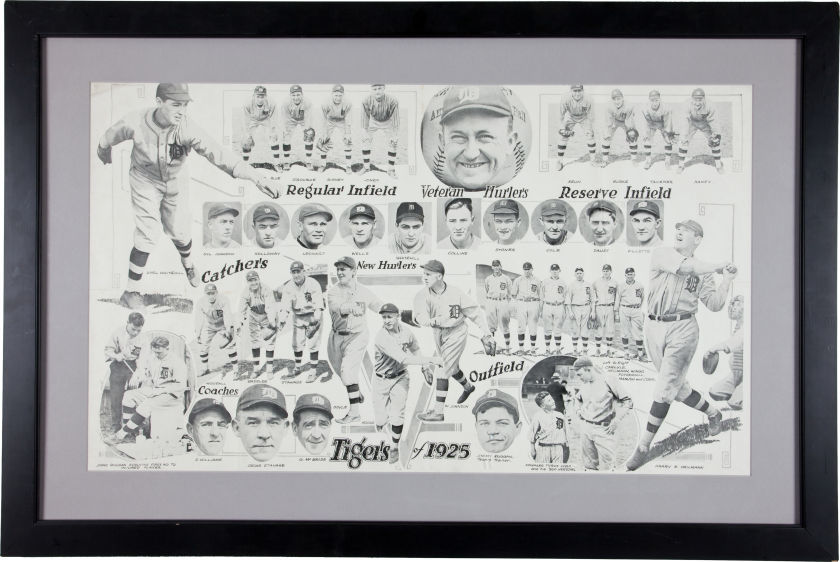 1925 Detroit Tigers Original Photograph Display.
Offered here is a spectacular original vintage photograph collage, featuring Ty Cobb and his 1925 Detroit Tigers. Framed and matted at 28x42", this piece is most likely a newspaper supplement, which exhibits multiple folds throughout. Frame exhibits moderate wear.
$750
1927 Hank Greenberg Signed High School Yearbook
It's tough to believe that the original "Hammerin' Hank" once went by the name "Hyman," but, sure enough, we have the proof right here. With the earliest known Hank Greenberg autograph in existance, this is sure to be a must have for the Greenberg collector. Though the future Hall of Fame slugger isn't pictured in the James Monroe High School yearbook, not yet a senior classman, his 9+/10 "Hyman B. Greenberg" signature appears among the many autographs on the volume's closing pages, an extraordinarily rare "Jewish name" autograph variation. The hardcover book from one of his schoolmates exhibits moderate handling wear but no significant issues. Pre-certified by PSA/DNA. Auction LOA from James Spence Authentication.
$2500
1927 Hank Greenberg Signed High School Yearbook
1927 Hank Greenberg Signed High School Yearbook
Hyman B. Greenberg Signature.
1928 Amsterdam Summer Olympics Participation Medal.
Offered here is an extremely rare participation medal from the 1928 Amsterdam Summer Olympics. Composed of bronze, this piece measures at 2.25" in diameter. NM quality.
$750
 
1928 Amsterdam Summer Olympics Participation Medal.
Opposite side of this rare bronze medal from the 1928 games.
1939 Baseball Centennial Game Worn Patch.
The most recognizable uniform patch in history, this style was on Teddy Ballgame's sleeve when he took his first at-bat, and on the Iron Horse's as he said farewell. Some expected age toning, but otherwise no issues of note to the offered patch.
$750
1939 Baseball Centennial Patch
The reverse of the patch.
1942 Babe Ruth Signed Photograph From The Pride Of The Yankees Filming.
The original recipient of this great signed photo stands flanked by a trio of Yankees Hall of Famers in this shot snapped during filming of the critically acclaimed silver screen celebration of the life of Lou Gehrig, "The Pride of the Yankees." Vernon Rickard played catcher during game action in the film, and surely got a few pointers from Bill Dickey, who stands beside him. The Babe has inscribed his image in 8/10 black fountain pen ink, a simple, "To My Pal Vernon From Babe Ruth." The 8x10" photo exhibits minimal wear at the thin white border area, leaving the image itself free of distractions. Full LOA from PSA/DNA. Auction LOA from James Spence Authentication.
SOLD
1945 Stan Musial U.S. Navy Worn Uniform Blouse.
The Cardinals great enlisted in the military on January 23, 1945 and was soon assigned to special services in Hawaii, where he worked a ferry launch unit to bring back damaged ship crews entering Pearl Harbor, with time to play in the eight-team Navy baseball league in the afternoons. This lightweight canvas shirt was part of Musial's wardrobe during his World War II service, and we find his handwritten name in marker at interior hem. Fine condition with evident wear.
Letter of provenance from the Musial family.
$4000
1945 Stan Musial Navy Uniform
Image of reverse of blouse.
Stan Musial Pictured In Navy Uniform.
1945 Stan Musial U.S. Navy Shirt
Interior stamping with Stan's initials and last name.
Muhammad Ali Signed Note With Drawing Graded 9 by PSA.
The Greatest of all time has added a near perfect black ballpoint signature with a thoughtful statement regarding life after death and a drawing of a heart. Inscription reads "Service to others is the rental pay for my room in the hereafter."
$1500
1950's Jackie Robinson Signed Original Photograph.
Being Jackie definitely had its benefits once you got past all the death threats. The heroic Hall of Famer stands at the center of a bevy of beauties in this 5x7" vintage shot. Signed "Best Wishes, Jackie Robinson" in 7/10 ink. Photo EX. Full LOA from PSA/DNA. Auction LOA from James Spence Authentication.
$850
1952 New York Giants Presentation Tray.
With the Polo Grounds serving as the background is this 12.5x16.75" tray. Facsimile signatures surround the surface as as do a few minor scratches. A placard reading "Art Abfier" is entrenched on front. Abfier was a well-known New York photographer. A rope is administered on for mounting purposes.
$500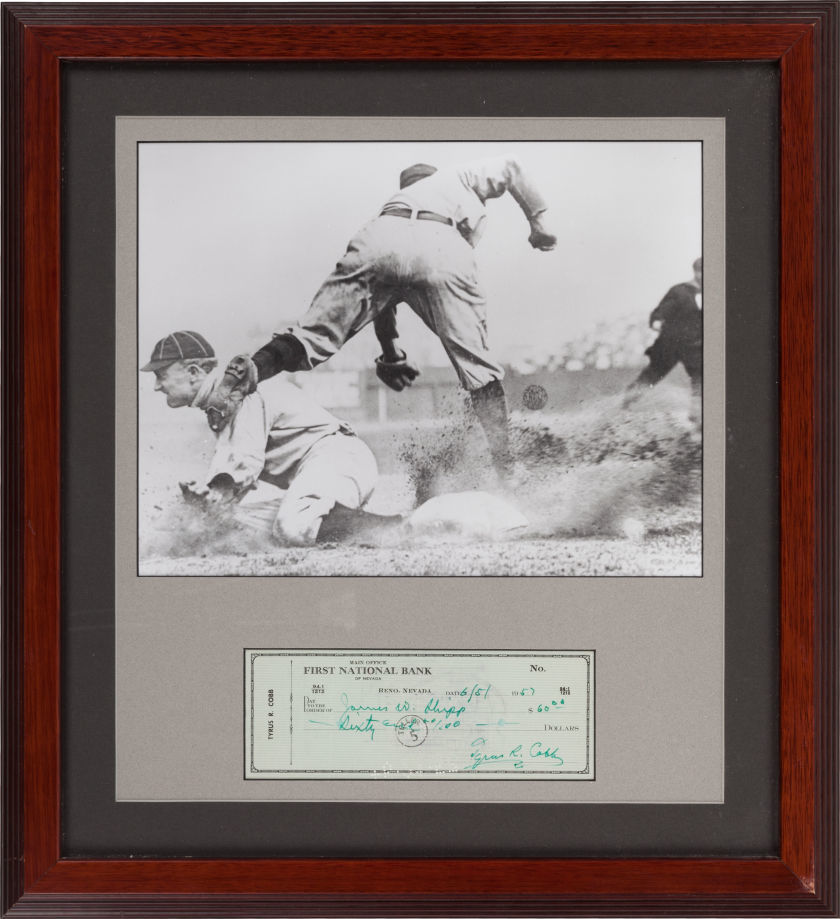 1957 Ty Cobb Signed Check Display.
The Georgia Peach uses his favored green ink to fill out and sign this personal check made payable to a "James W. Shipp" for sixty dollars. This is the most desirable format of Cobb checks, with his printed name running south to north at the left edge, a factor that adds appeal and value to the piece. All ink is 9/10, and a few storage fold lines do little to distract. The check is matted and framed beneath a classic Cobb action shot (modern photographic print) to dimensions of 19x21". Pre-certified by PSA/DNA.
$1650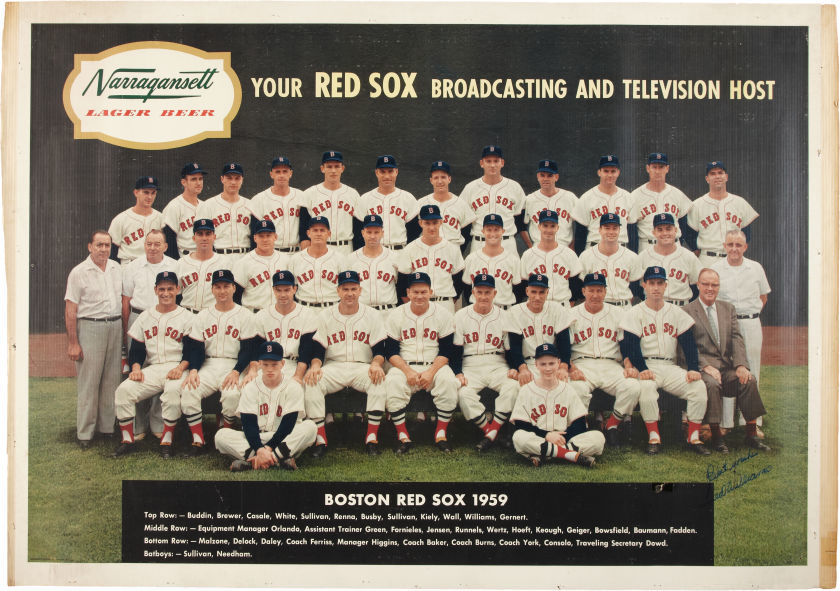 1959 Boston Red Sox Team Huge Poster Signed by Ted Williams
Exceptionally rare and Enormous (48x68") poster issued by Narragansett Lager Beer would be worthy of collecting lust on its own, but adds a tasty twist with the addition of an appropriately large 10/10 blue sharpie signature from the team's greatest star. The poster is mounted on lightweight corrugated cardboard which performs its intended task surprisingly effectively, keeping the poster free of any significant condition flaws. A truly huge display piece that will draw the eye from fifty yards away. Almost certainly the largest Williams signed image on earth. Full LOA from James Spence Authentication. Pre-certified by PSA/DNA.
$1500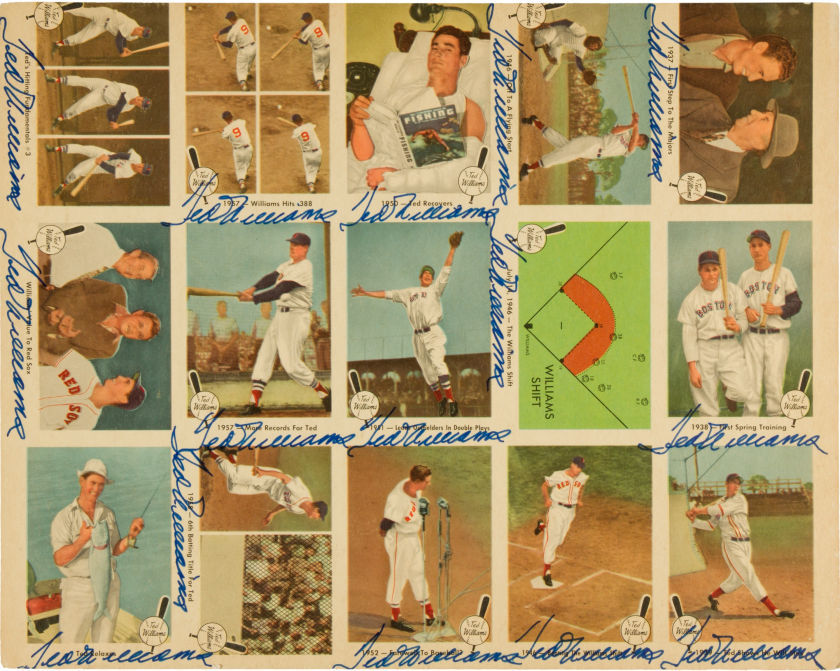 1959 Fleer Ted Williams Uncut Sheet Signed 15 Times.
You can never get too much of a good thing, and signed examples of Teddy Ballgame's eponymous 1959 Fleer issue are unquestionably good things. Here we present an uncut sheet of fifteen cards documenting the Hall of Fame career of this Boston legend, each blessed with a 9+/10 blue sharpie signature from The Kid himself. Minor edge wear causes no distraction. Included is a wax wrapper from an original pack. Full LOA from PSA/DNA.
$3750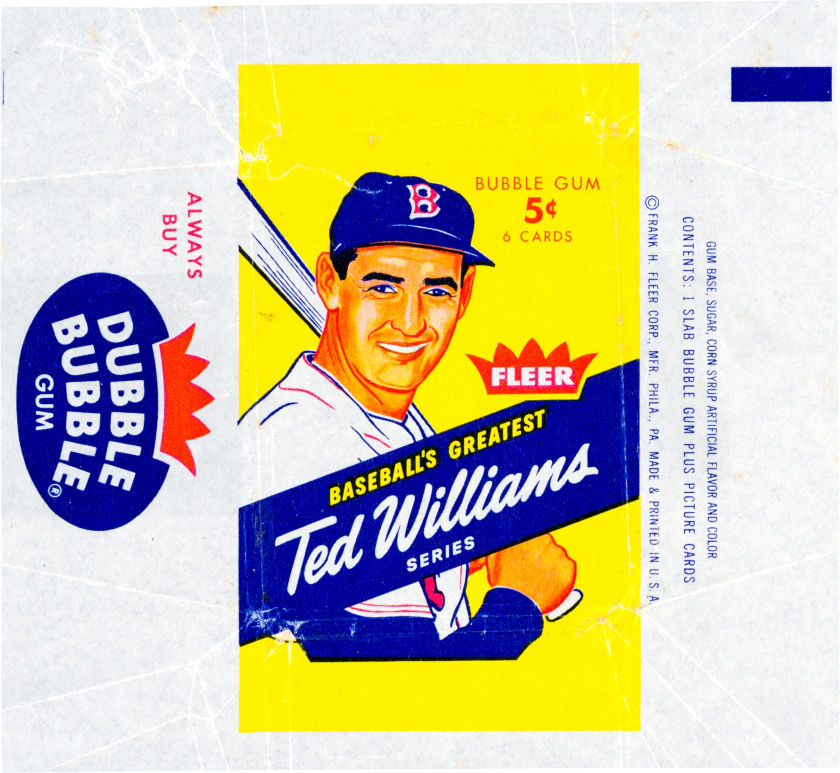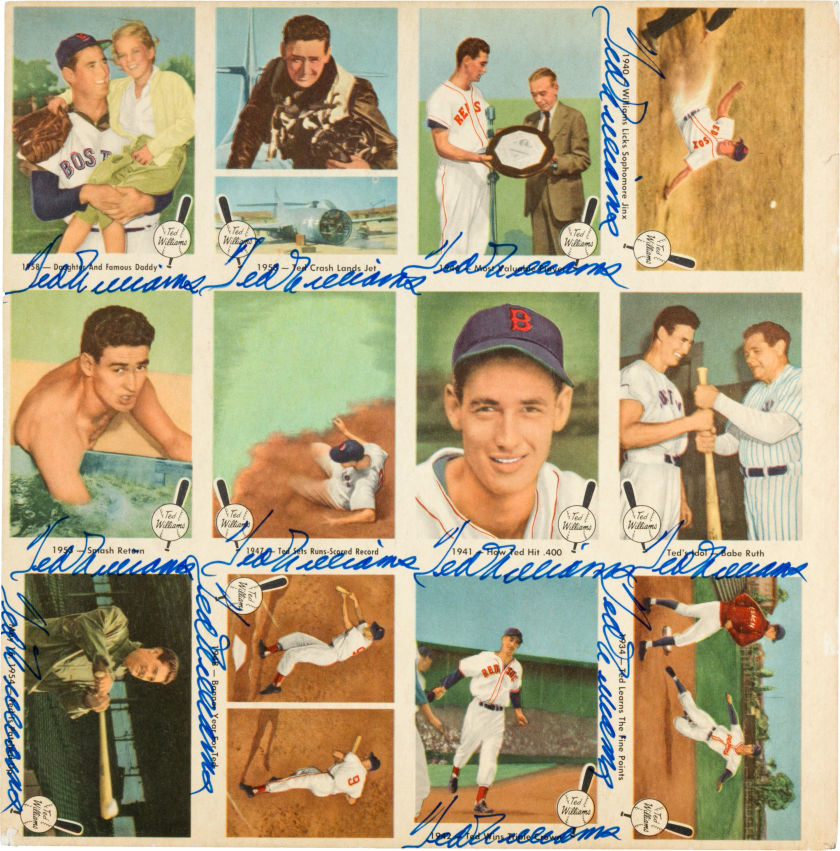 1959 Fleer Ted Williams Uncut Sheet Signed 12 Times.
A companion piece to the previous lot, with only slightly more modest dimensions. A dozen cards from the 1959 set that documented the life and career of Boston's greatest star appear in this uncut sheet, each blessed with a 10/10 blue sharpie signature from Williams. Minor edge and corner wear is of little distraction. A top candidate for framing. Full LOA from PSA/DNA.
$3000
1974 LeRoy "Satchel" Paige Signed Contract.
Five page contract for exclusive television rights to Paige's book "Maybe I'll Pitch Forever" is autographed on the final page by "Leroy Satchel Paige" and Paige's wife LaHoma in 9/10 ink. Contract exhibits original storage folds and punch holes at left edge, otherwise EX-MT.
$800
1974 Satchel Paige Signed Contract
Television rights to Paige's biography. The contract is signed by Satchel and his wife. $800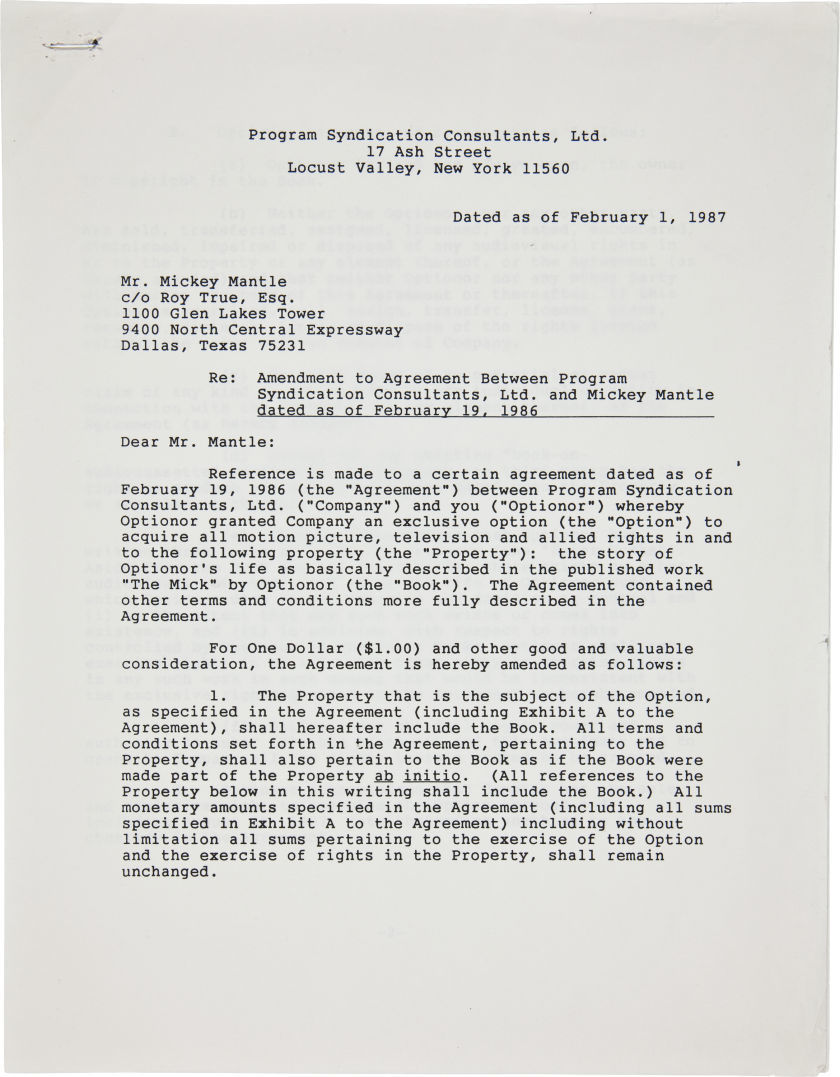 1987 Mickey Mantle Signed Book/Movie Contract.
Three-page contract appears to secure the film contract for an adaptation of the published work "The Mick." Third page is signed by Mantle in 10/10 ink. Pages are free of condition problems. Pre-certified by PSA/DNA. Auction LOA from James Spence Authentication.
$1500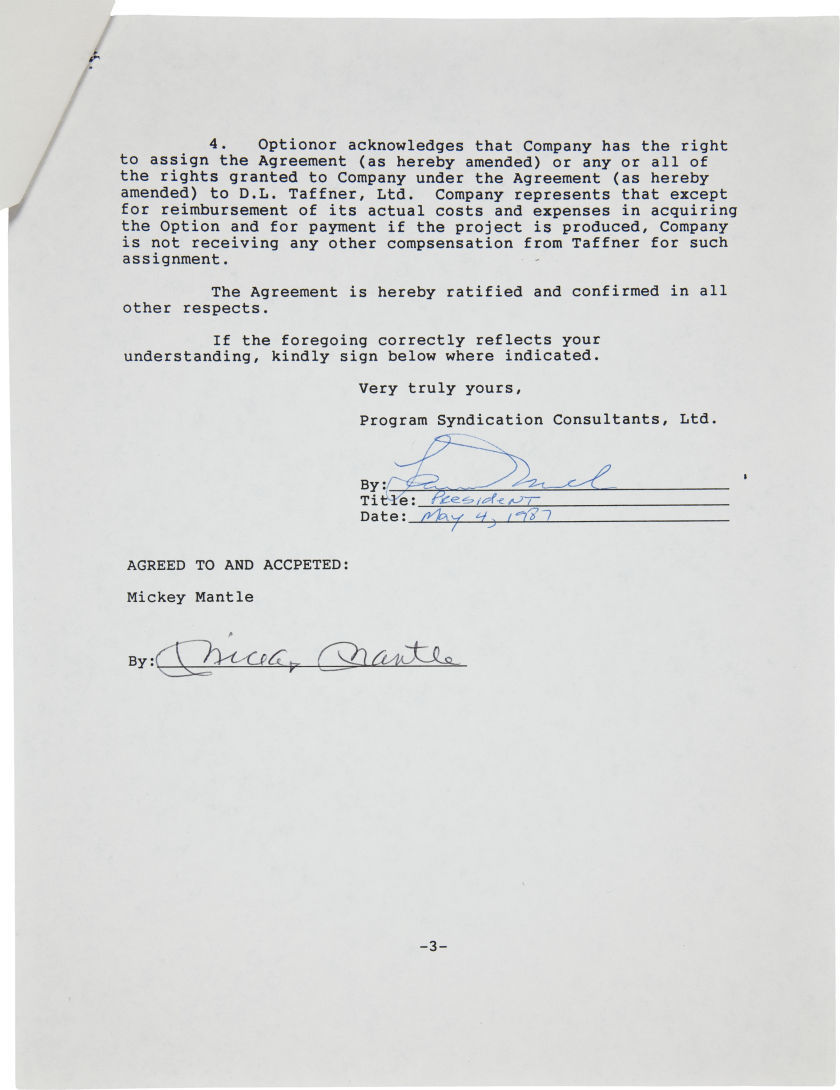 1987 Mickey Mantle Signed Book/Movie Contract.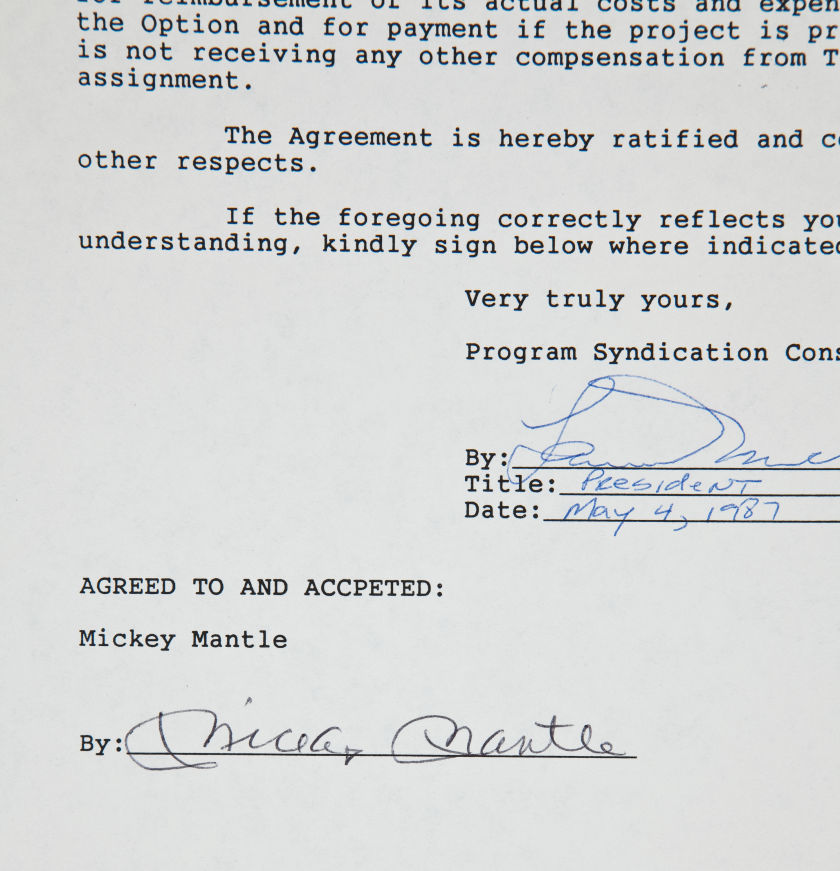 1987 Mickey Mantle Signed Book/Movie Contract.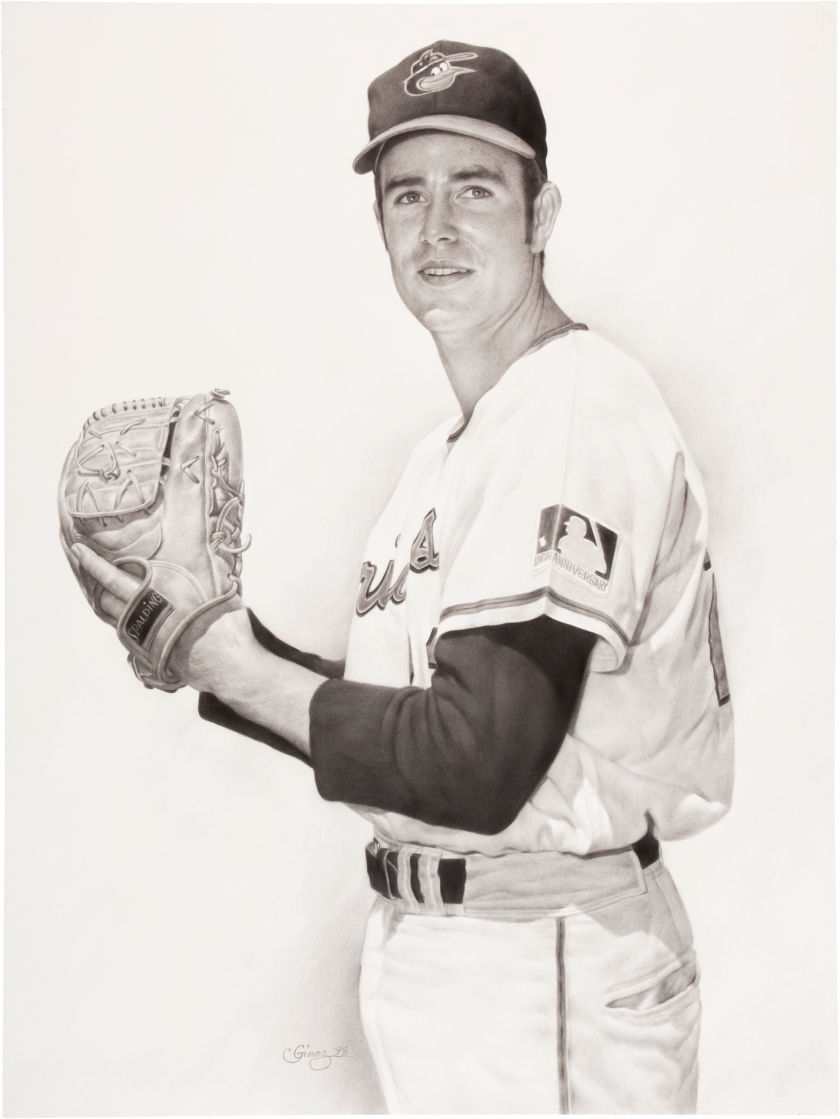 1998 Jim Palmer Original Charcoal Drawing by Intoy Ginez.
Extraordinary skill and patience was required to create this stunning charcoal on board artwork, and almost photographic depiction of the Hall of Fame pitching legend in his early years. No detail is spared in the meticulous drawing, which measures an enormous 30x40" in size. Signed by artist at lower center.
$3750
Circa 1940s-50s Pete Gray and The House of David Broadside.
Following his stint in the big leagues, Pete Gray enjoyed quite the following. This 13x19" poster was used for promotion of Gray's playing for the famous House of David baseball team. We thoroughly enjoy the headline "Whiskers Nite Baseball Whiskers." Minimal water spots are found on the lower region. The upper right corner is missing. Pencil markings are visible on the back as well.
$500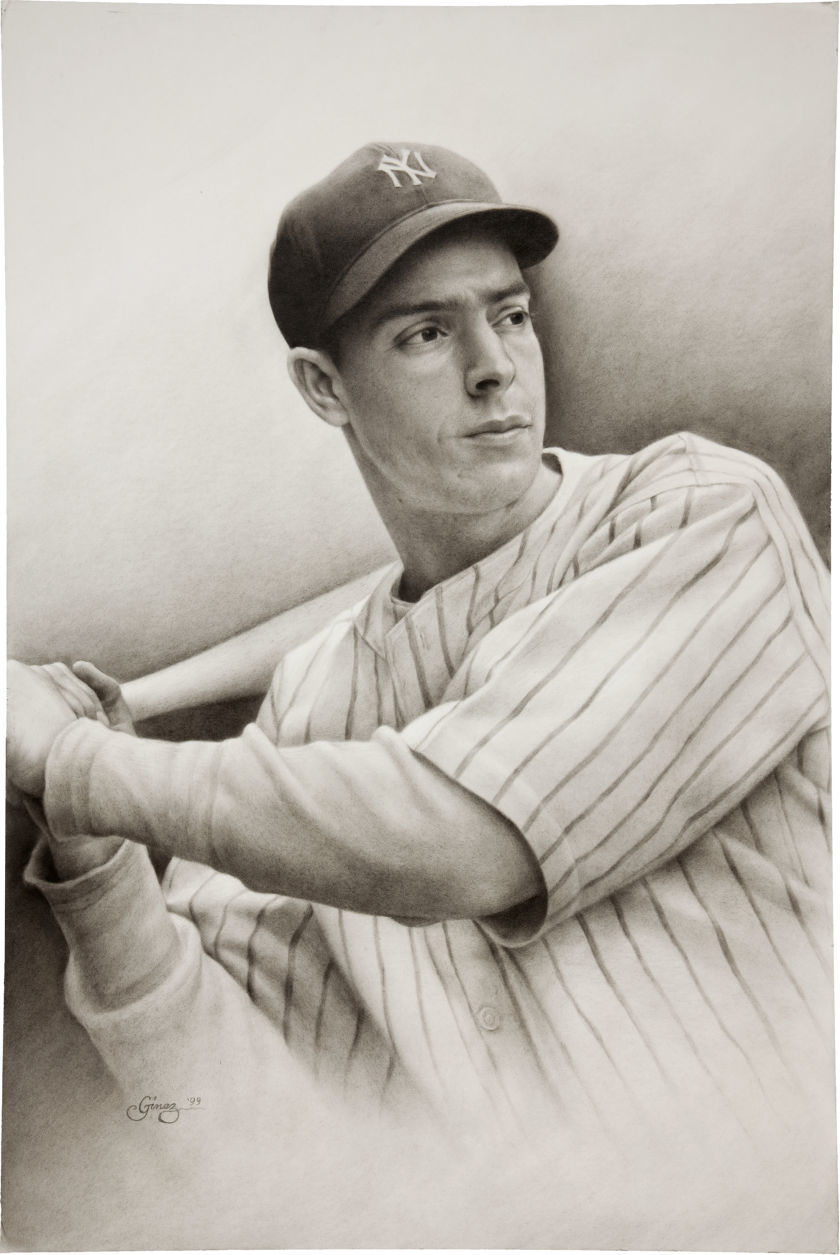 1999 Joe DiMaggio Original Charcoal Drawing By Intoy Ginez.
Meticulously rendered charcoal on board work is stunning in its detail and photorealism, exhibiting a mastery uncommon in the sports art realm. This wonderful portrait of a Streak-era Clipper dates to the final year of his life, and was likely crafted as a memorial to the recently fallen legend. Artist signed at lower left. Unframed, 20x30".
$4000
Circa 1950's Baseball Circus The Globetrotters Of Baseball and Indianapolis Clowns Negro Leagues Promotional Broadside.
Advertising some of baseball's finest is this 11x17" promotional poster, dubbed as a baseball circus. Bobo Small and Steve Anderson, a one-armed ballplayer, are promoted as featured attractions. I believe this was issued in the mid to late '50's because of the reference to Hank Aaron. The lower portion of this poster was used for promoting an Indianapolis Clowns tilt with the Kingston Braves.
$500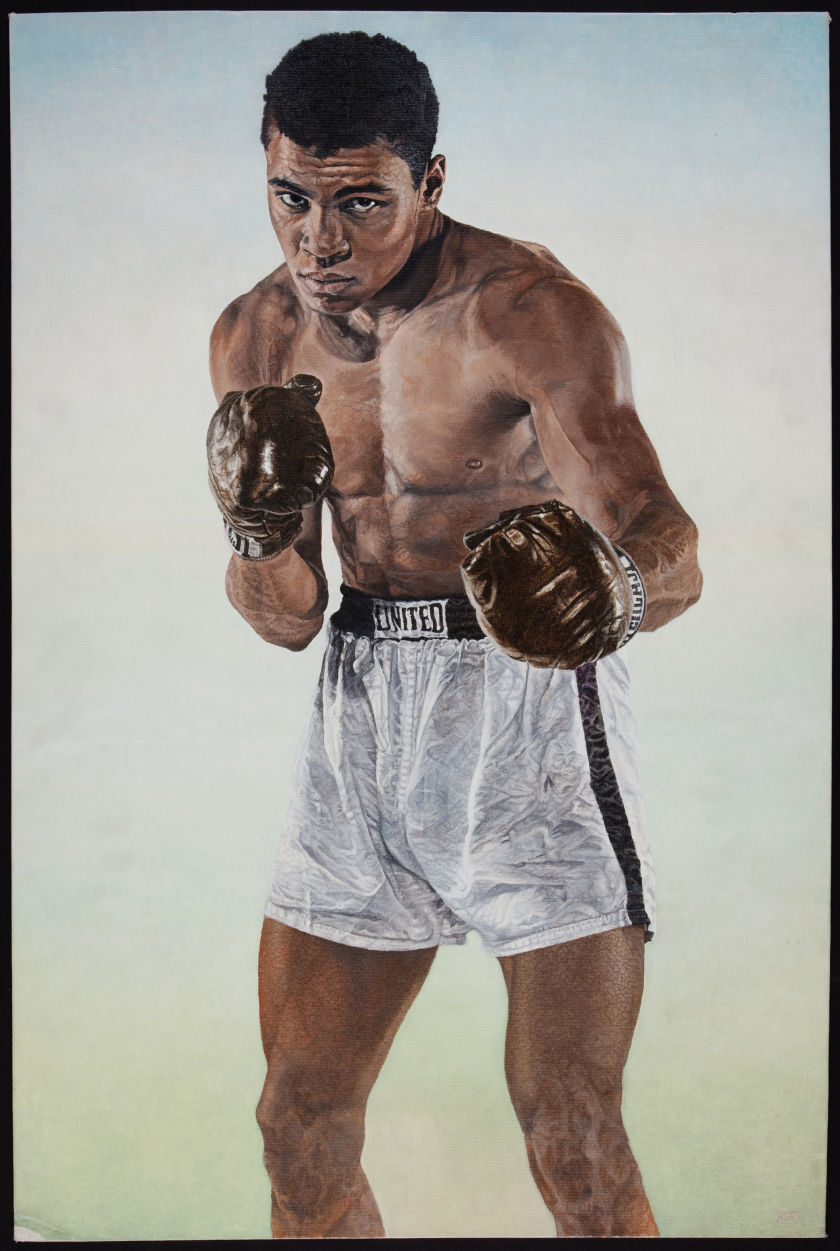 Muhammad Ali Original Painting.
A must-have for any serious collector of Muhammad Ali, this original painting features the champ in his classic white and black trunks. Measuring at 20x30", it was painted by notable artist Kevin Revis.
$4500
1957 Fear Strikes Out 3 Sheet Movie Poster.
Three Sheet (41" X 79"). Drama.
Starring Anthony Perkins, Karl Malden , Norma Moore, Adam Williams, Perry Wilson. Directed by Robert Mulligan. An unrestored poster that displays signs of use. May include light edge or fold wear, slight fold separations, very minor paper loss, pinholes, or minor surface crinkles. The poster is in three sections, as originally printed. Please see full-color, enlargeable image below for more details. Folded, Fine/Very Fine.
$200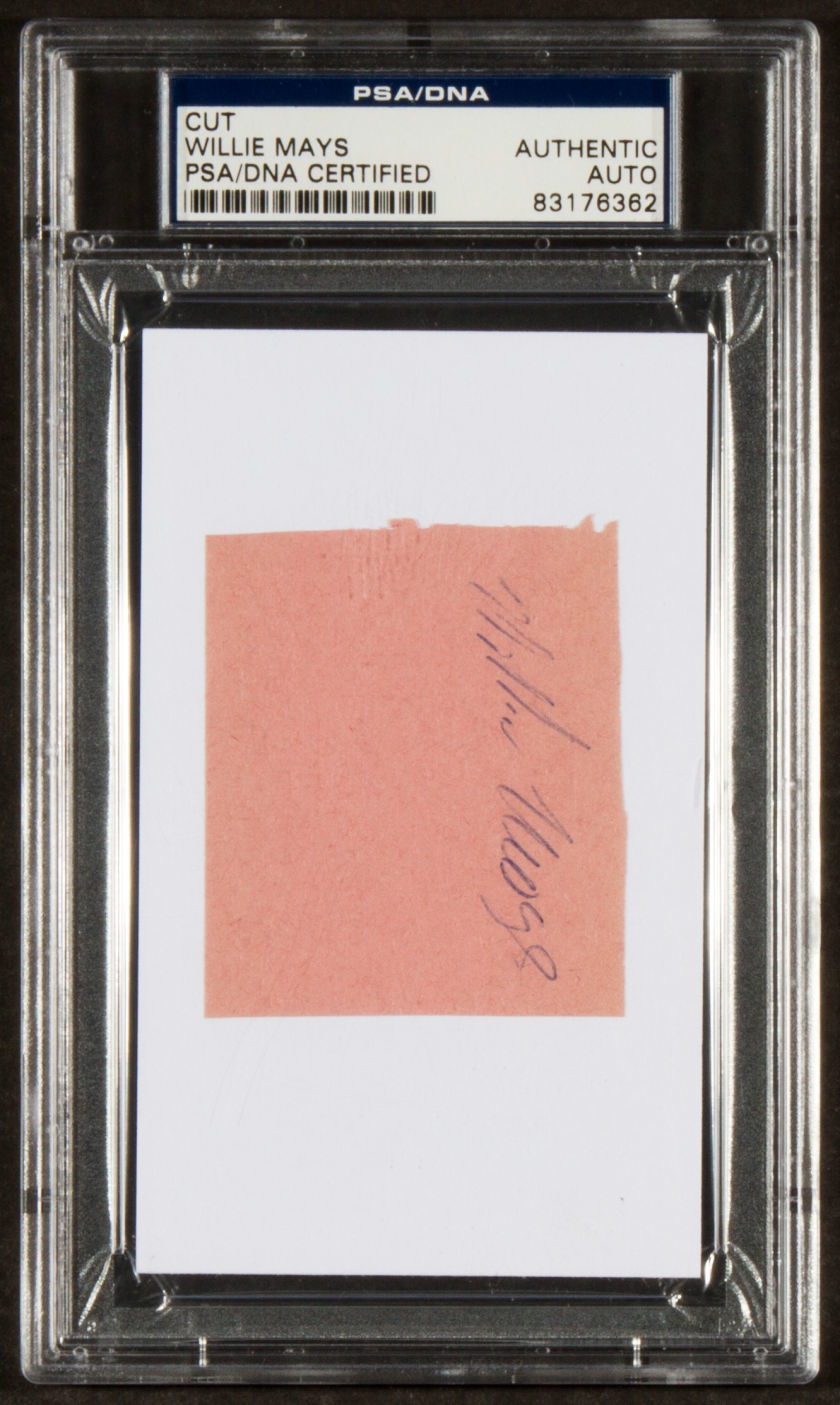 Willie Mays Cut Signature PSA Encapsulated.
Secured during the very early portion of Willie Mays' playing days is this cut autograph which has been applied to an index card. The rookie era blue ballpoint signature is stellar. PSA/DNA Encapsulation.
$300
Mickey Mantle "To Mickey" Signed Business Card
Yankees legend Mickey Mantle personalized this 2x3.5" business card "To Mickey," in addition to his signature in 8/10 ink. Presenting superb eye appeal, this piece exhibits heavy toning and medium wear. Auction LOA from JSA.
$500