Catch?
My father cried every time this phrase was spoken in the movie, Field of Dreams. He had no relationship with his dad. The chair is broken at the base, and a Nellie Fox model glove sits on the chair. Fox was my dad's favorite player. Oil, spray paint, house paint on Canvas, diptych, wooden chair, Nellie Fox model baseball glove, 96" x 60" (Canvases) 2019. $7,500
Dead Dad Club.
A scene from the 1984 film, The Natural. Roy Hobb's father dies of a heart attack.. Oil On Canvas, 24" x 48" 2019. $4,200
Alpha
Oil on Wood Panel, 11"x 14" 2018
She Runs This M.F.
A painting about myths, and bizarre truths of East Dallas's, White Rock Lake. Few know Nazi's , and STD patients were housed there, a Martian Movie was filmed there, and Indians were slaughtered on nearby Flag Pole Hill. A lady drown in the lake and haunts it to this day!! Acrylic on Wooden Panel 18"x 24", 2018. $1,200
Got your Bell Rung
Tough guys don't get hurt. Oil on helmet attached to walker, 2019. $5,000
Got Your Bell Rung...... side image.
Up Is Down And Down Is Up, But Who Really Gives A Shit?
Plastic figures and circles on Wooden Panel, 16"x12" 2018. $600
What Could Go Wrong
In 1979 The White Sox had a promotion titled "Disco Demolition Night" in which 50,000 fans were told to bring disco albums to the game. In between games of the double header the records were blown up on the field. A riot ensued causing the second game to be canceled. Bill Veeck's face replaces the disco dancer. Acrylic, glitter, collage on record sleeve and albums. $1,200.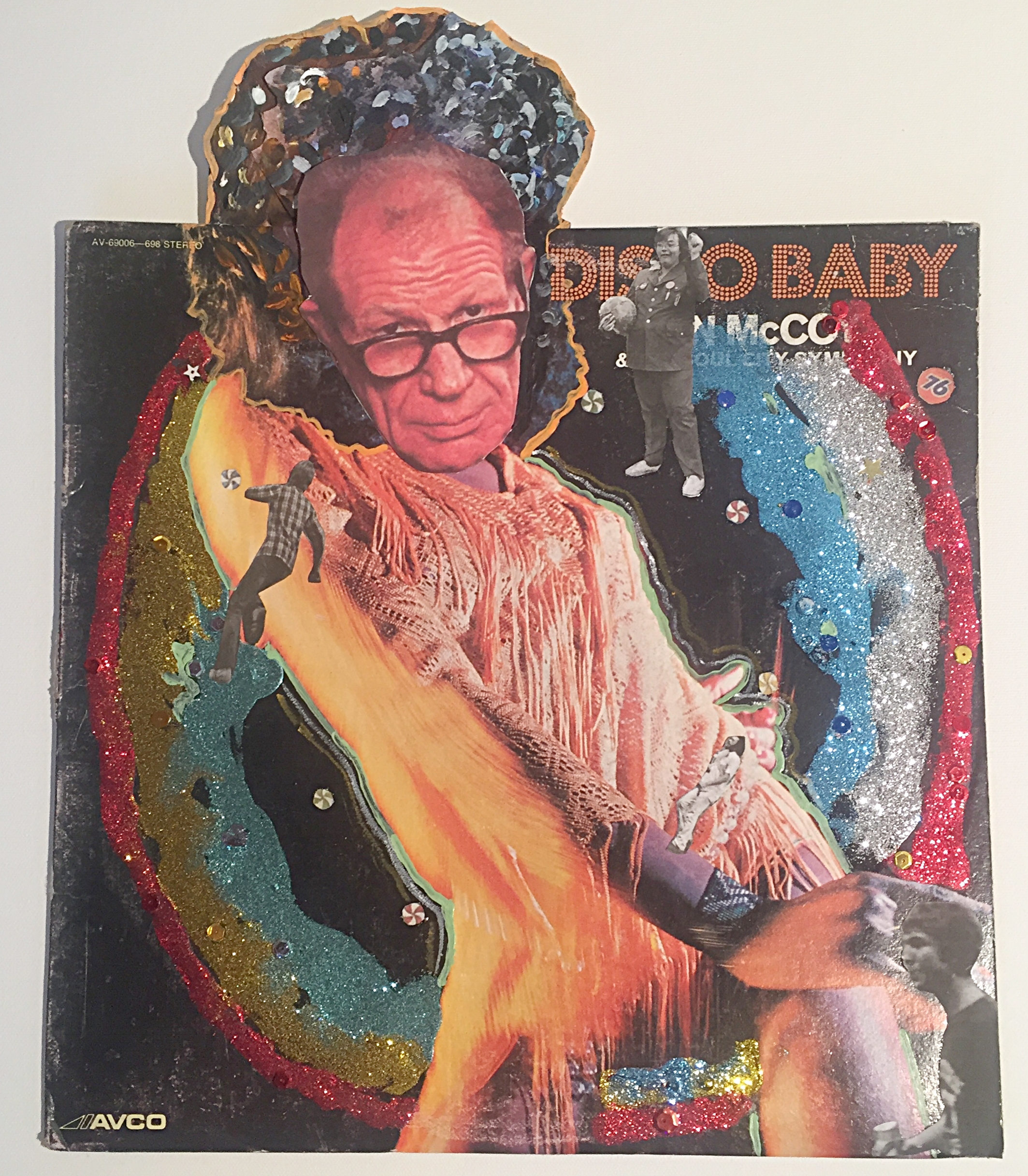 What Could Go Wrong (Detail)
The Weight Of The World
Glass canister, trophy, rusty nails, grass, resin, acrylic, pearls, globe. 10"x 6" 2018 $1,500
The Weight Of The World (Detail).
Empty
10.5" x 10.5" empty pinata with hole. 2018 $400
Line Them Up, And Lay Me Down.
Hack Wilson was known as much for his hitting as he was his drinking. His hard living brought a premature end to his career and life. The Hall Of Famer died penniless, his family refused to claim his remains. Three bottles of vodka with food coloring sit on a ledge in front of paupers grave. The viewer is intended to take the shots. Oil on wood panel 16"x12" , 14"x 12", 3 glasses on wooden ledge, 2018 $2500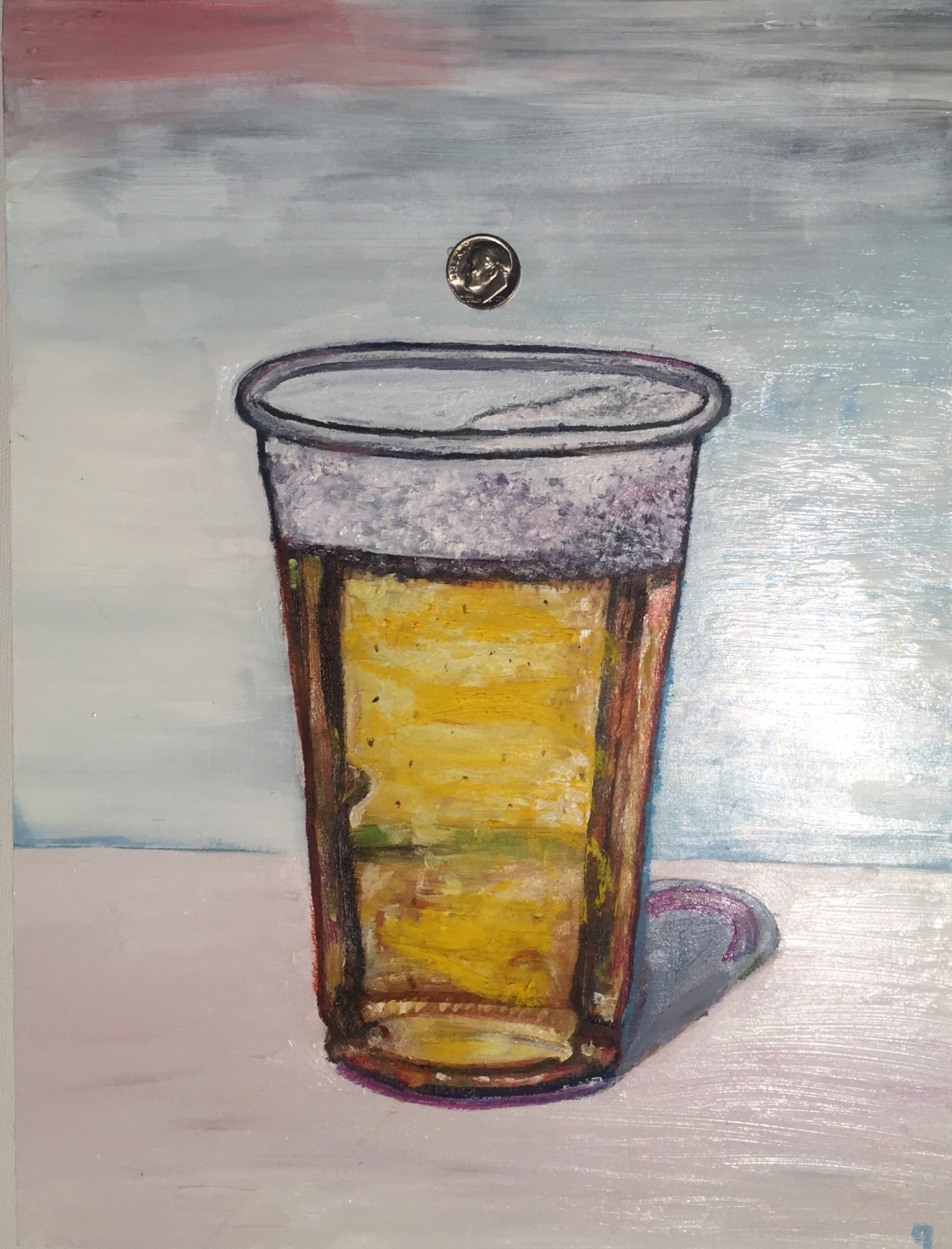 Dropping Dimes
During a 1974 Texas Rangers Vs. Cleveland Indians game the promotion was 10 cent beer. The game was forfeited after the heavily inebriated fans rioted and attacked the players. Oil on Masonite Board with 1974 Dime 12"x9" 2018 $600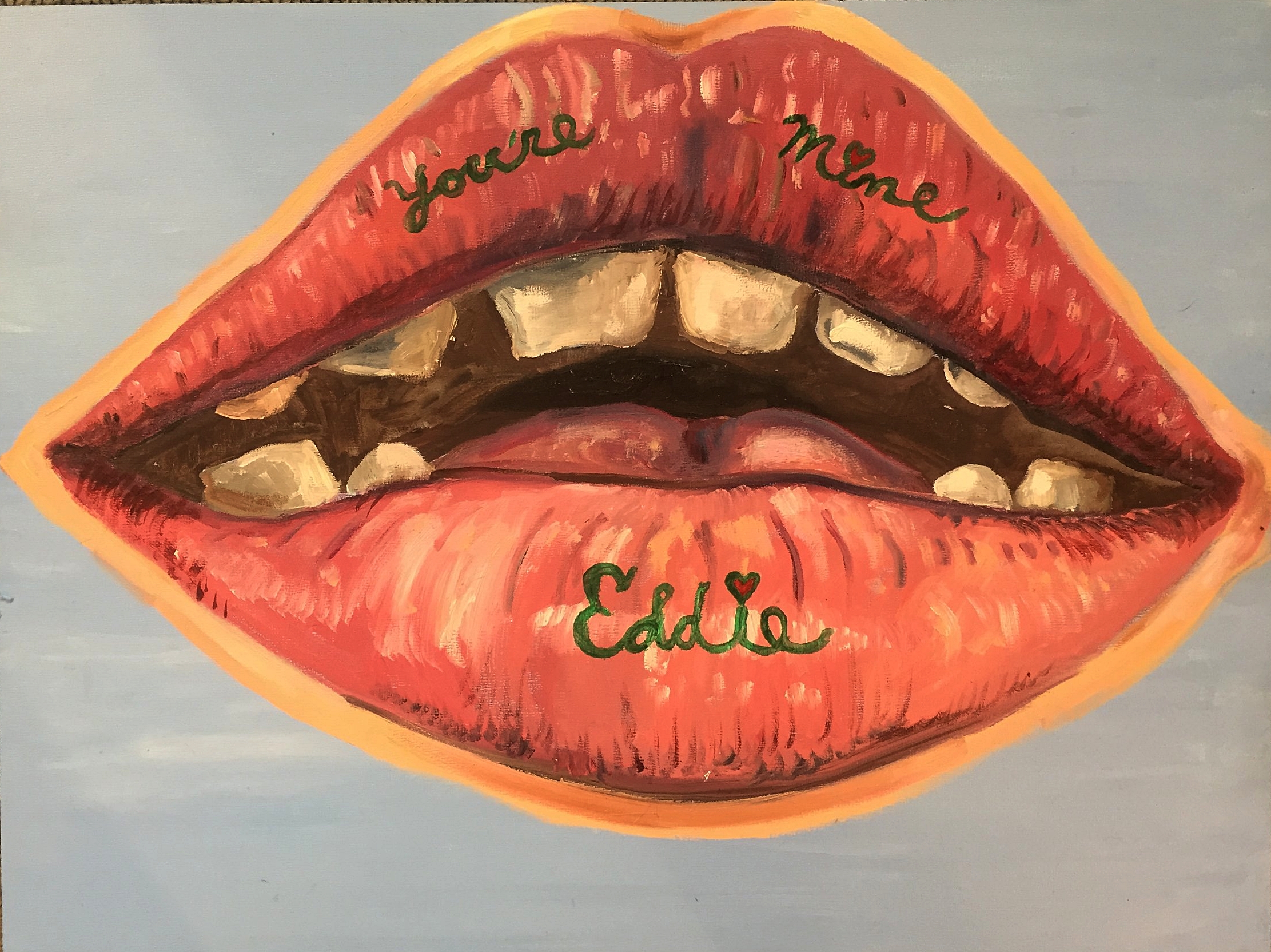 No One Loves You Like Me.
In 1949 Ruth Ann Steinhagen stalked and shot Phillies first baseman Eddie Waitkus. This incident was one of the inspirations for Bernard Malamud's baseball book The Natural. In 1984 it was released as the greatest baseball film ever. Oil on Masonite Board, 16"x 12", 2018. $750
White Lines
During the 1970's and 1980's cocaine was an epidemic in America and especially in it's National Pastime. Two All Star players for the NY Mets, Darryl Strawberry "Straw", and Dwight Gooden "Dr. K" were heavy users. Straws on Mirrors with flour. 12" x 9", 2018. $900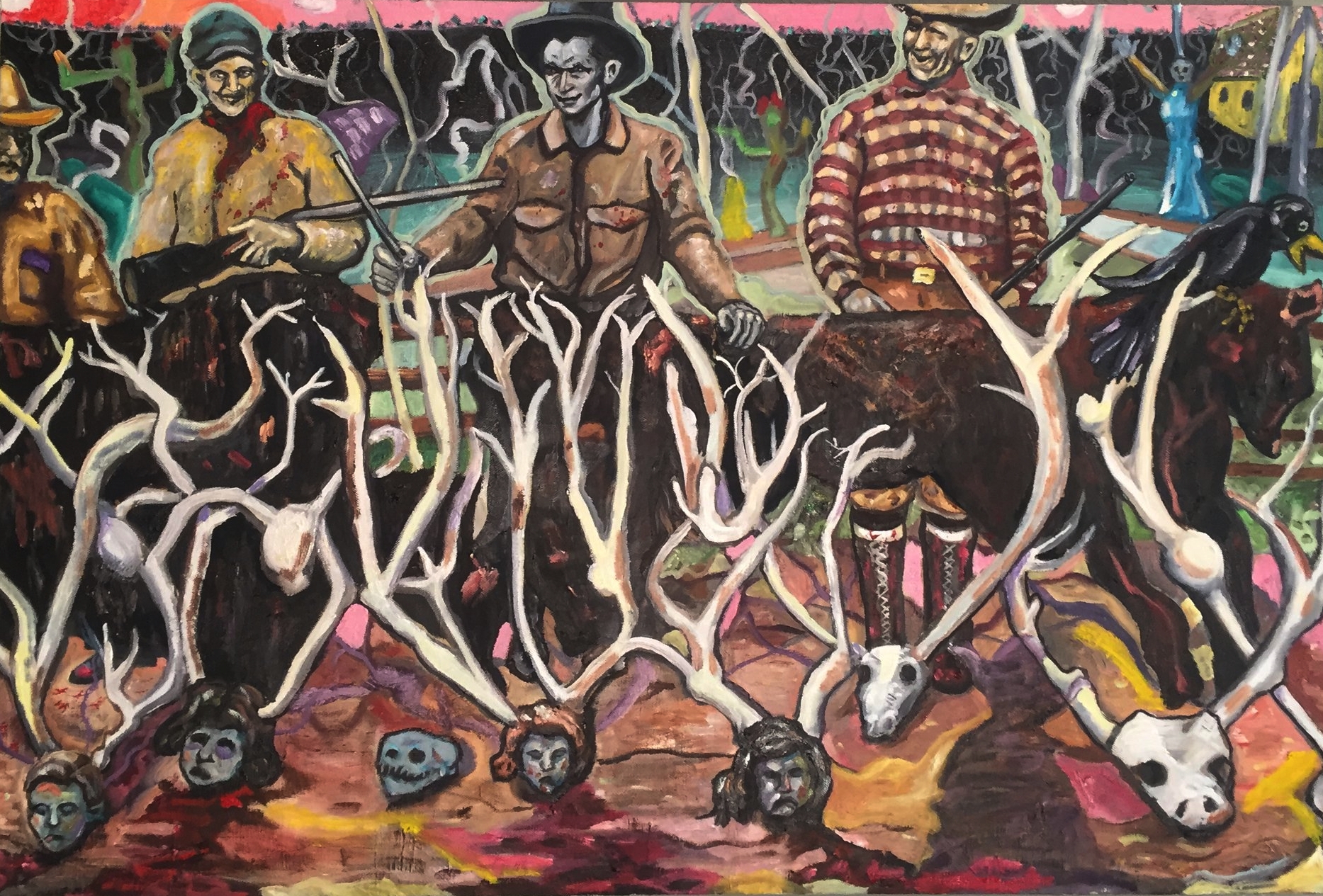 The Rednecks.
A painting of early 20th century baseball players on a hunt. The painting is about outdated Authoritarian attitudes that insecure men often have. They need control and to belittle to feel safe. Oil on Canvas, 24'x 36", 2000-2018, $3,000.
59 Hours
Len Bias was the second overall pick of the 1986 Basketball draft. 59 hours later he was dead from a cocaine overdose. The eggs refer to the 1980's commercials "This is your brain on drugs". Oil on Masonite board. 24x 30" $2,500
The Boss
Jack Johnson's boxing career lasted from 1898 to 1928. At the height of his career, the outspoken Jack was crucified by the press for his flashy lifestyle and for having twice married white women. Sometimes he would travel with more than one white woman at a time. He further offended white supremacists in 1910 by knocking out former champion James J. Jeffries, who had been induced to come out of retirement as a "Great White Hope." The Johnson-Jeffries bout, which was billed as the "Fight of the Century," led to nationwide celebrations by African Americans that were occasionally met by violence from whites, resulting in more than 20 deaths across the country. Acrylic and oil on Masonite board, 14x11" 2017. $800
I'd Do Anything To Have Skin Like You.
A diptych featuring slugger Sammy Sosa. He has gone through extensive skin bleaching treatments. I see it as a metaphor for our selfie culture, people using numerous filters on photo apps to make themselves appear more attractive. Oil on Canvas 12'x12", 11"x14" 2017. $900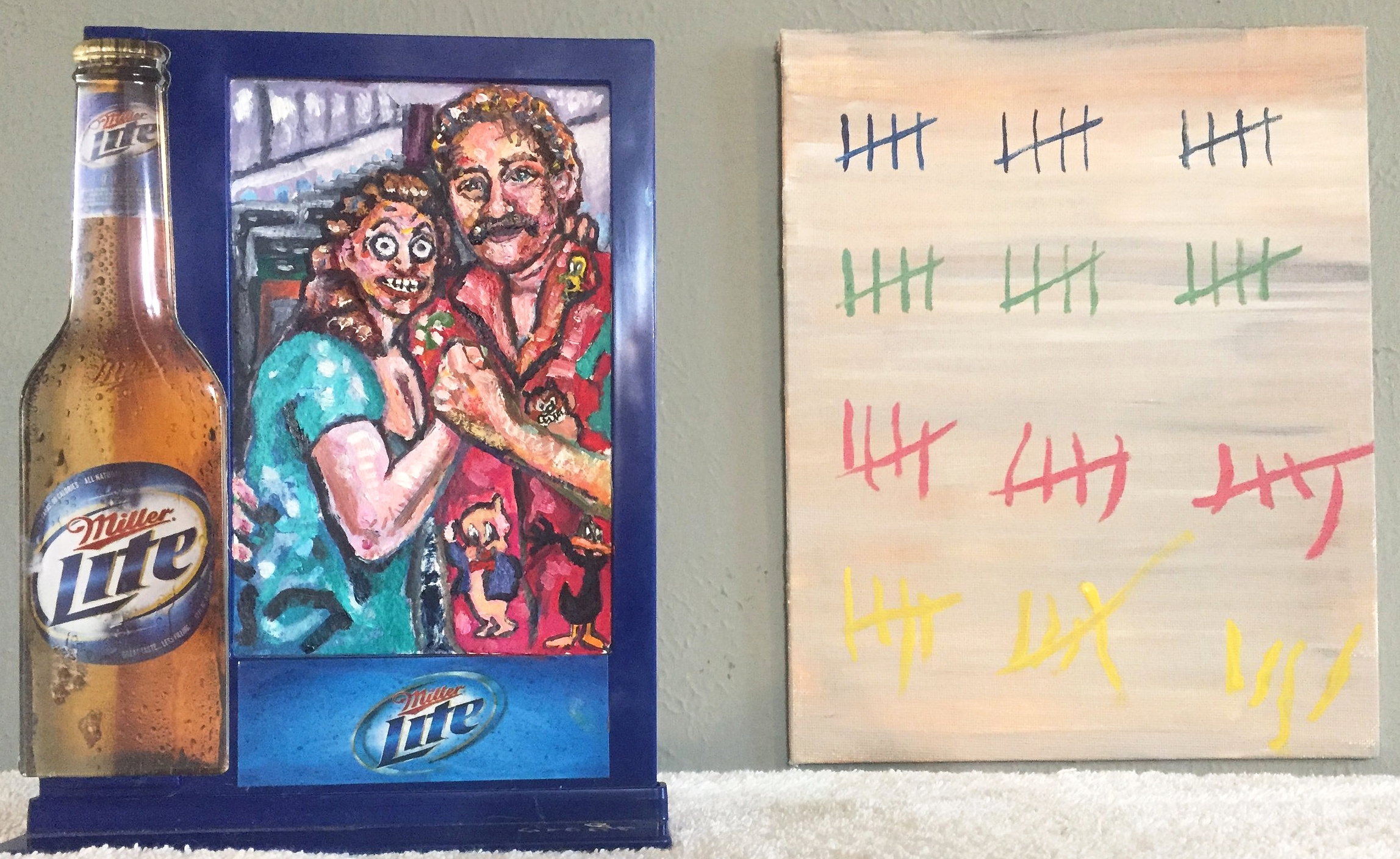 They Say You're The Greatest!
Wade Boggs was legendary for baseball, broads, and beer. Once during a cross country flight Boggs downed 64 beers. I was at a bar about 20 years ago, and Boggs (wearing an 8 ball looney toons jacket, and Hawaiian shirt) was approached by a minimally coherent lady in her early 40's. She said "My friends say you're the greatest hitter." He kissed her hand and escorted her to a booth for further conversation. Miller light advertisement with oil on watercolor paper. 8x10" canvas board acrylic 2017. $400

Dodge Ball
In 1961 Roger Maris was in pursuit of Babe Ruth's single season record of 60 home runs. Maris was a mild mannered North Dakotan who always felt out of place in the harsh spotlight of New York City. As he closed in on Babe's record, and his hair was falling out in clumps from the stress, he was quoted as saying "I don't want to be Babe Ruth." I used my hair and sprinkled it over the text. Acrylic on canvas , hair, enamel varnish, 12" x 36", 2017 $1,500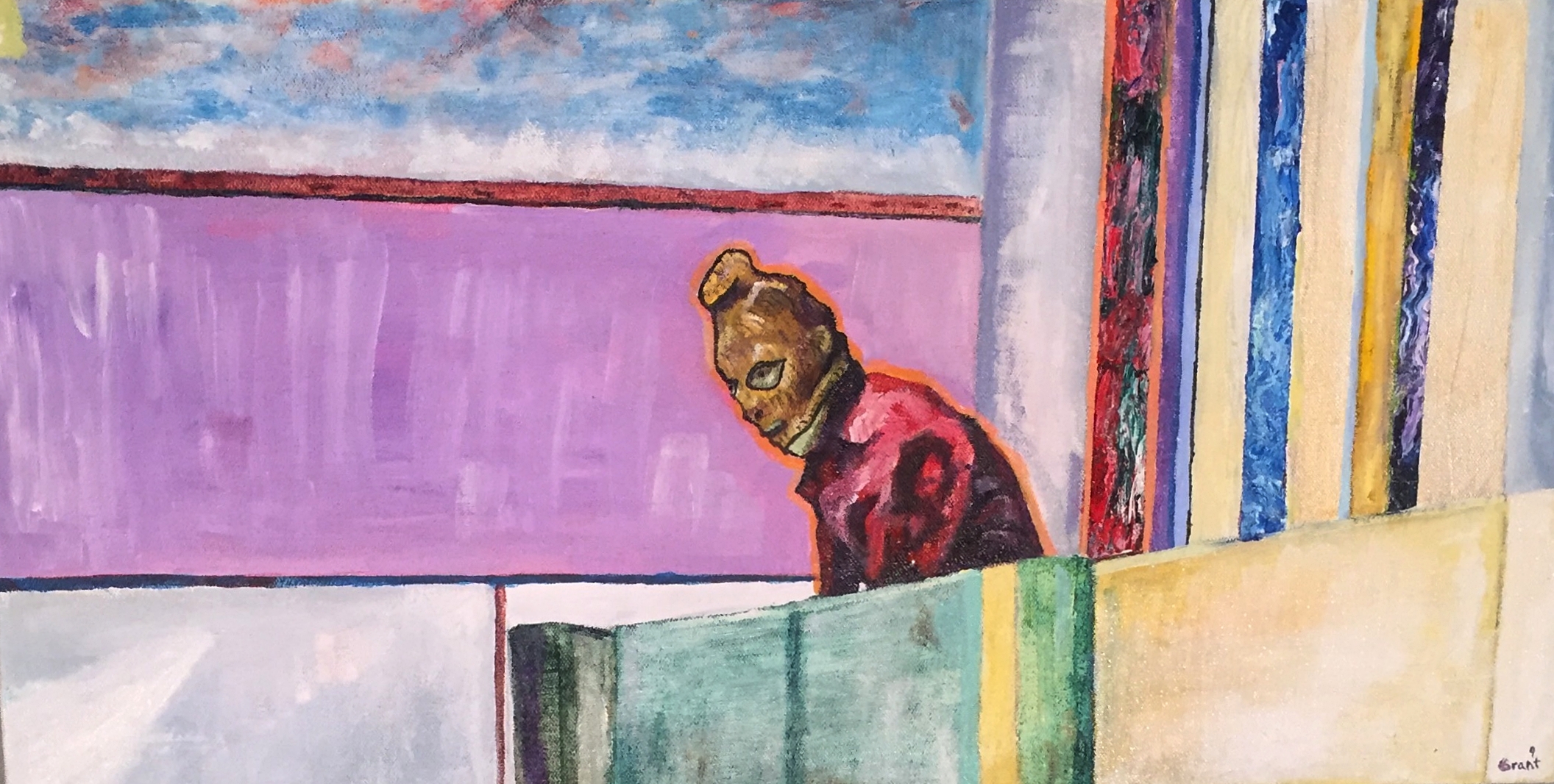 You Think You're A Hero, But You're Really Just An Asshole.
Tragedy struck the 1972 Olympics in Munich when eight Palestinian terrorists invaded the Olympic Village and killed two members of the Israeli team. Nine other Israelis were held hostage as the terrorists bargained for the release of 200 Palestinian prisoners in Israel. All the hostages, five of their captors, and a policeman were killed in a failed rescue attempt. The image is a metaphor for men who try to abuse power and intimidate. Oil on Canvas, 20 x 10" 2017, $1,200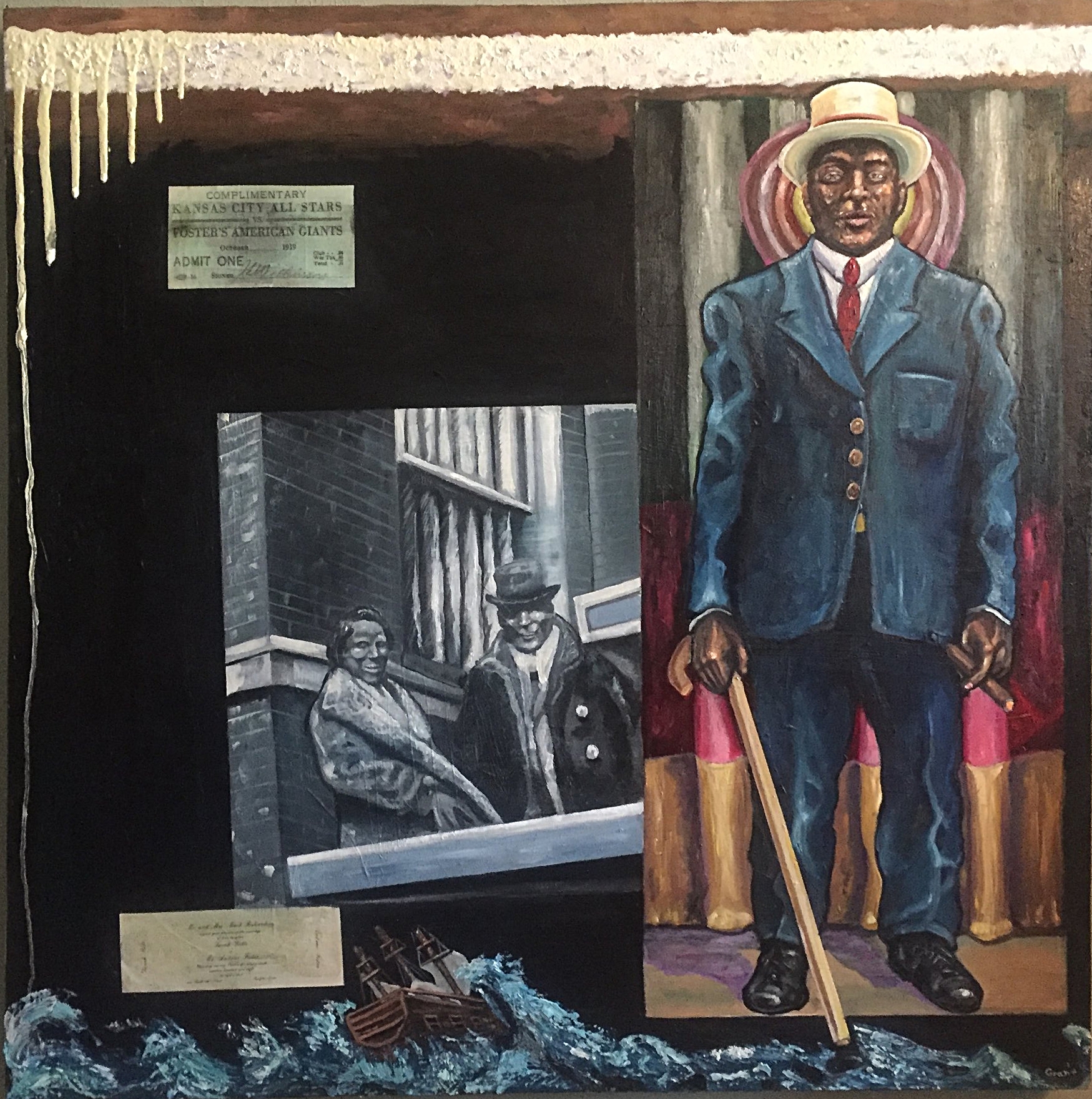 We Can Dream
The subject of this painting is Rube Foster, the Father of the Negro leagues. The white baseline above his head represents the white race line, his hat nearly breaking through. The brown dirt under the baseline represents the skin pigment of the African American players, and how they were treated. The white line is melting into the sea below, causing tumultuous waves to crash against a slave ship. Foster once said of the Negro Leagues "We are the ship, all else is the sea". Foster stands on stage with a target behind his head. The black and white image is of Foster and his wife. She was a great help to him but was also unrecognized There is a copy of a ticket to an early 1919 interracial game, along with a copy of a wedding invitation to the Fosters' wedding. Foster hung himself in a mental institution in 1930.
© 2001- 2017 • 48 by 48 inches • oil on canvas $4500
I Just Got Back In The Game.
The painting was inspired by the book and movie "The Natural". The story follows Roy Hobbs, a baseball prodigy whose career is sidetracked when he is shot by a woman who has been seducing then shooting top athletes. Most of the story concerns itself with his attempts to return to baseball later in life, when he plays for the fictional New York Knights with his legendary bat "Wonderboy". Oil On Masonite Board 9x12" 2017. $500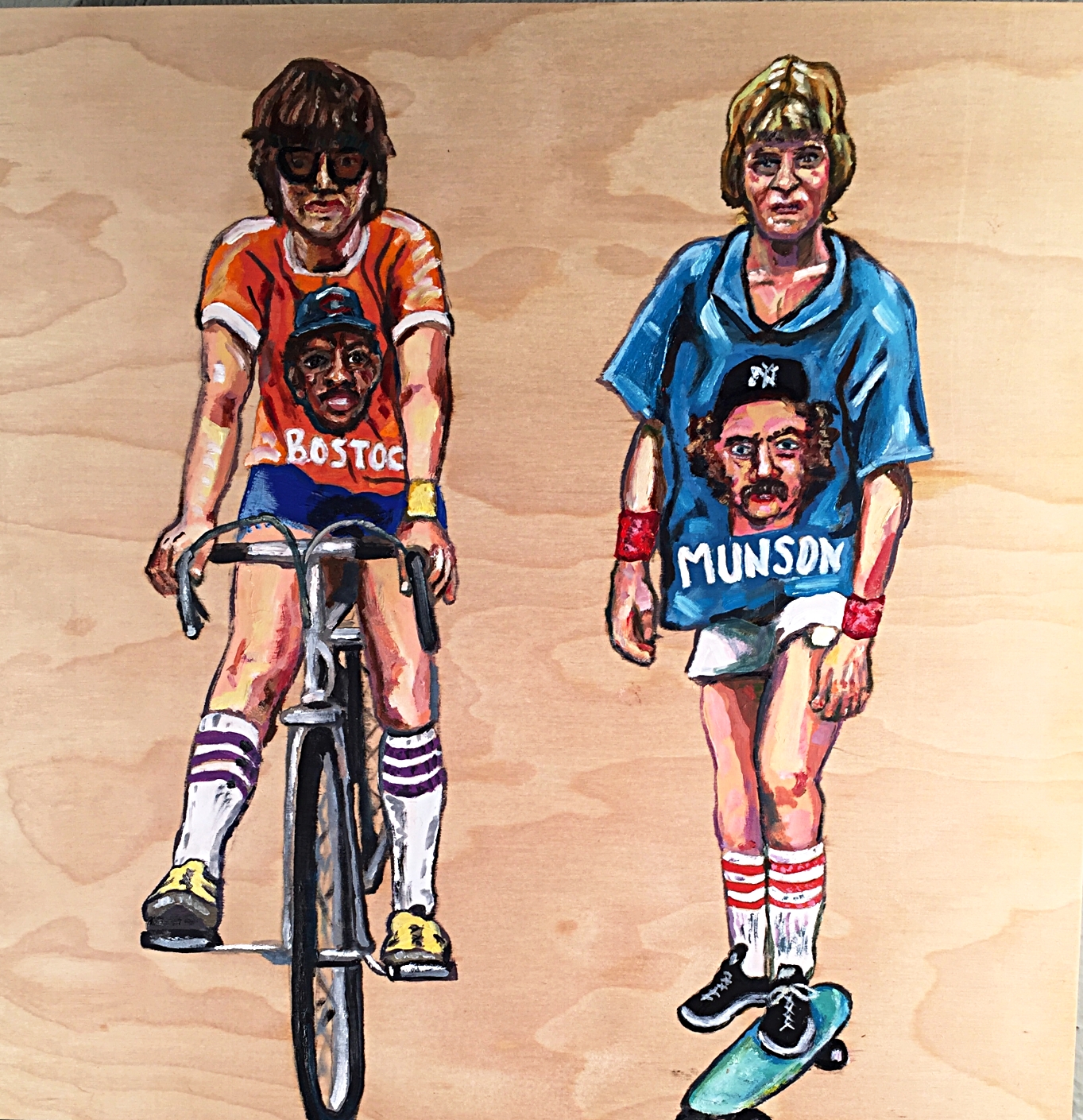 Don't Be In Such A Hurry To Grow Up.
Child on right has shirt of Yankee Thurman Munson, who died in plane crash. Kid on left has shirt featuring Minnesota Twin Lyman Bostock Jr. , who was shot and killed. 14" x 14", Acrylic and Oil On Wood Panel, 2017. $900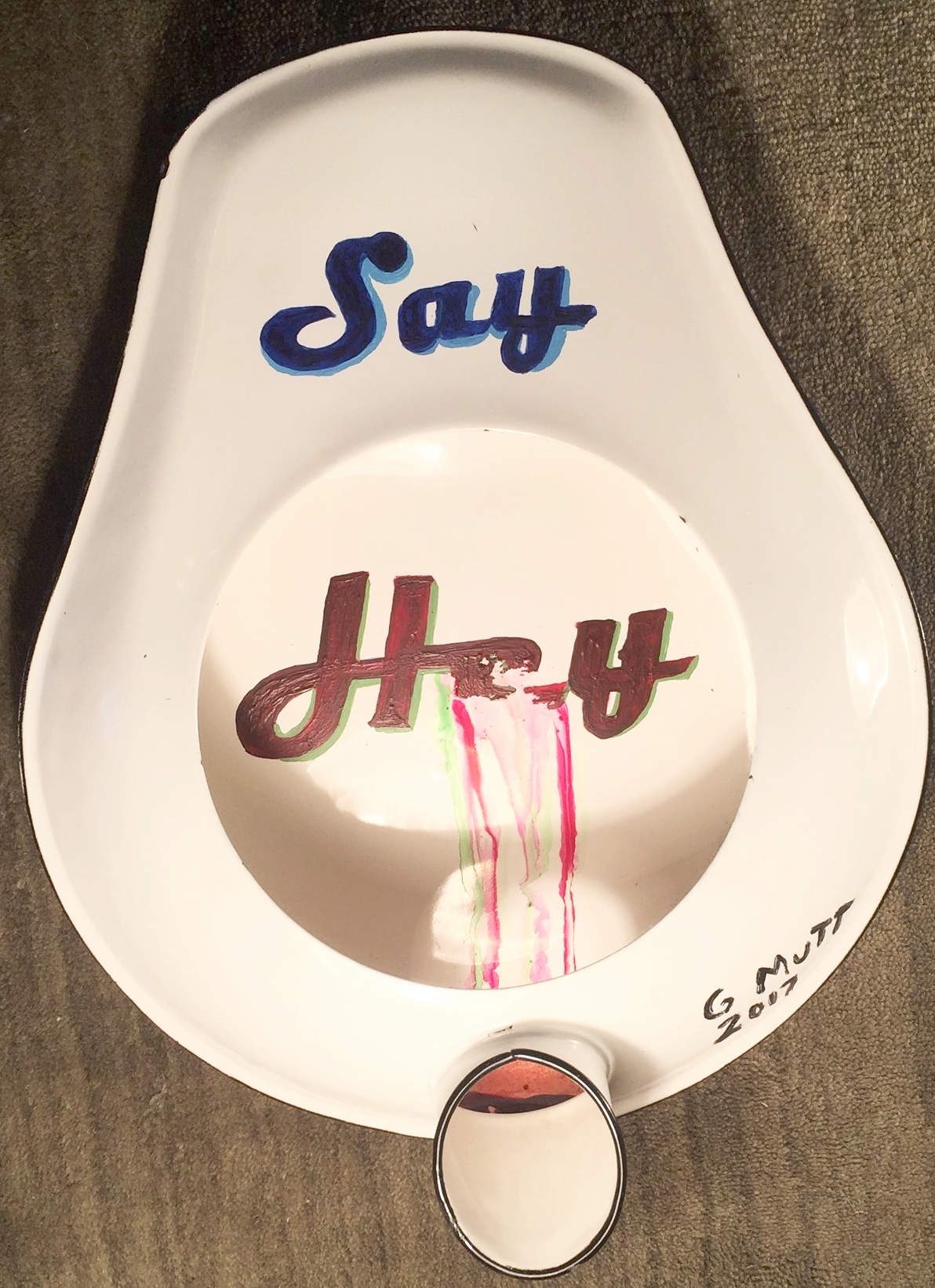 The Piss
In the 1954 World Series Willie Mays made one of the greatest catches of all time. Looking at photos of "The Catch" I saw an empty seat and wondered who that person was. Maybe they went to the bathroom, and witnessing the play would have been the highlight of his life. From then on he felt obligated to regale the day he had the perfect view of the catch. Marcel Duchamp's "Fountain" was also an influence for this piece. Acrylic on Urinal( Bedpan) $900
Standing On The Grave Of Dreams.
The title is taken from the Maya Angelou poem, "I Know Why The Caged Bird Sings." The bird cage is filled with 18 baseballs painted different hues of brown, and black. A black crow (Symbol used for Jim Crow) is tied to the top of the cage and painted. I saw a photo of the 1935 Pittsburgh Crawfords, with 18 team members. They are considered one of the greatest Negro League teams ever. I base the piece on that team. Bird Cage, Baseballs, Paint, Fake Crow, twine. 2016 $2500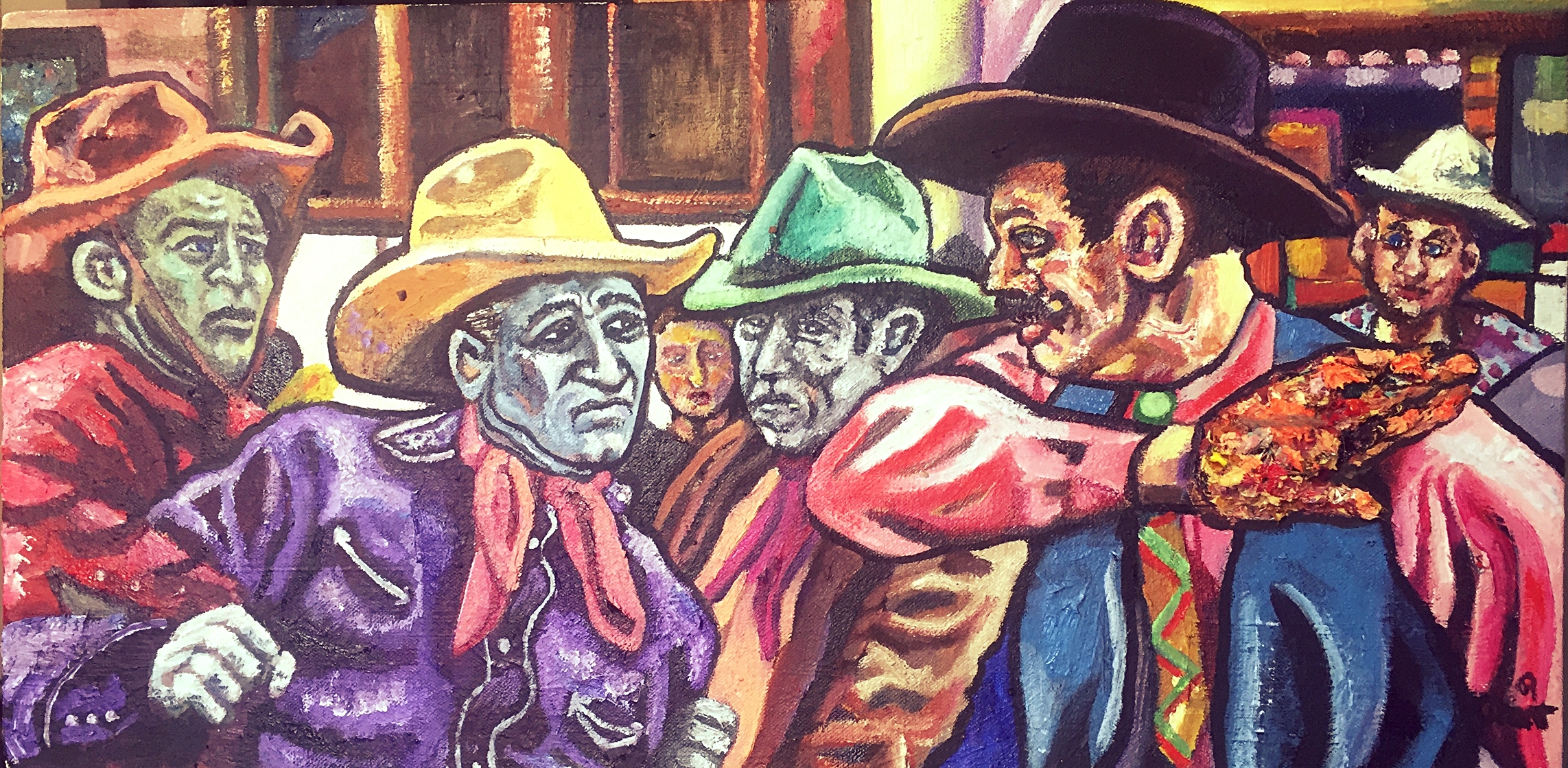 Bitch Slap
An image from Lou Gehrig's movie, Rawhide. A Cowboy gives him a backhand across the face. The movie reminded me of Andy Wahol's Western movie, Lonesome Cowboys. Oil On Canvas 10 x 20" 2016 -$800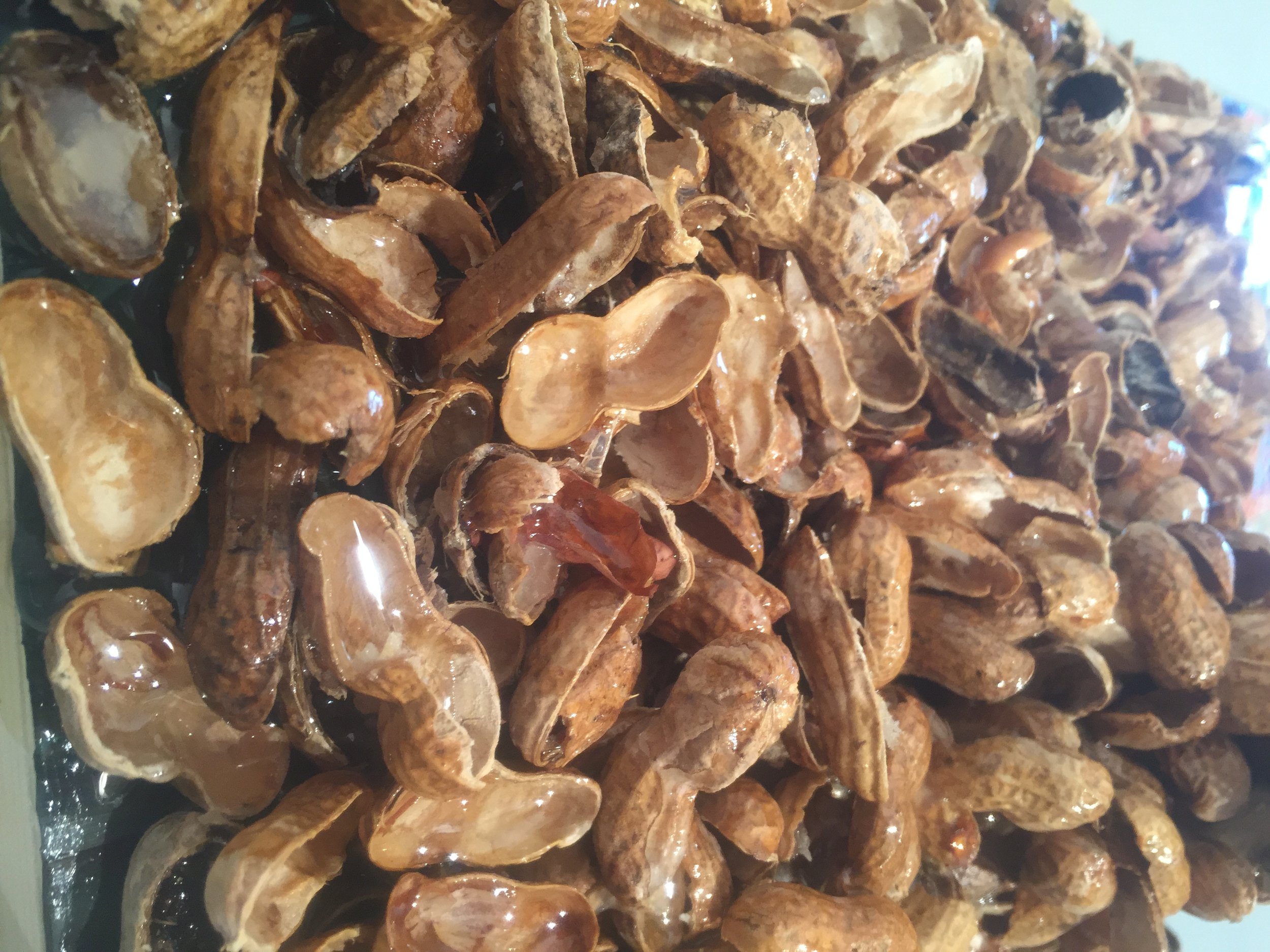 Buy Me Some (Closeup)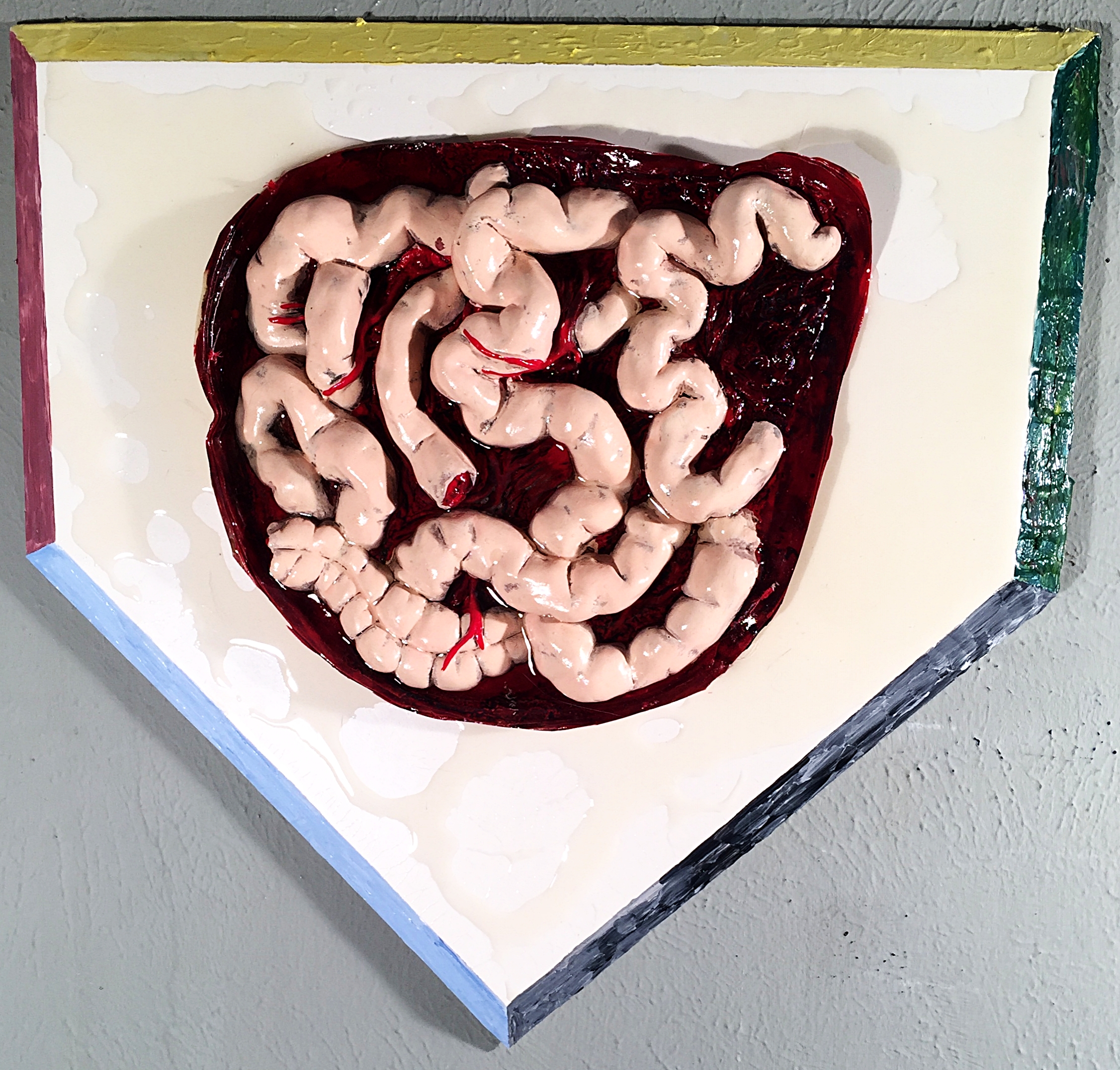 The Life We Learn WIth And The Life We Live With After That.
This work is about the 1984 film The Natural, starring Robert Redford. His character is shot in the stomach by a stalker, and makes a comeback only to have his stomach begin to bleed during a game. My dad suffered from and eventually died from chron's disease. In 1984 after he took me to see the movie he said "Roy Hobbs had a rotten stomach just like me." I painted the perimeter of the plate with colors I remember from my childhood home. 16"W x 17" H Resin on home plate, plastic intestines, acrylic paint. 2017. $1,200
Buy Me Some, (Side Angle)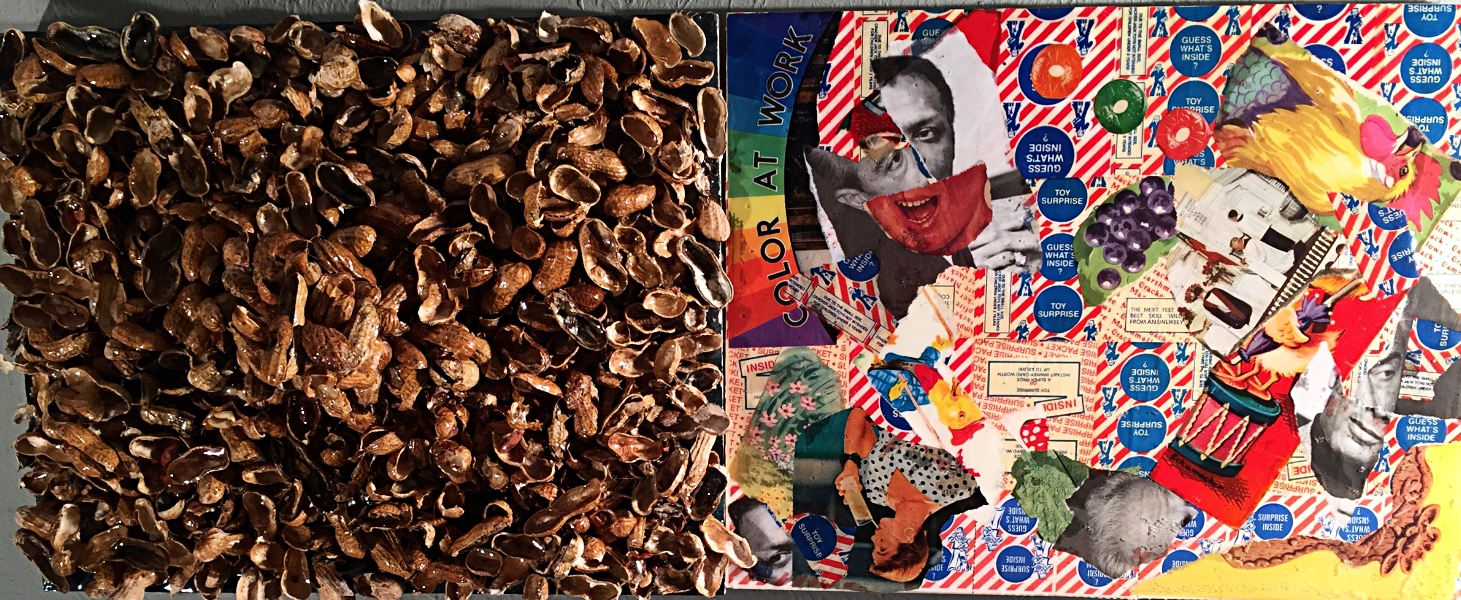 Buy Me Some
This diptych has to do with out of control salaries in baseball, and the rising cost of attending a game. The left panel shows hundreds of peanut shells piled him with resin poured over, the panel on right shows a collage of various metaphors for control and money. Also the torn up faces of Marvin Miller, and Curt Flood. Cracker Jack wrappers from different eras form the backdrop of the collage. Each panel is 14" x 11" Resin on Peanut shells, resin on paper, 2017. $2,000
The King Is Dead
A knocked out boxer lay perfectly on a crown printed in the mat. Oil on Canvas Board, 11x14" 2017. $400
Chin Music (2nd Angle)
Closeup of cheesy baseball player glasses.
Standing On The Grave Of Dreams.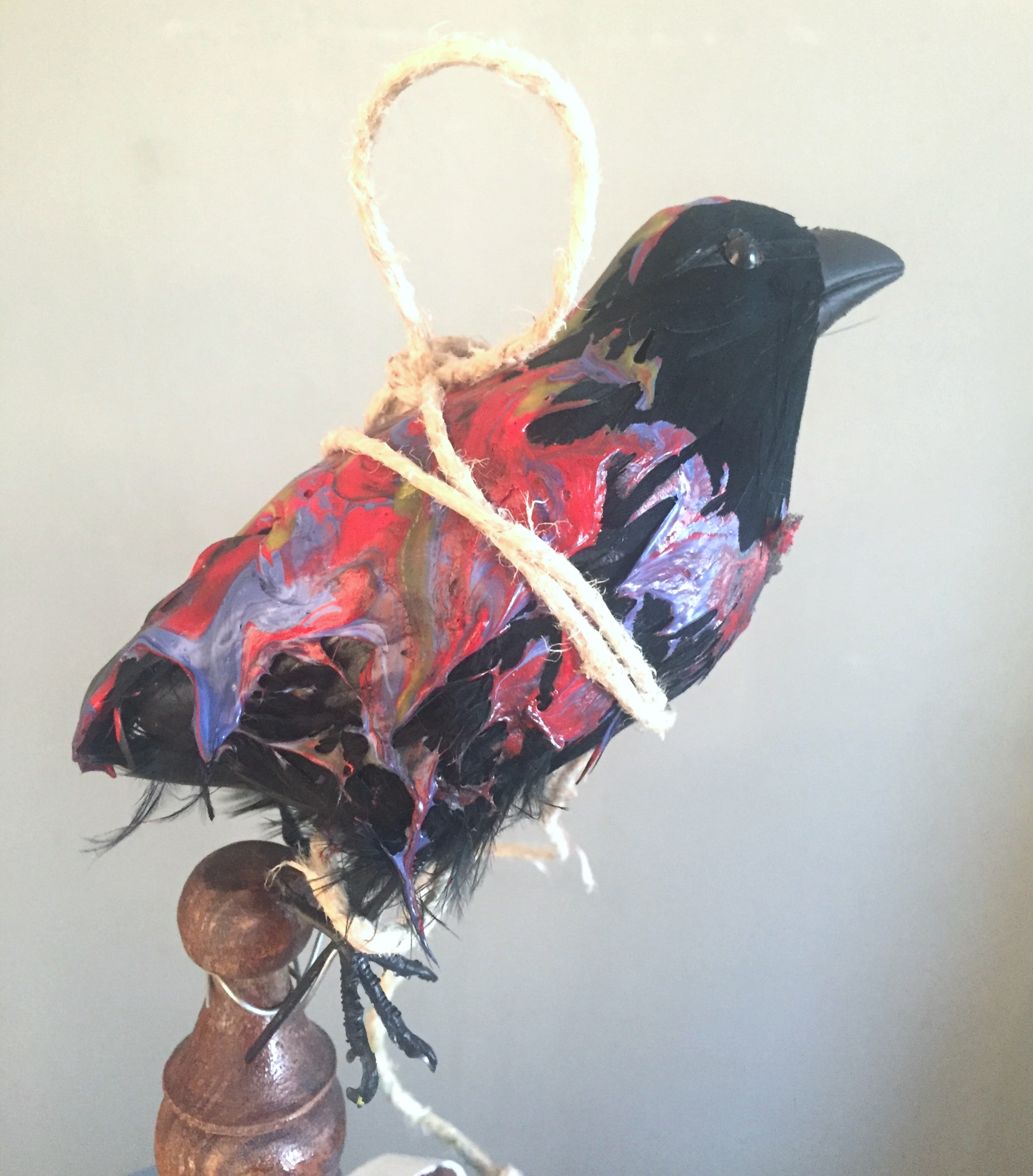 Standing On The Grave Of Dreams
Brown Bottle Flu
Let's Smoke Two!
This fan hits his second joint in the bleachers of Wrigley. He was known as "The Ernie Banks of Reefer." Oil On Canvas board, 11 x 14" 2016. $600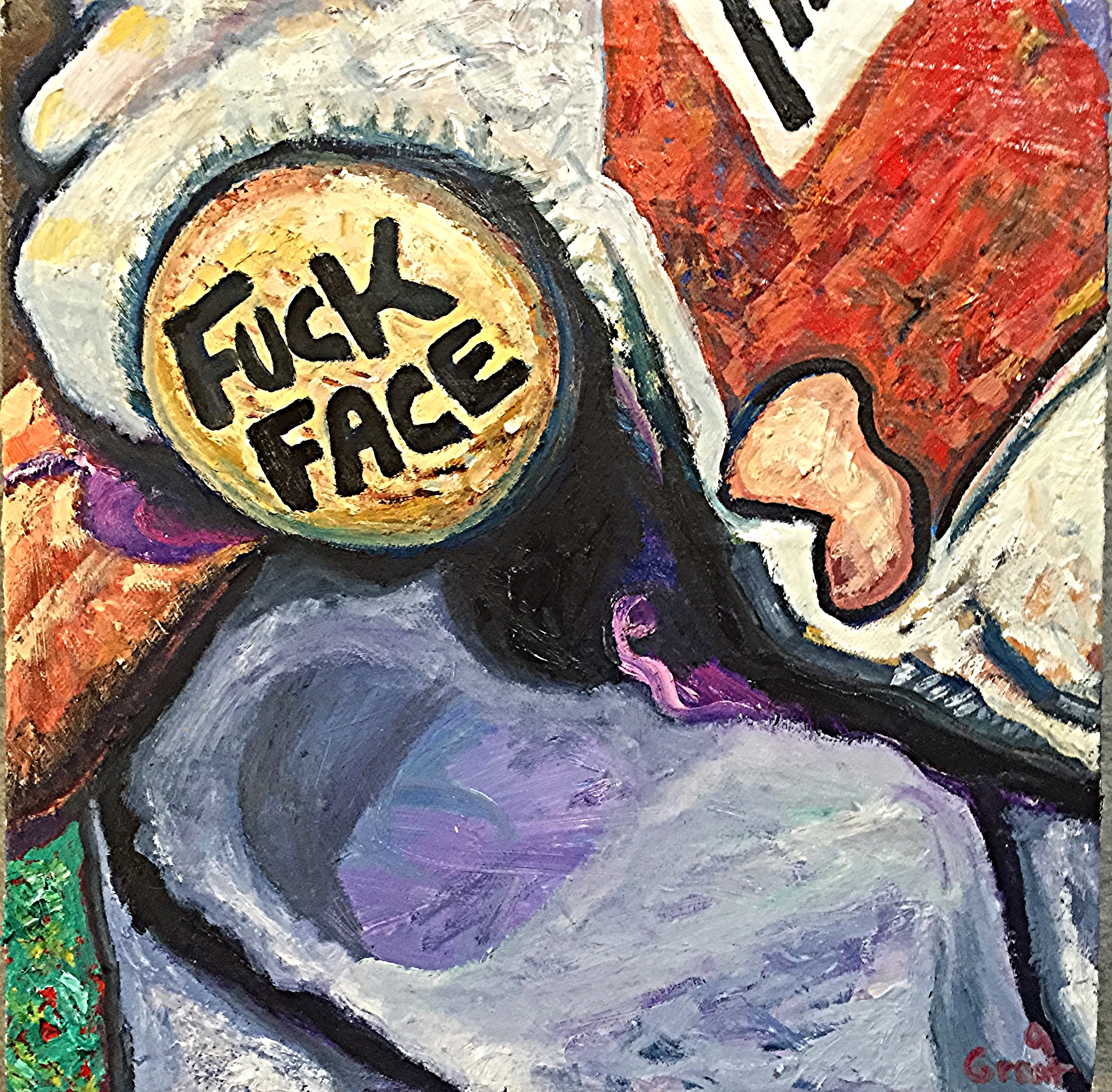 The World's Most Eloquent Jock.
The famous "Error Card" from the 80's with this prophetic message to the youth of America. Oil on Canvas, 12x 12" 2016. $500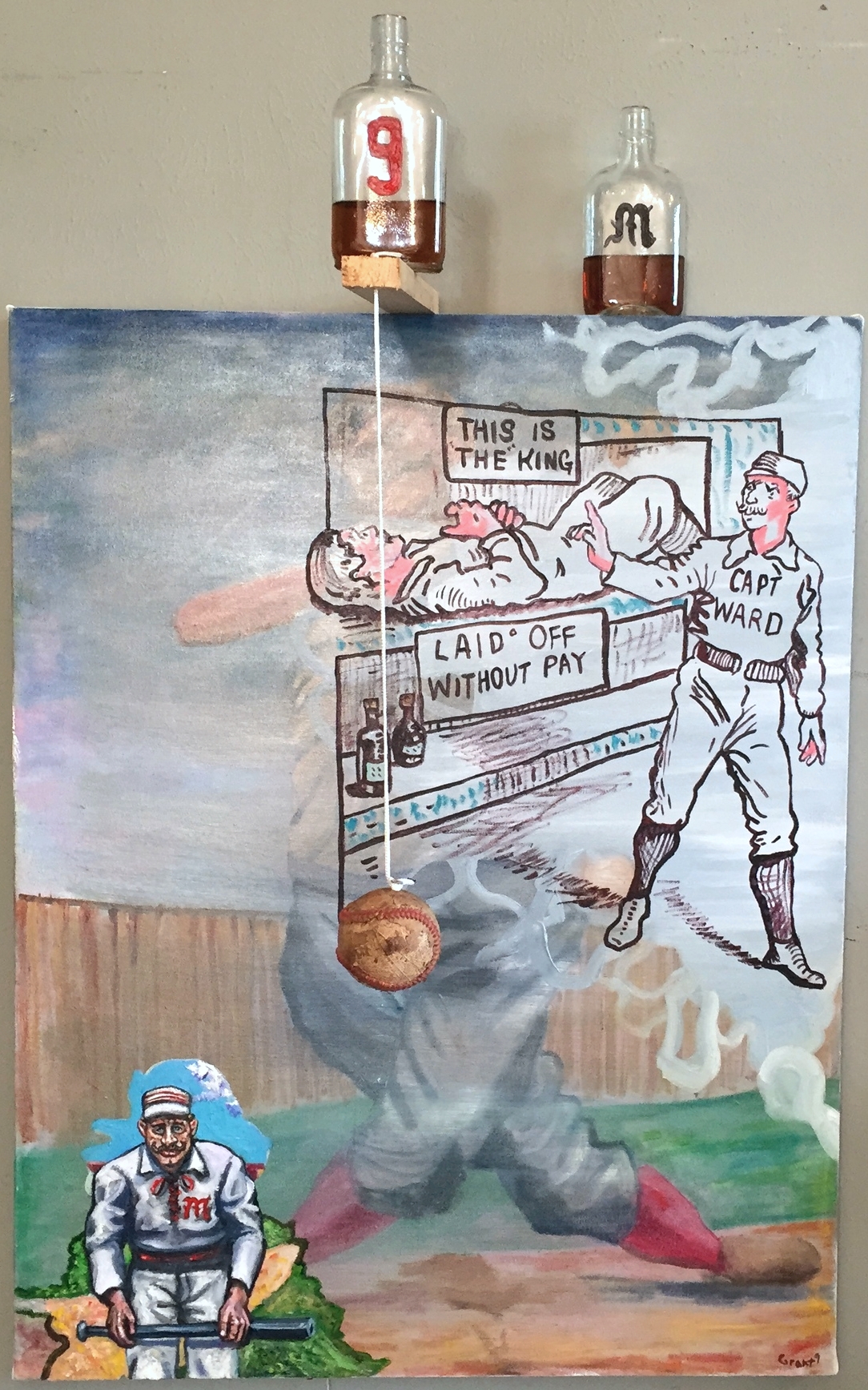 Brown Bottle Flu
The legendary poem "Casey at the Bat" was penned in 1888, but still is unparalleled as the most famous baseball poem ever. The subject of the poem is fictional "Casey", but most identified the real subject as Mike "King" Kelly. He was baseball's first superstar, and a notorious drinker. I have brought the 2 worlds together in this painting. 2 liquor bottles are at the top of the canvas, and a ball is suspended by a string swaying in suspense. Oil on Canvas, bottles, whiskey, wood, ball and string, 2015. Private Collection
Burst Your Bubble
A man holds up a young boy to show him Lou Gehrig in his casket. Oil on Wood Panel, 12x16" 2016. $1200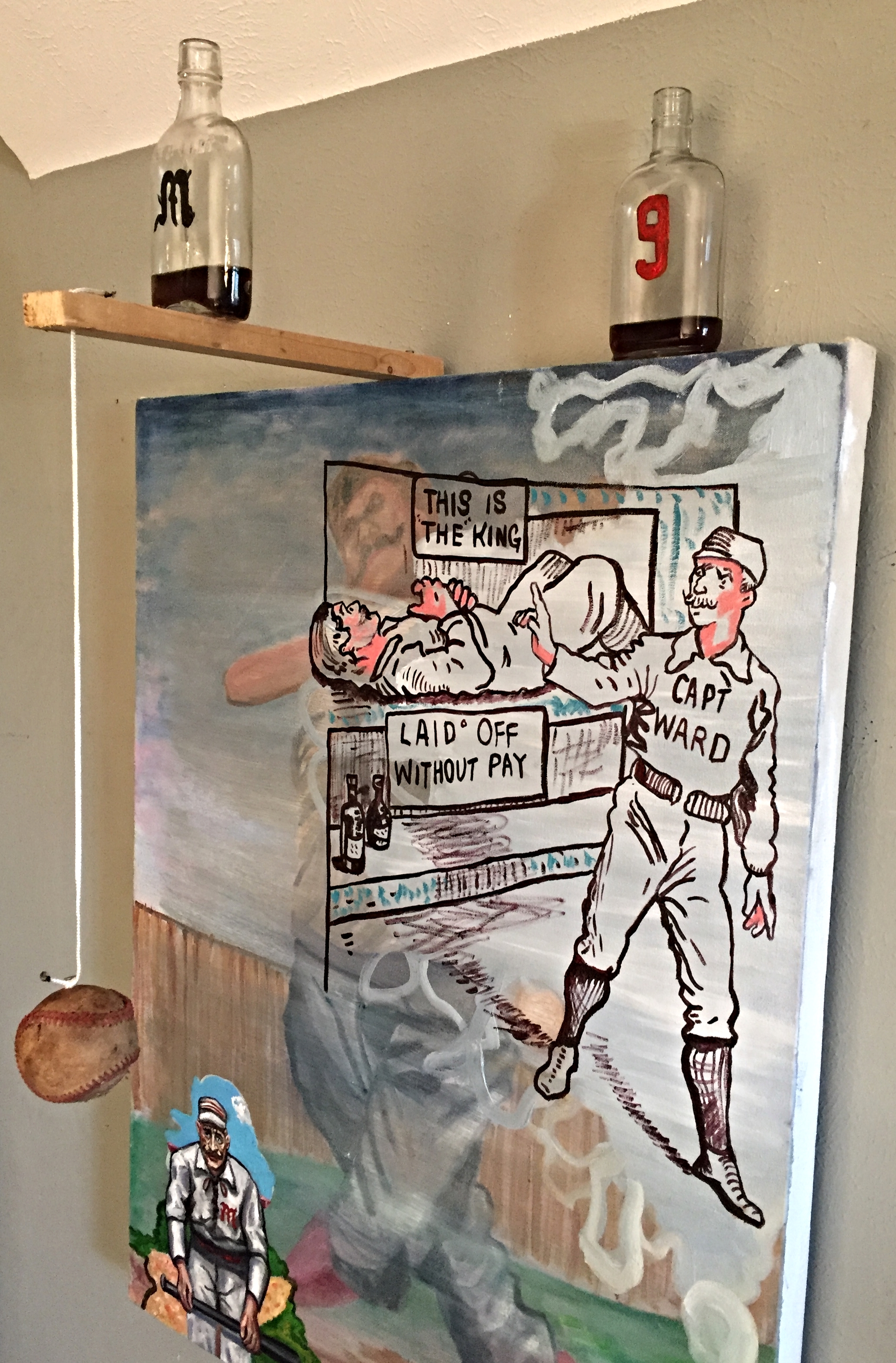 Brown Bottle Flu
The Man Of A Million Faces
The painting has 2 separate 1920's era players who were purportedly members of the KKK. The mouth comes from a famous Negro League player. All human life originates from Africa.The first homosapian lived there 200,000 years ago. 60,000 years ago the human migration began as they moved around the globe. Racism is therefore self loathing. Oil On Canvas, 16x16" 2016m $2,000
Brown Bottle Flu
Chin Music
Rougned Odor knocks the Bautista's cheesy baseball glasses half way to Dallas. Oil On Canvas Mixed Media 32 x 24", Boxing Gloves, Cheesy Baseball Glasses, 2016.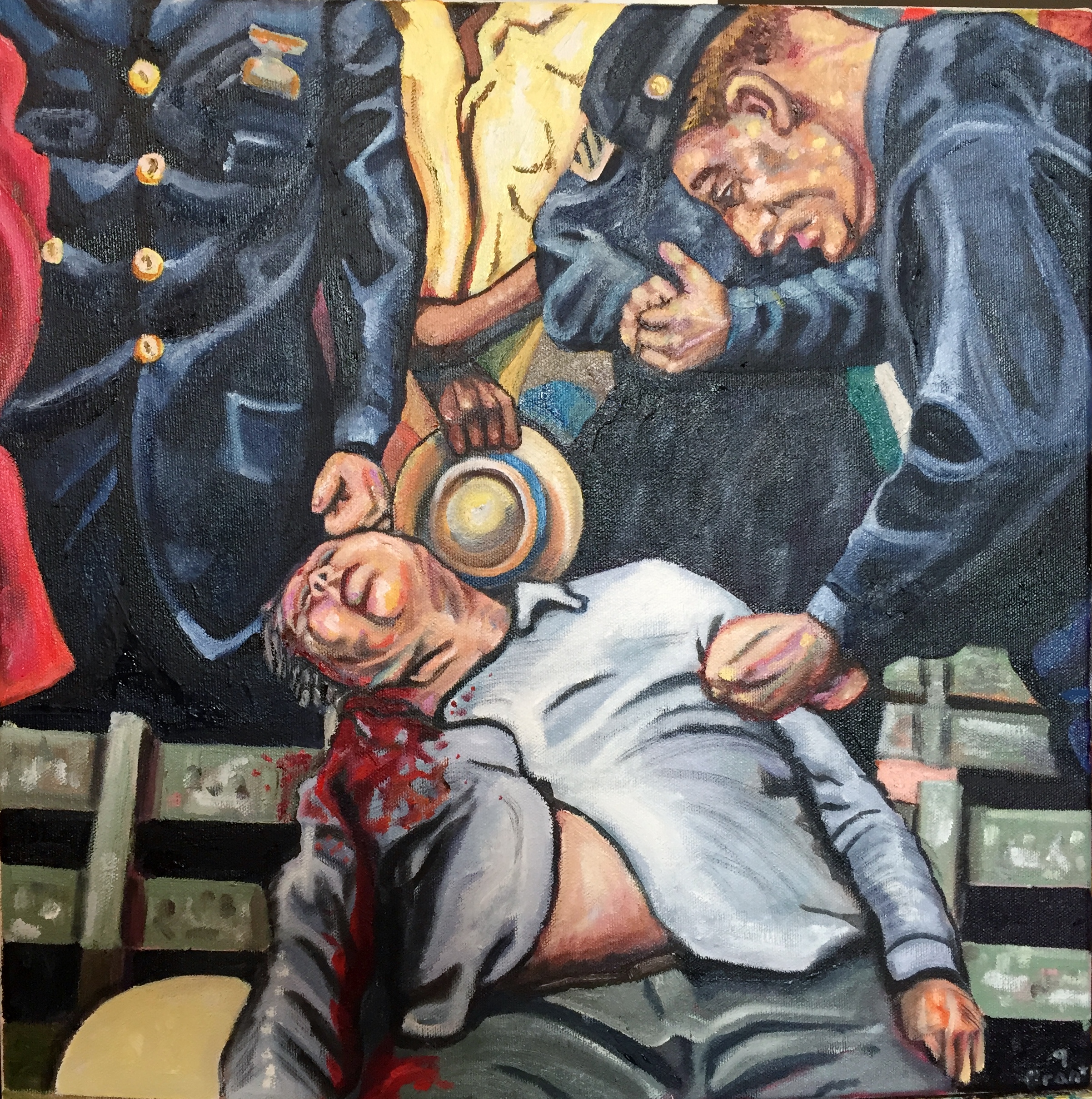 What a Beautiful Day For a Bal.......
On July 4th, 1950 Barney Doyle had just sat down in his seat at the Polo Groundsto watch the double-header baseball game between the New York Giants and Brooklyn Dodgers when a bullet hit him in the forehead killing him instantly. The bullet was fired from outside the stadium and had traveled almost a half-mile to reach Doyle's seat in the upper-tier of the stadium. Oil on Canvas 16x 16" 2015. $950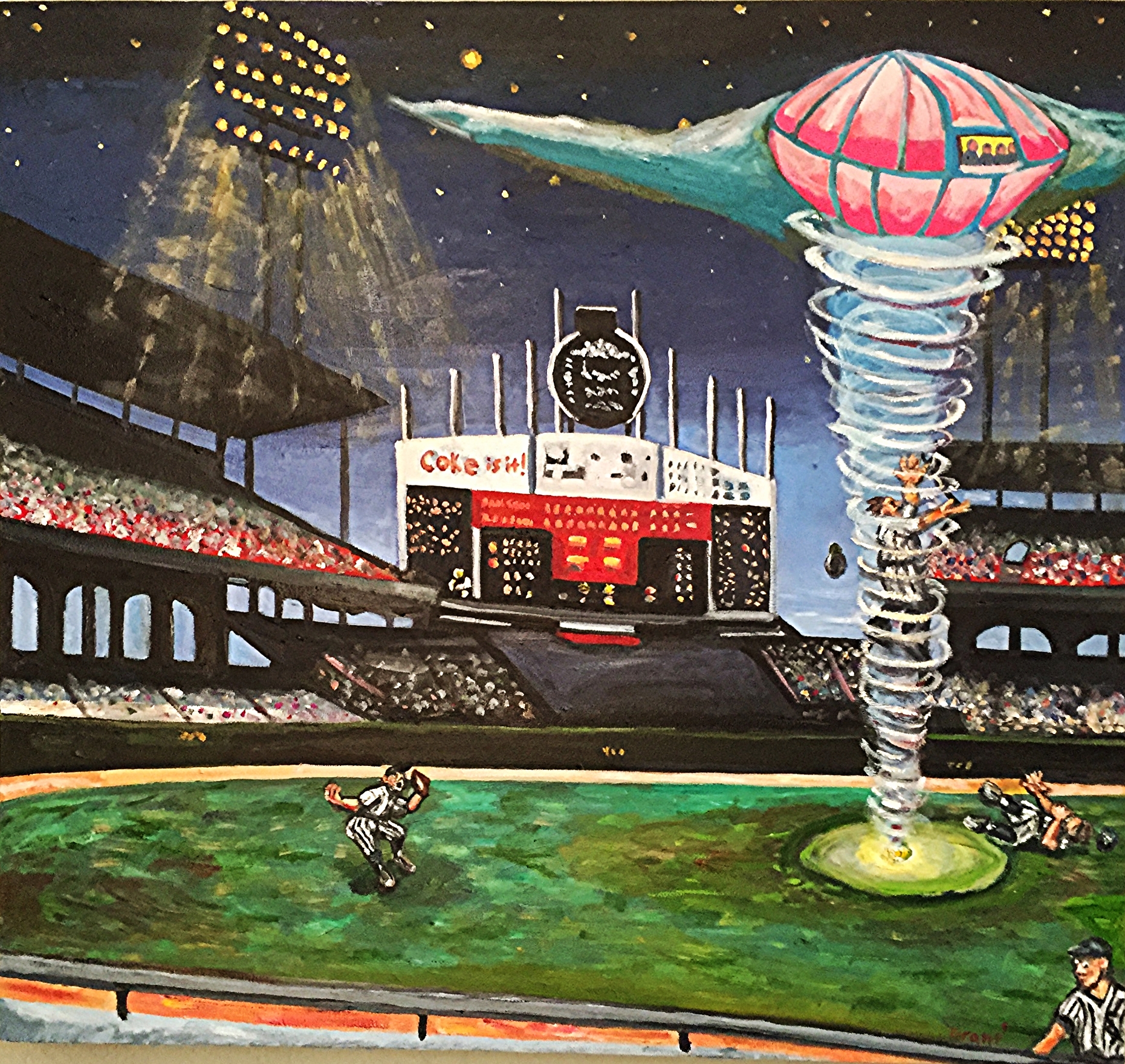 Eddie Gaedel Invades Comiskey to capture Fox And Aparicio (The Little People's Revenge).
In 1951 Eddie Gaedel received instant fame by becoming the first little person to play in a major league game. Owner and showman Bill Veeck orchestrated the stunt, and occasionally brought Eddie back for ballpark events. In 1959 Gaedel and three other little people landed in a helicopter at Comiskey Park. They emerged dressed as Martians and carrying space ray guns. They ran to the dugout and captured diminutive middle infielders Nellie Fox and Luis Aparicio, and took them to home plate for a ceremony. In this painting the little people get revenge flying a real space ship, capturing the players. Oil On Canvas 22x23.5" 2015. $1000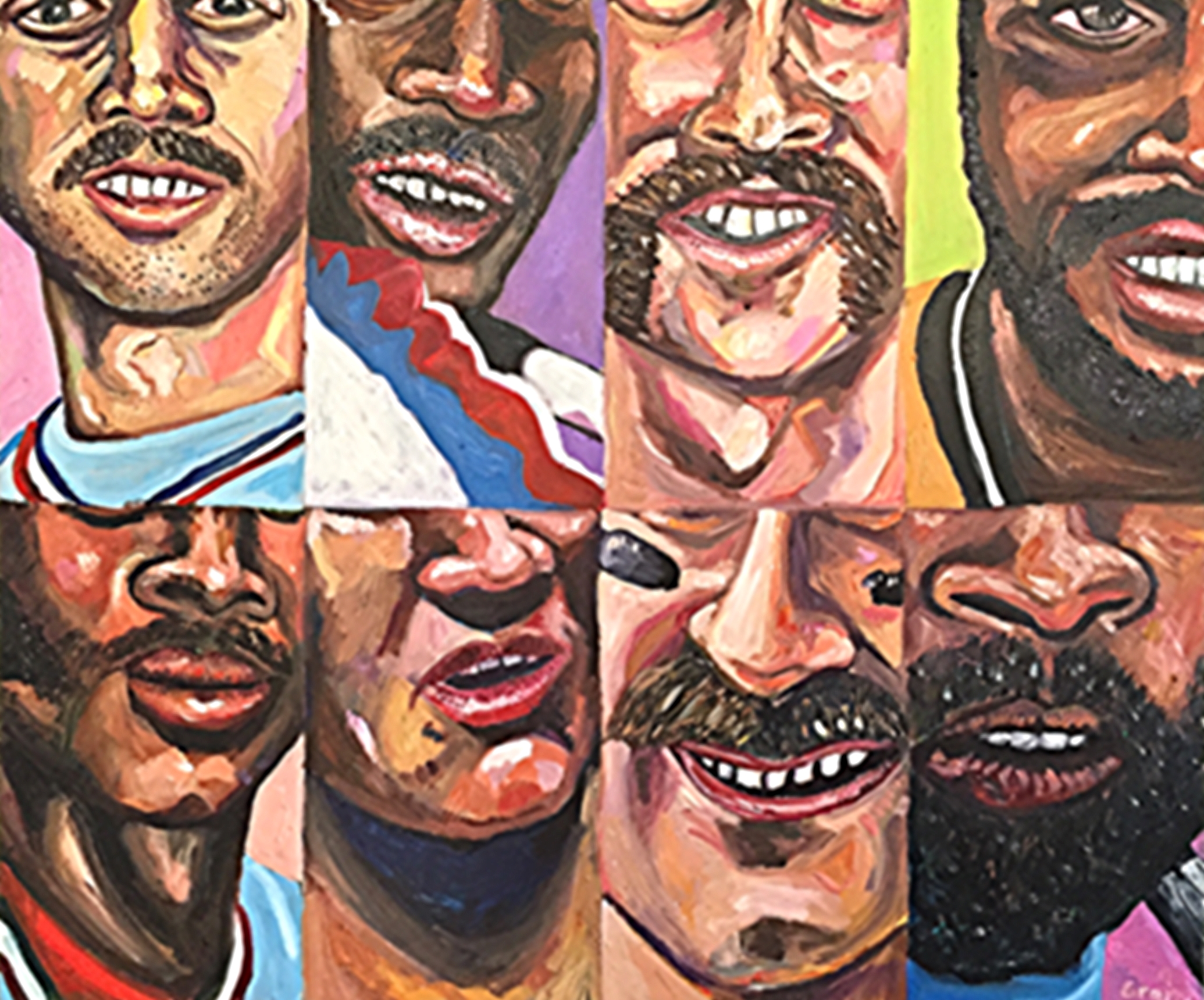 8 Ball
Cocaine was a Huge problem in Major League Baseball in the late 70's- early 80's. I painted 8 noses of players known to partake. An "8 ball" is slang for a small bag of cocaine. In 1985 Eleven players were officially suspended, but all the suspensions were commuted in exchange for fines, drug testing, and community service. The Pittsburgh drug trials are considered one of baseball's biggest all-time scandals. Hernandez, Raines, Scurry, Parker, Smith, Howe, Berra, Wilson. Oil on Wooden Panel, 20x 24" 2016. $1,500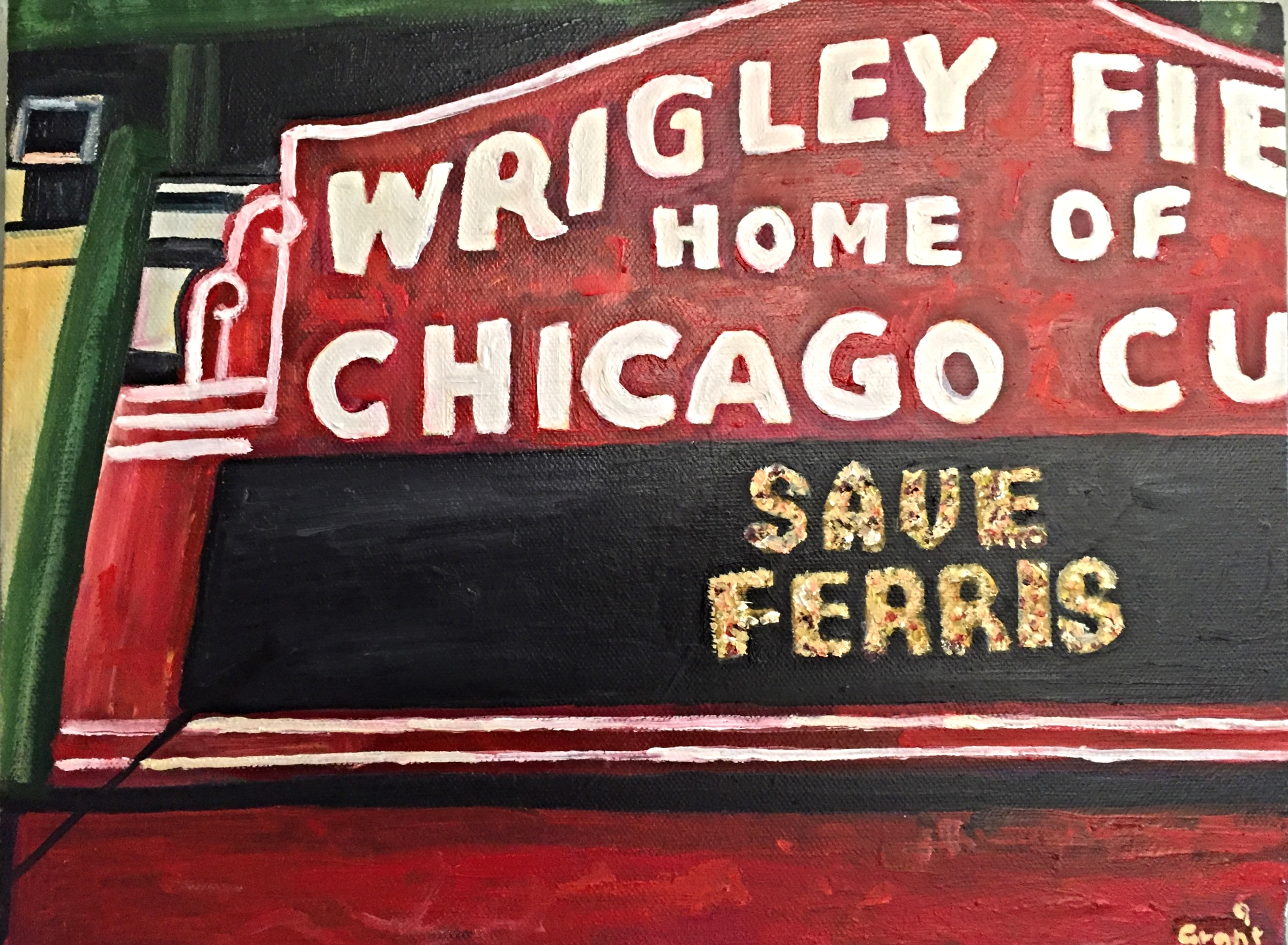 Save Ferris
Who wouldn't enjoy a day of hooky on the North side enjoying a day game an Old Style? Oil on Canvas 9x 12" 2015. $350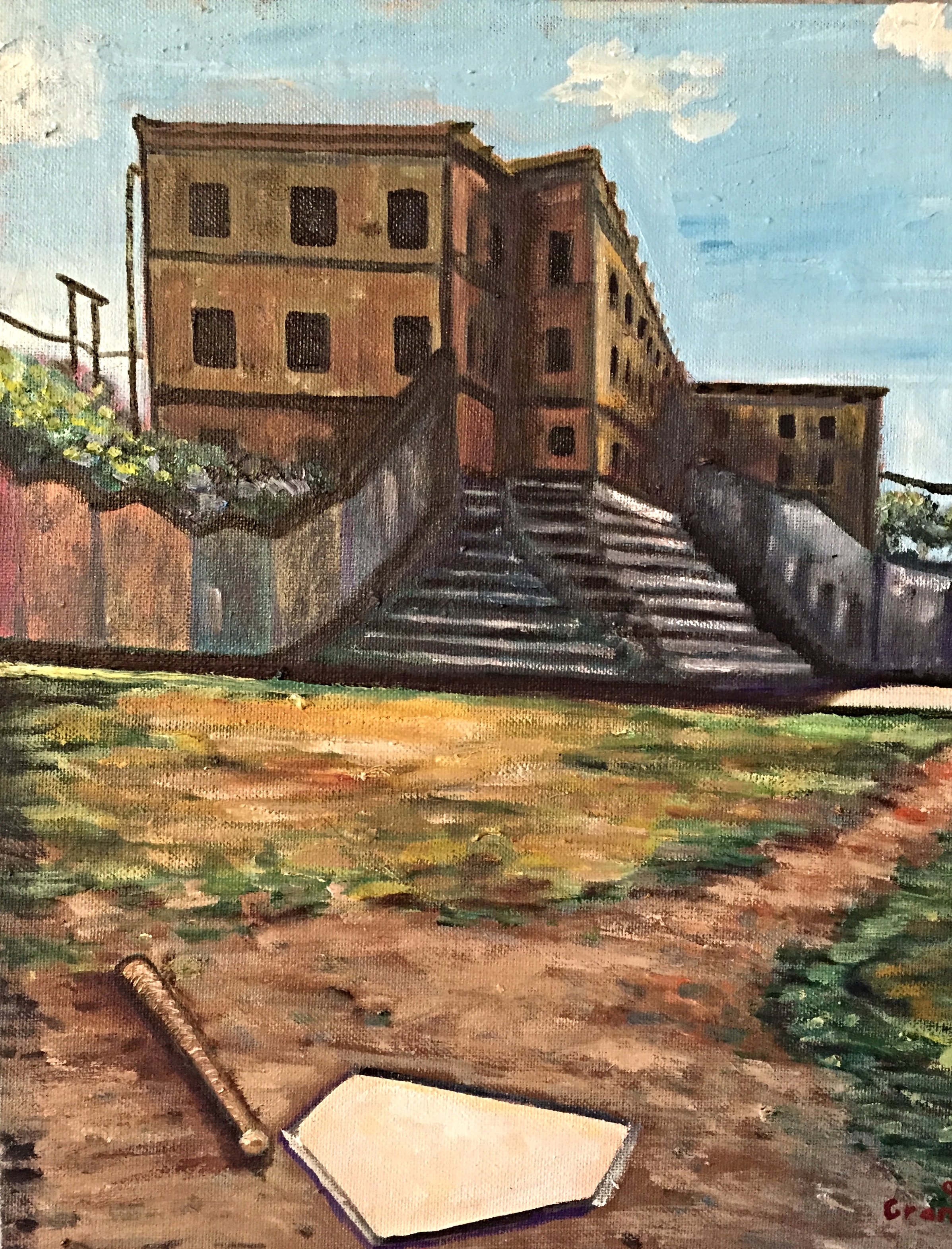 Escape.
The Alcatraz baseball field. 11x14",Oil on Canvas Board, 2015. $400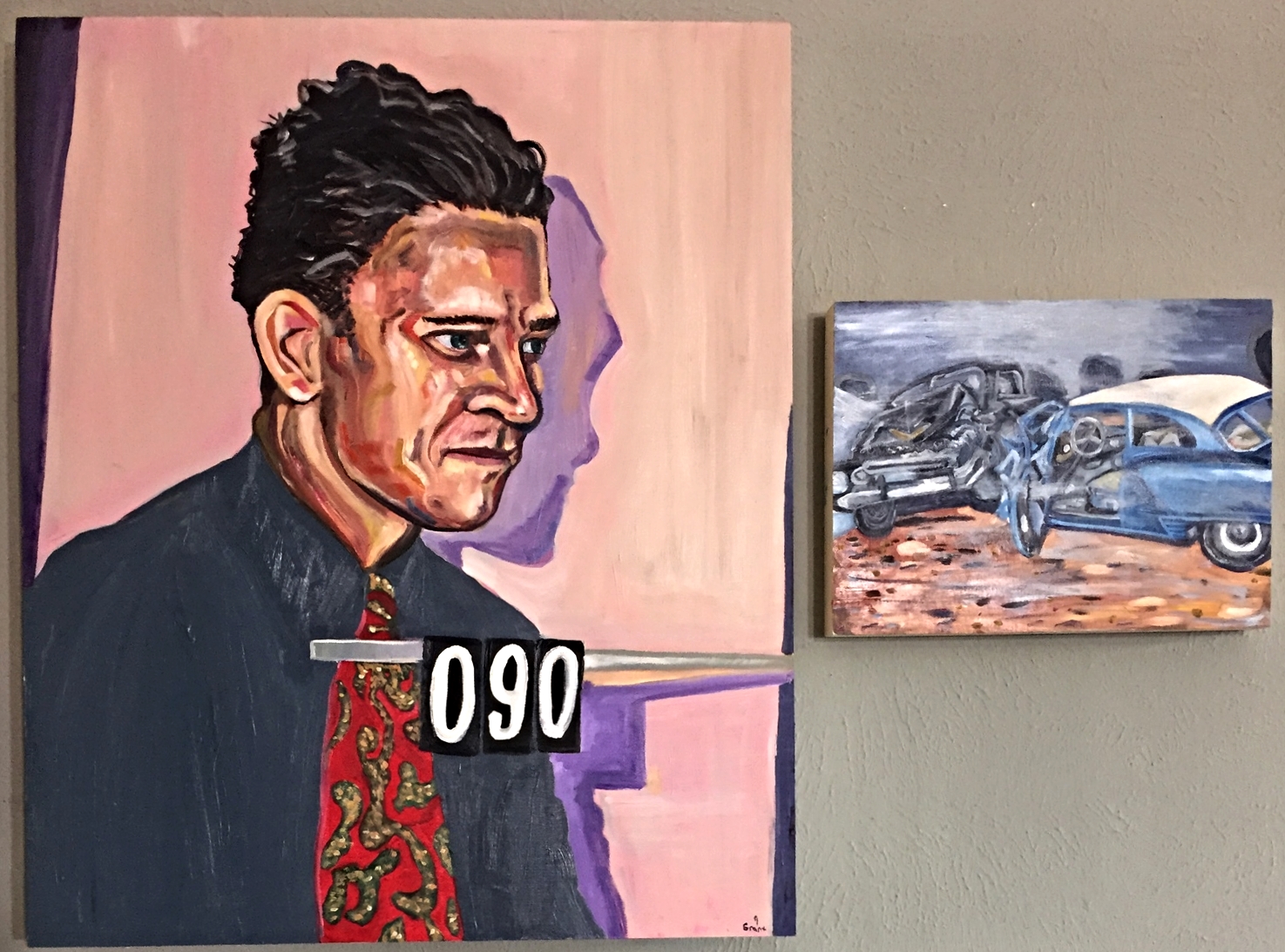 .416
Mel Ott hit over 500 home runs for the Giants. He died at age 49 when he pulled onto a foggy road colliding with another car. Image on left shows Ott getting photo taken for a civilian job. The title refers to the amount of reaction time in seconds a batter has to hot a fastball. What is the reaction time to avoid a car on a foggy day?
Oil on birch panel 24"x 20" second panel 12"x 9" 2015 $2200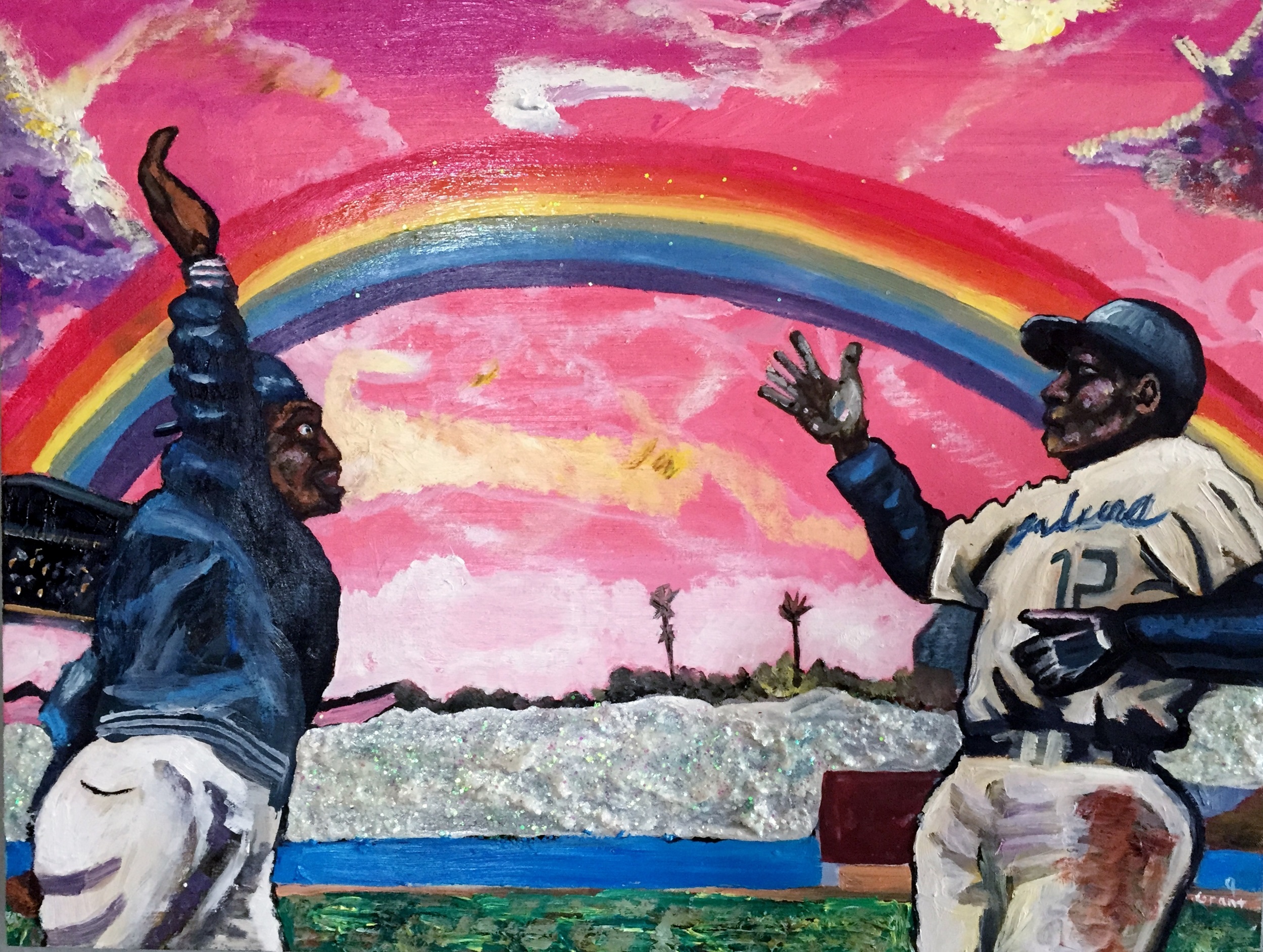 Transmission
Glenn Burke played for the Dodgers in the late 1970's. He was homosexual, and really didn't make any attempt to hide that fact to his teammates or management. He is also credited for giving the first "high-5". He gave it to Dusty Baker after Dusty had hit his 30th of the season. Later the high-5 became a symbol of gay pride. Burke passed away in 1995 from complications due to the AIDS virus. Oil, and glitter On Wooden Panel, 12"x 16" 2015 Private Collection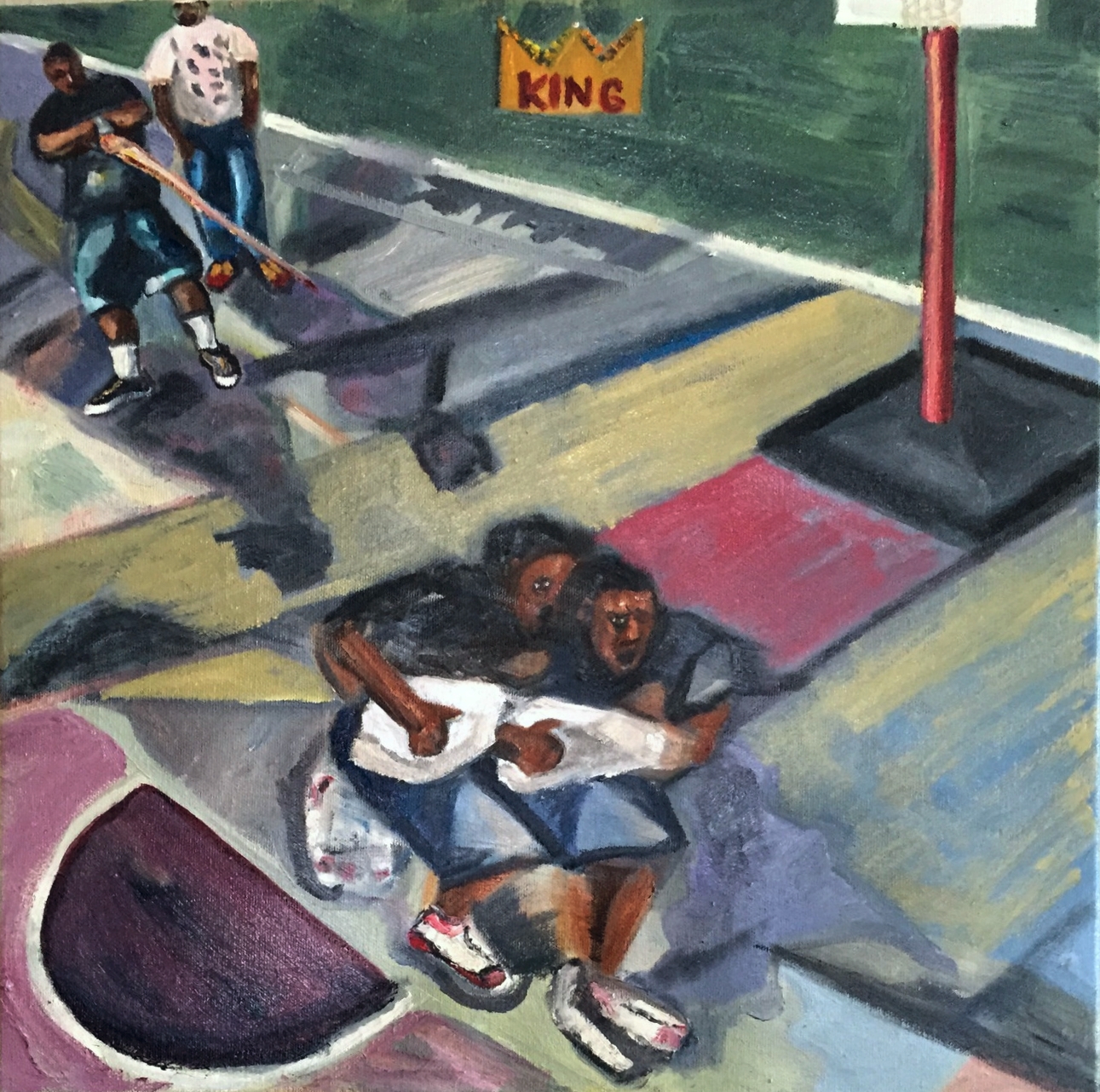 The King.
Man Shot for trying to take another man's Lebron James model shoes.
Oil on Canvas 16"x16" 2015 $400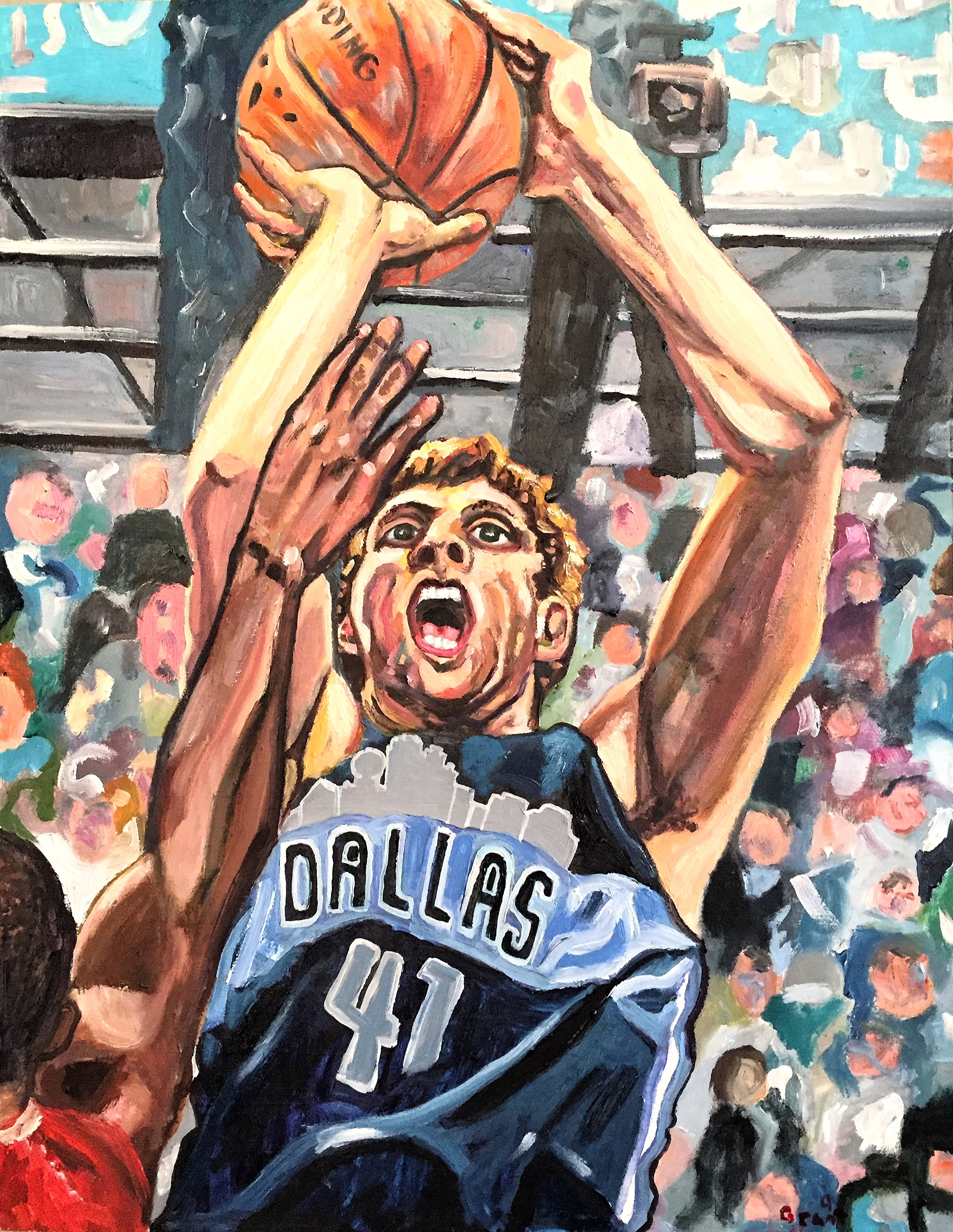 Dirk
Oil On Wood Panel 18 x14" 2016. Private Collection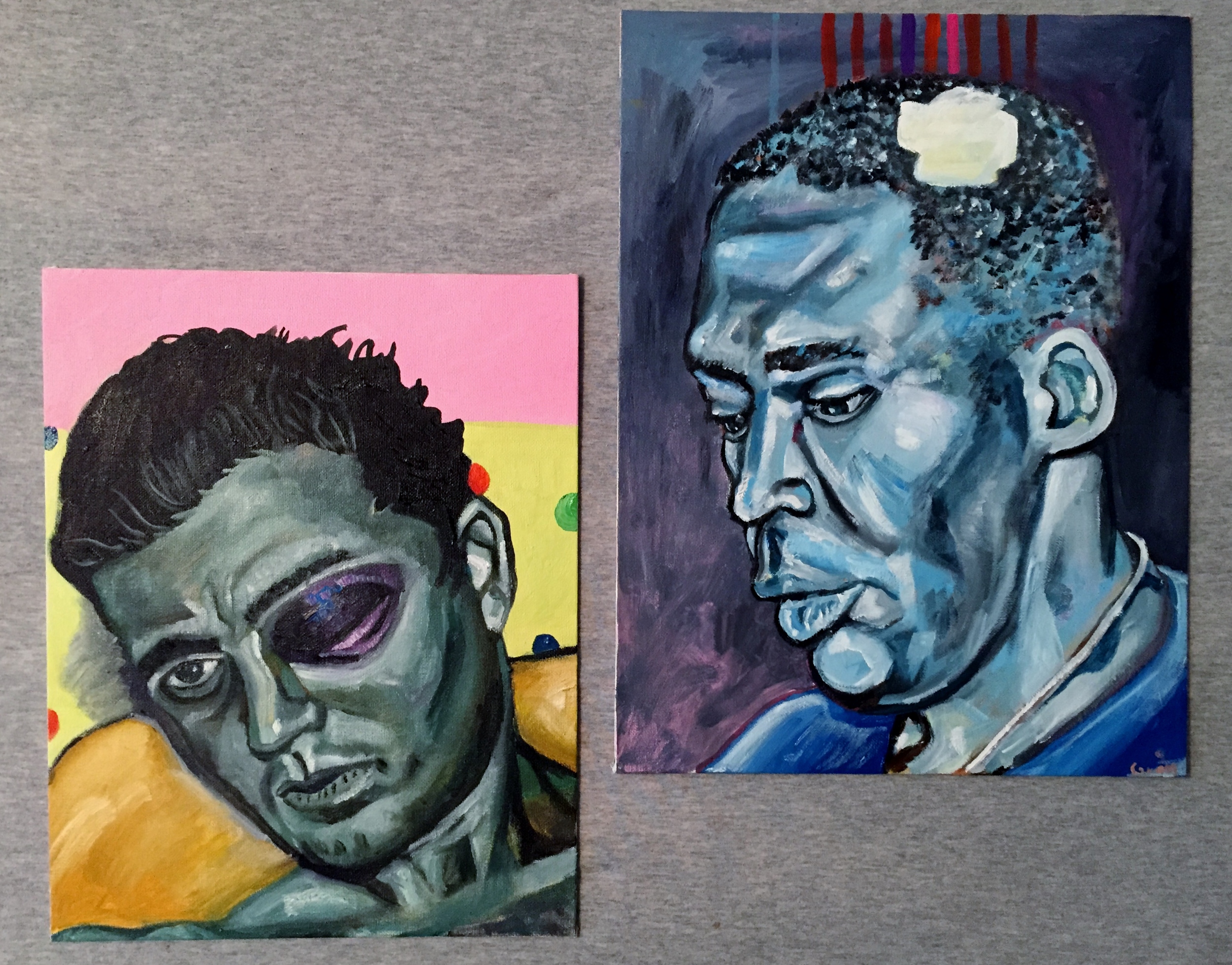 Bruised At Best.
I took two separate incidents of players being injured in games and placed side by side to change the context into race in America. Tony Conigliaro was beaned in the eye forever derailing his career. John Roseboro was hit over the head with a bat during a game by Juan Marichal. Oil on Canvas panels 11"x 14" , and 12" x16" 2015 $500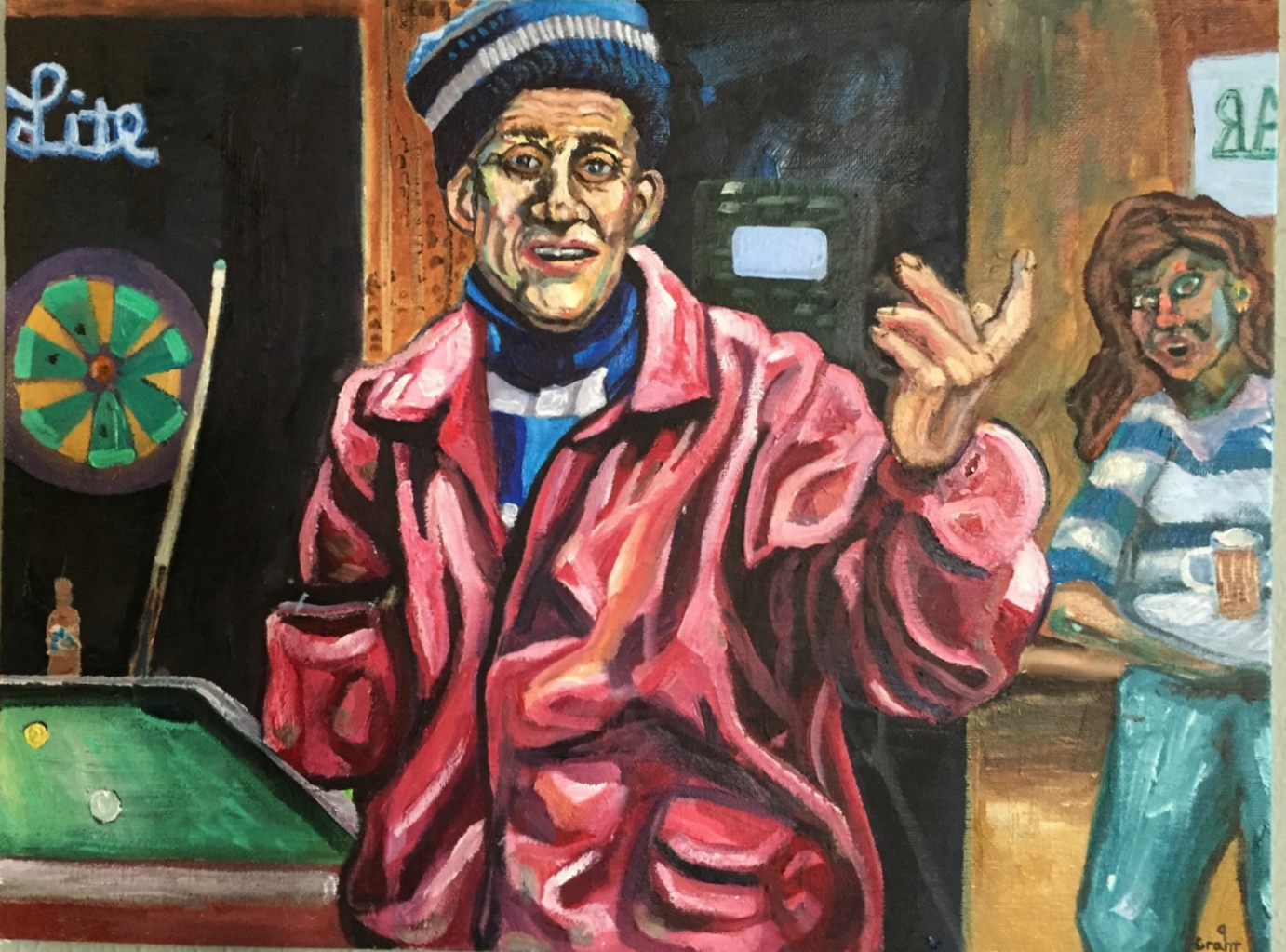 Bars Are Dark And Lonely.
Pete Gray was a one armed major leaguer during WWII. He was more of an entertainment attraction to bring fans in, Peter also became a role model for children and people with disabilities, and also became a great inspiration and hero for wounded Veterans returning home from the war. He became a pool hustler, gambler, and alcoholic in later years.
Oil on Canvas board 12" x16" 2015 $450
Old Style
Al Smith of the White Sox gets a beer shower during 1959 World Series. 11x14" Oil on Masonite Board, 2015. $350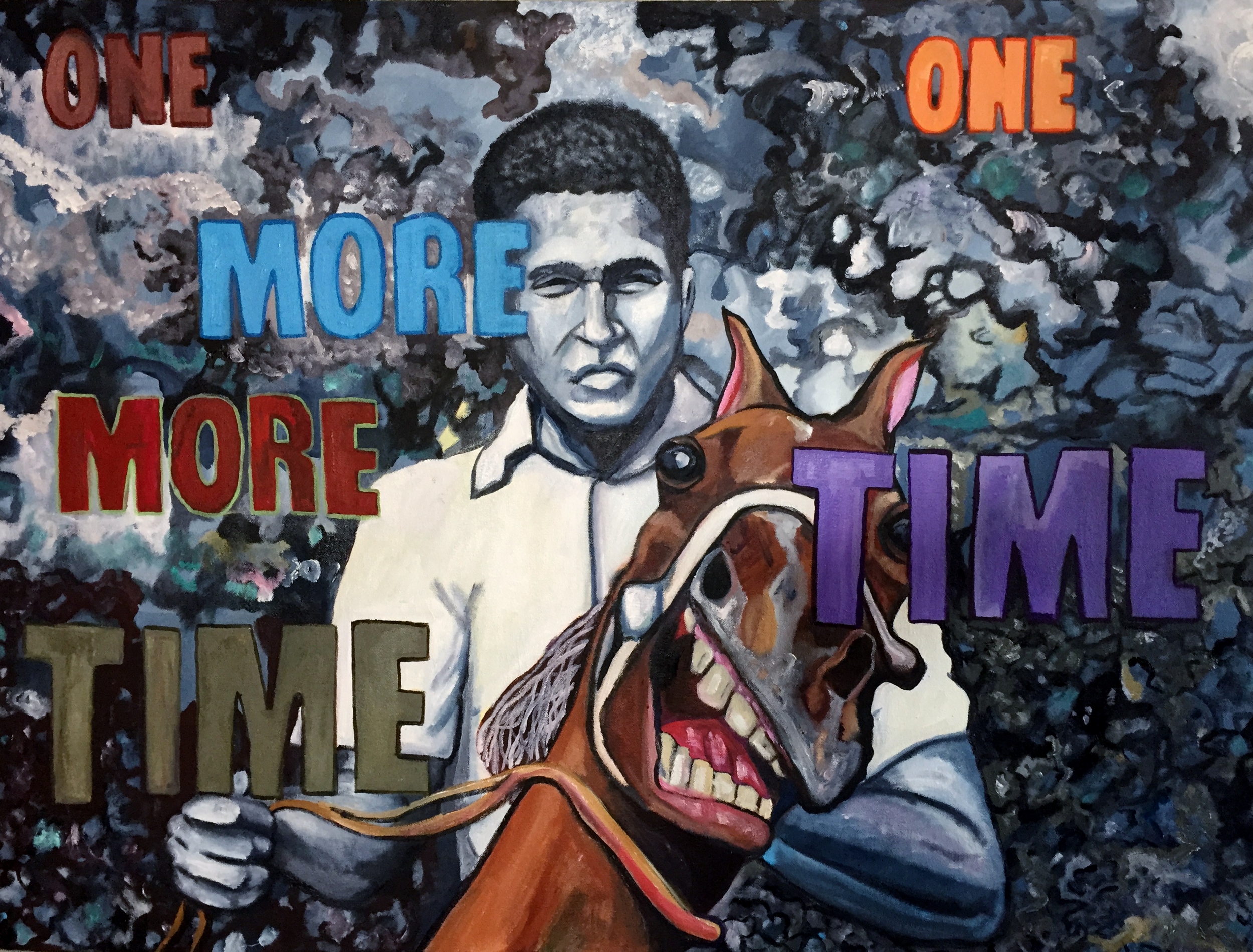 Just One More TIme Champ!
In the final fights of Muhammad Ali's career he was slow, overweight and over matched. His handlers pushing him to continue to fight long after he should have retired so they could collect payday. He should be riding the horse into the sunset, but instead gets abused for the payday. Oil on Canvas 30"x40" 2015 $3000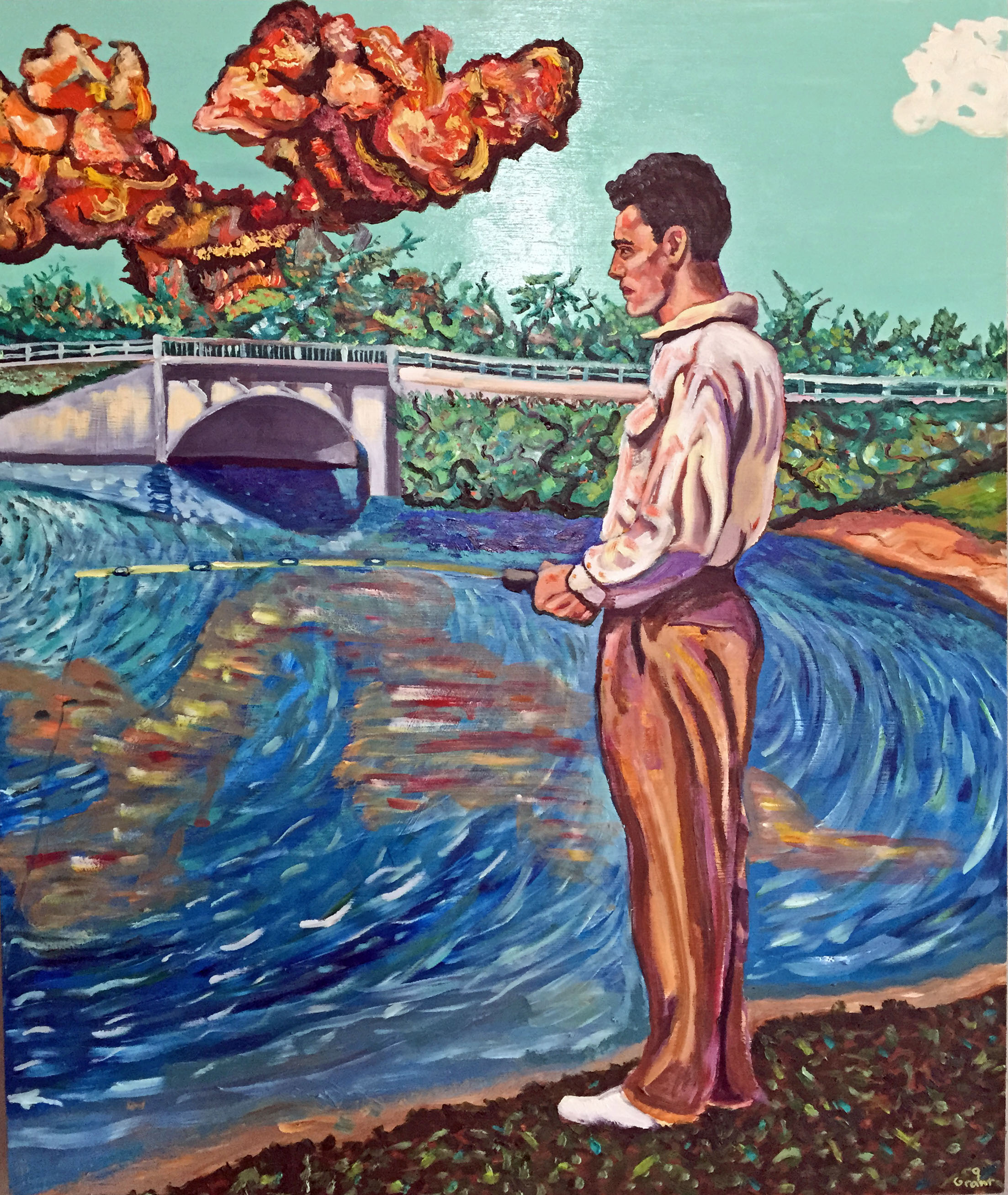 Over My Shoulder.
Ted Williams served 5 and a half years as a Marine fighter pilot in WWII and Korea. He was as passionate about fishing as he was about baseball. I combined images to show a bomb exploding in the background as he fishes. It is only in recent years people have acknowledged the horrors of PTSD.
24"x20"X17/8" Oil on Birch panel 2015. $1800

You Can't Press Rewind.
The Steroid Congressional Hearings in 2005. Hear No Evil, Speak No Evil, See No Evil.
Oil On Canvas 12"x 36" 2015. $800.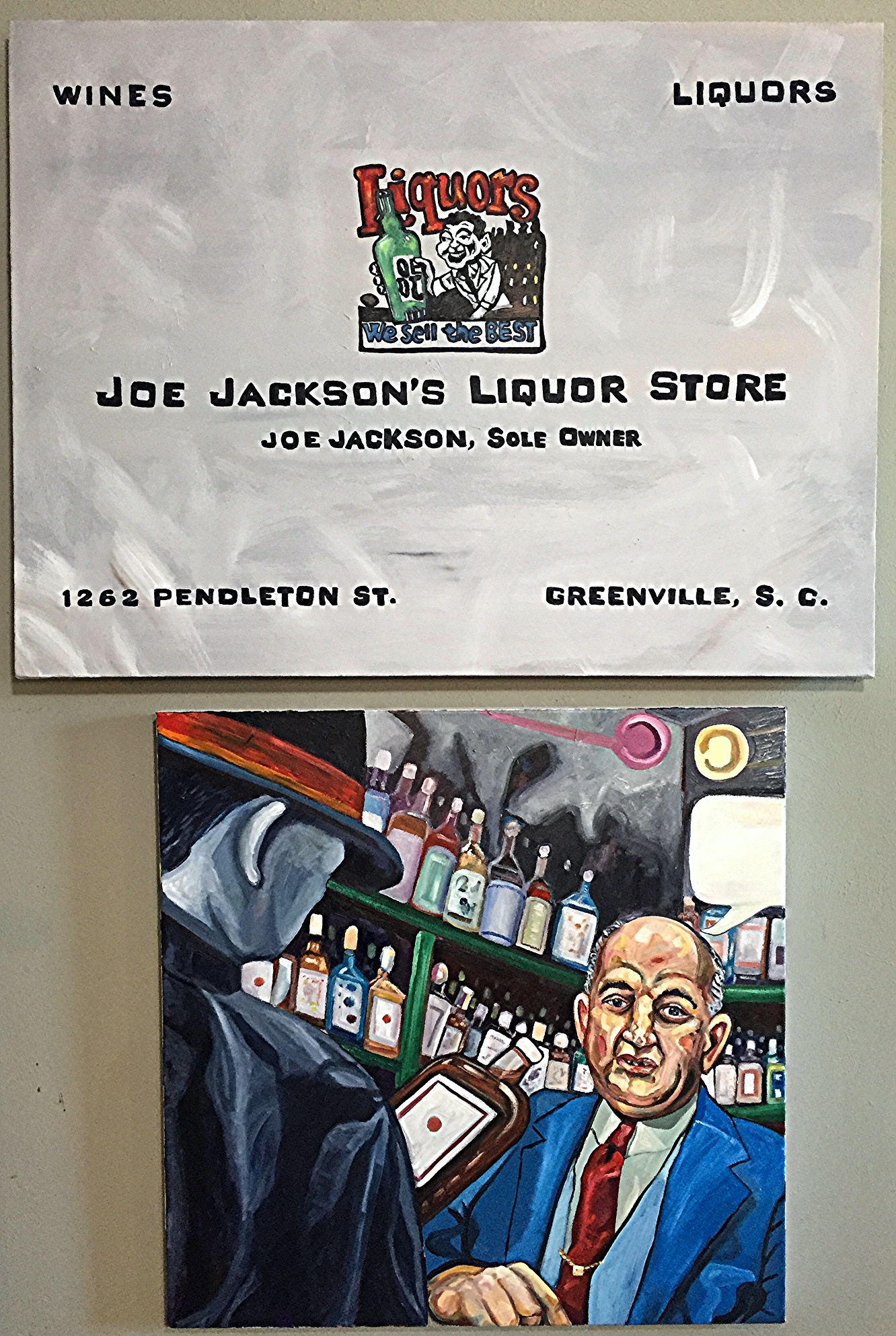 I Know What's Coming For Me In The Dark.
Joe Jackson's business card looms over his head as he runs a liquor store in his old age. Forced to leave Baseball after the 1919 Black Sox scandal, possibly the greatest hitter ever is forced to into a menial job .
Diptych Oil on Canvas 2014 $3750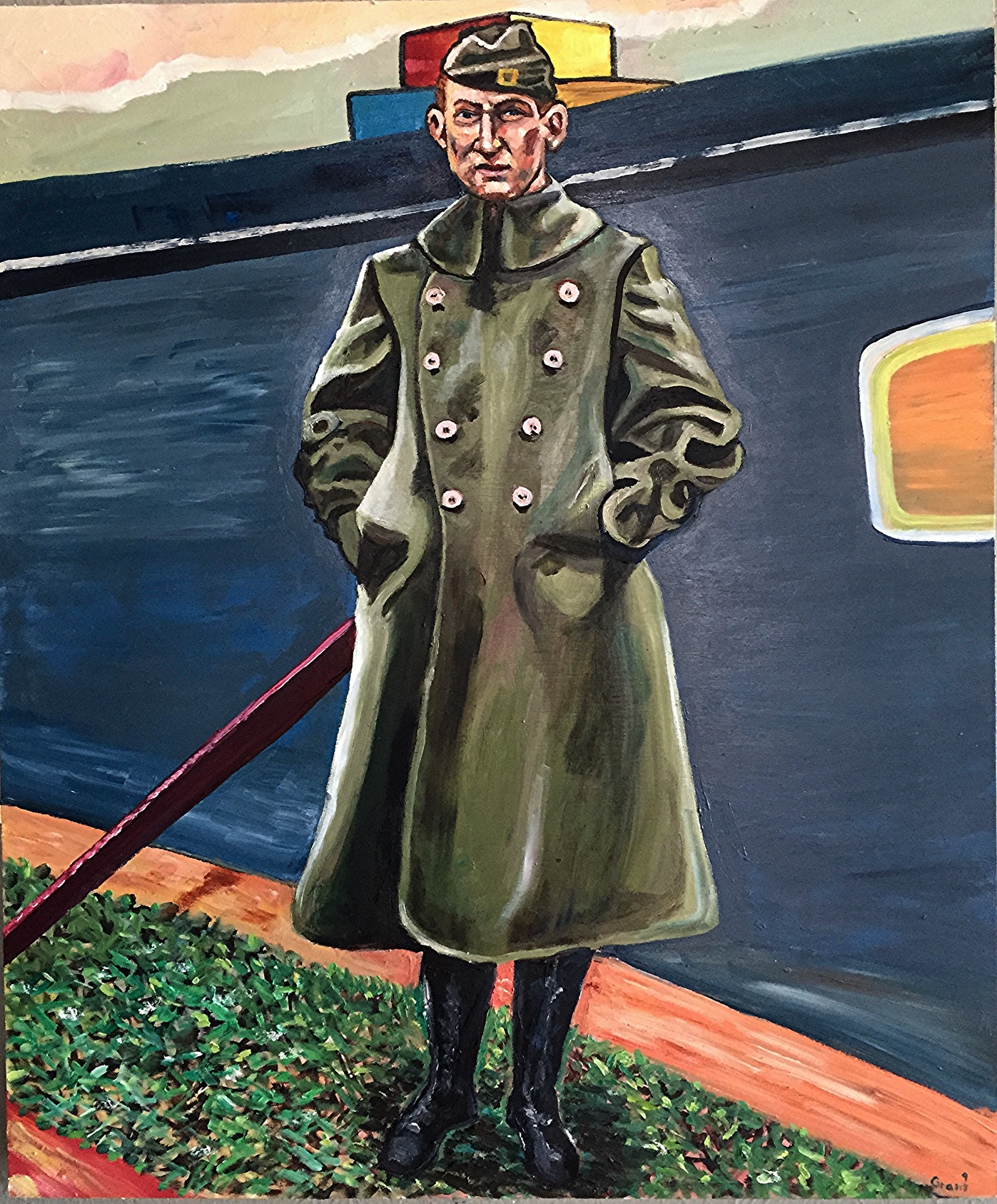 The Base.
Ty Cobb in WWI uniform. Cobb served on the front lines of America's fight against Germany. Cobb, along with Christy Matthewson and Branch Rickey, was a member of a special elite combat unit called the "Chemical Warfare Service," otherwise known as the "Gas and Flame Division."
24"x20 Oil on Birchwood panel 1 7/8" deep. 2015. $1600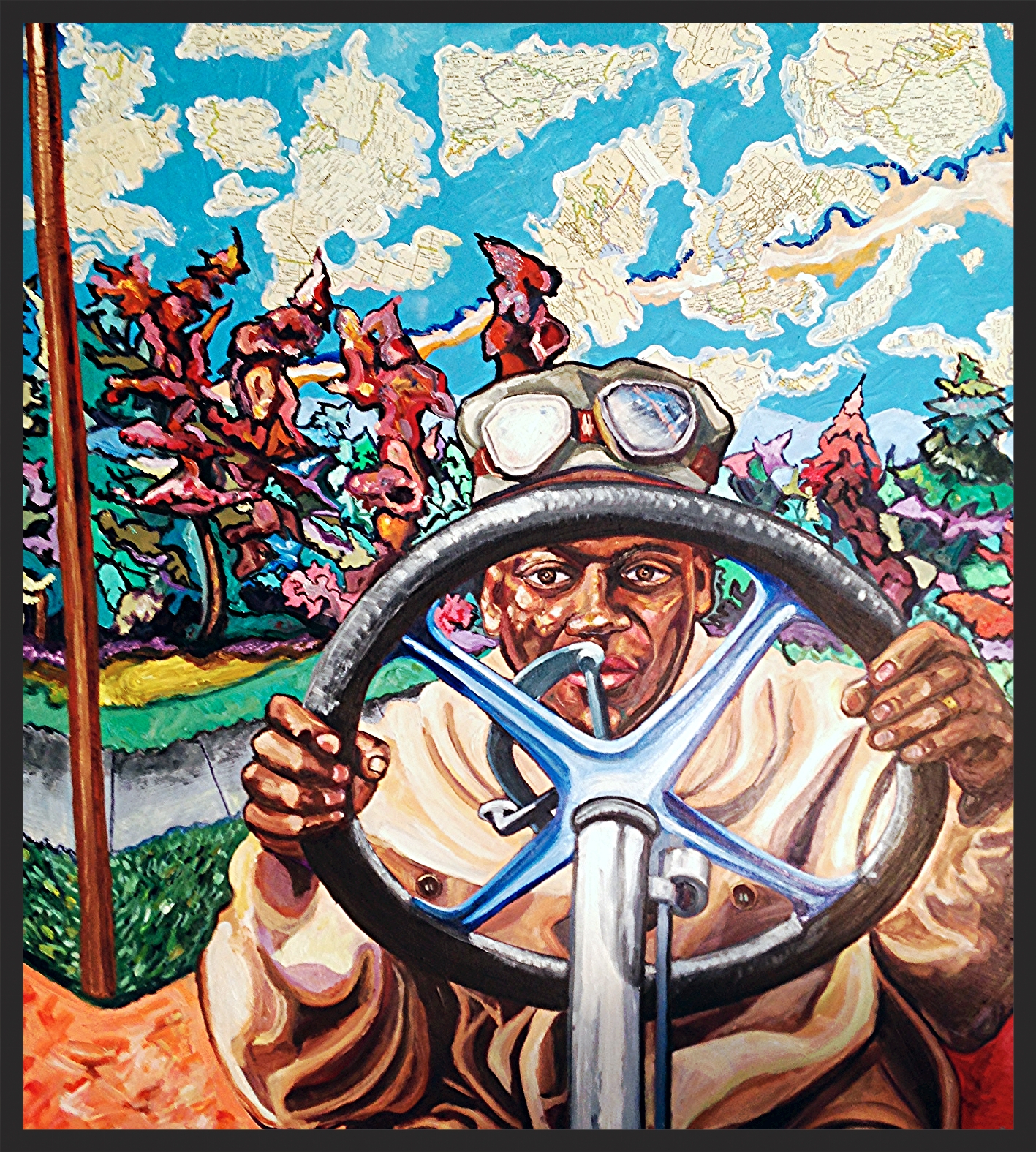 Escape Any Way You Can.
Heavyweight Champion Jack Johnson 1908-1915 did not make for a popular champion at the height of the Jim Crow era. Johnson was faced with much controversy when he was charged with violating the Mann Act in 1912, by taking unmarried women over state lines. He dated white women, often traveling with more than one at a time. Johnson fled to Europe to evade prison. He finally returned and spent time in jail. Late in life he was refused service at a diner, angrily got in his car and sped off. He lost control of the car killing himself. THe clouds of this painting are maps of Europe. Oil On Wooden Panel Board 2014 $3500
Waiting For Eddie
Ruth Ann Steinhagen in prison after shooting Phillies first baseman Eddie Waitkus. 12"x9" Oil On masonite board 2014. $200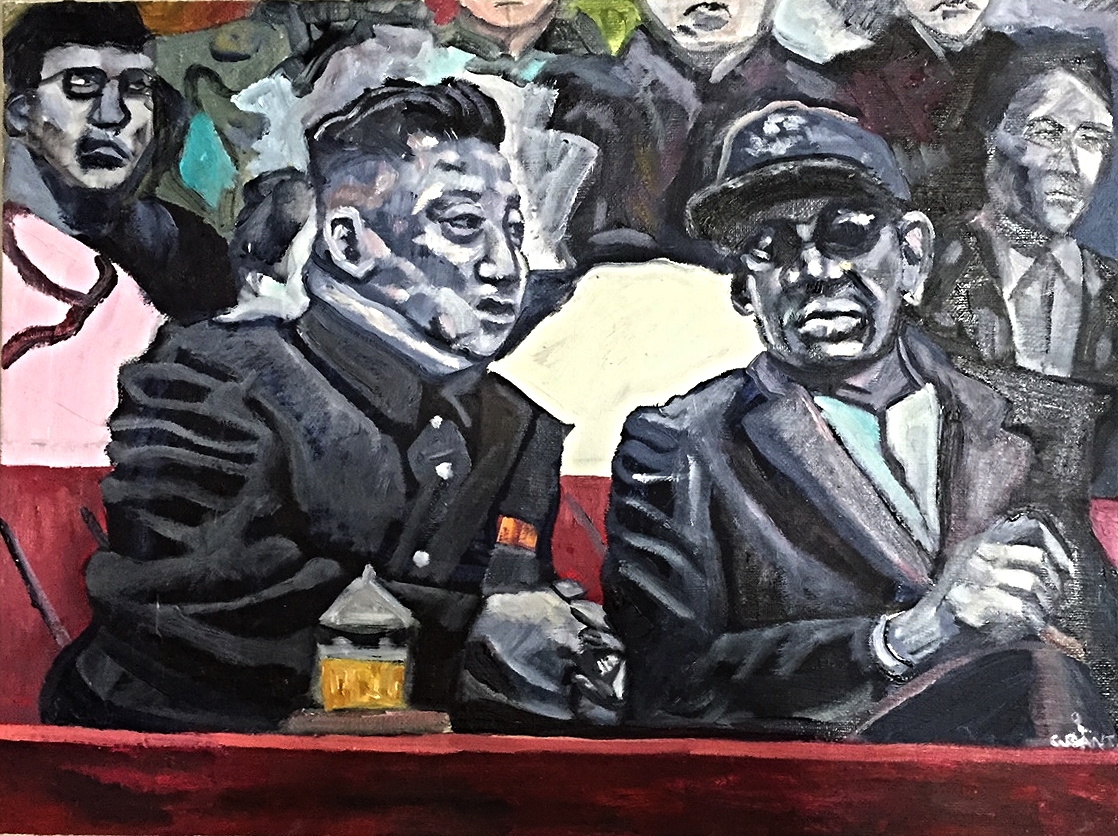 The Toad And The Worm.
Really?
Oil On Canvas Board,12"x 16" 2015. $300
Be Great.... Close up of ladder....
The triptych consists of a ladder with text taken from a letter Herschel Cobb wrote to a 15 year old Ty . Certain statements seemed appropriate for this story. Each step of the ladder has a different sentence written on it. "To have eyes that really see, ears that..., conquer your anger and wild passions that...., degrade your dignity and belittle your manhood...., perpetual guidance of the better angel of your nature...., drive out the demon that lurks in all human blood." See additional images for more information on this piece....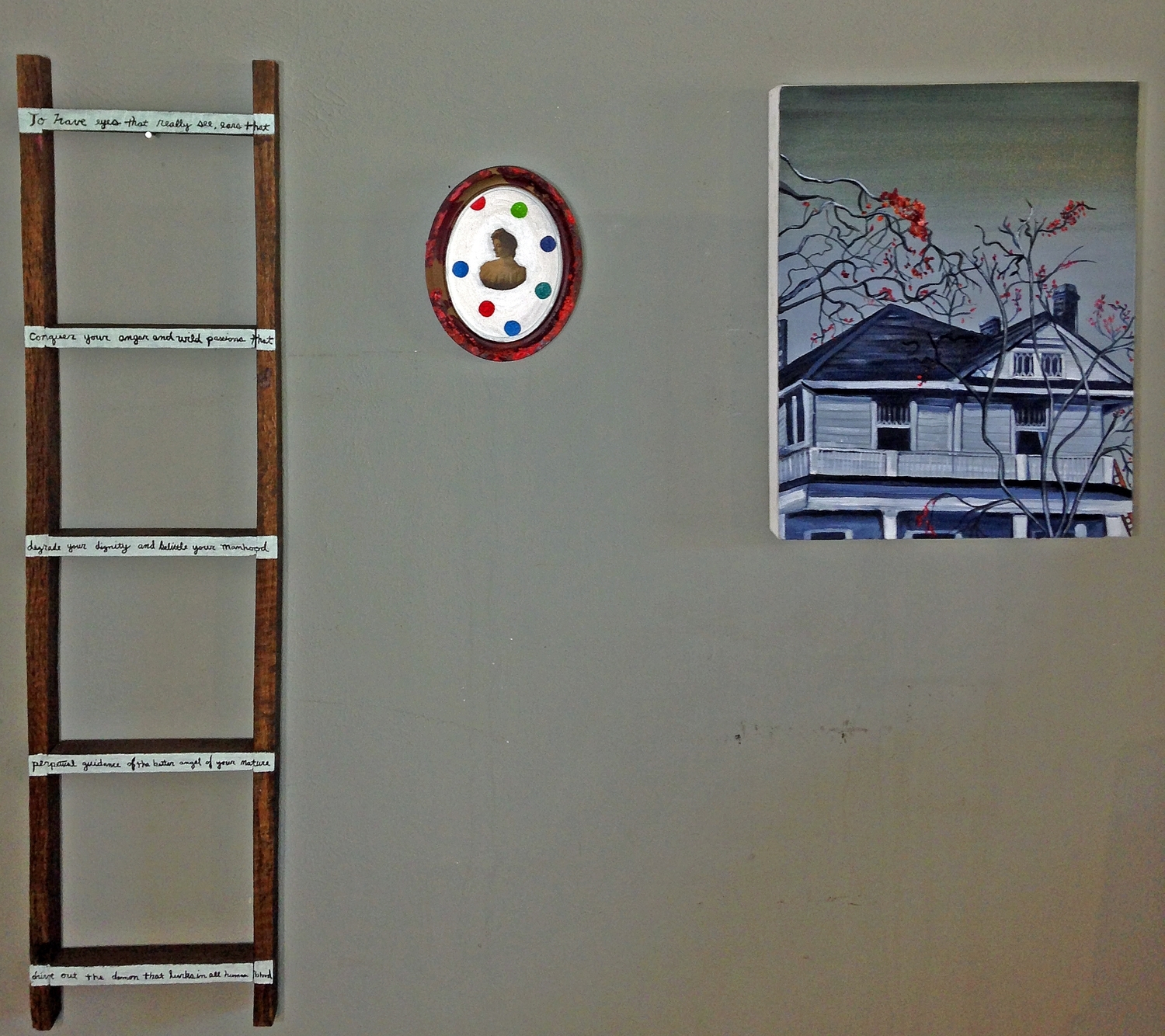 Be Great, Show No Fear Around Me.
Ty Cobb broke into major league baseball with the Tigers in August 1905, just three weeks after his mother, Amanda Cobb, had been arrested on charges of voluntary manslaughter in the shooting death of Cobb's father, William Herschel Cobb. Amandasaid she thought her husband was an intruder trying to enter their house through the bedroom window when she shot him twice. But there had been rumors in town that William suspected his wife of infidelity Ty later stated, "I did it for my father. He never got to see me play... but I knew he was watching me, and I never let him down." See additional images for continued description.....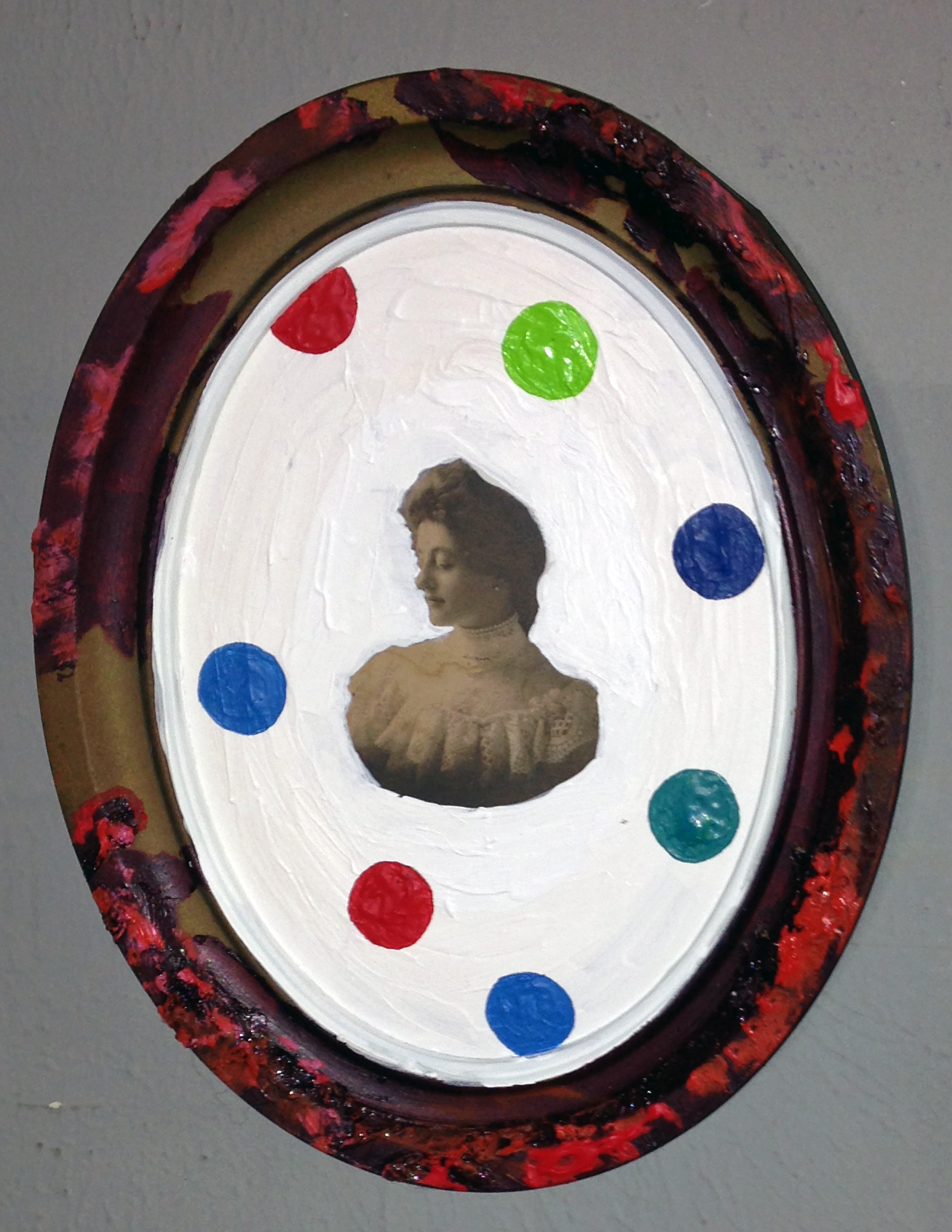 Be Great .. close up
The image of the woman is from the early 20th century but not actually Amanda, the final painting is the Cobb house, the barren trees have a splattering of blood red leaves, and a ladder rests against the house.
Running the Press for "My Dad Always..."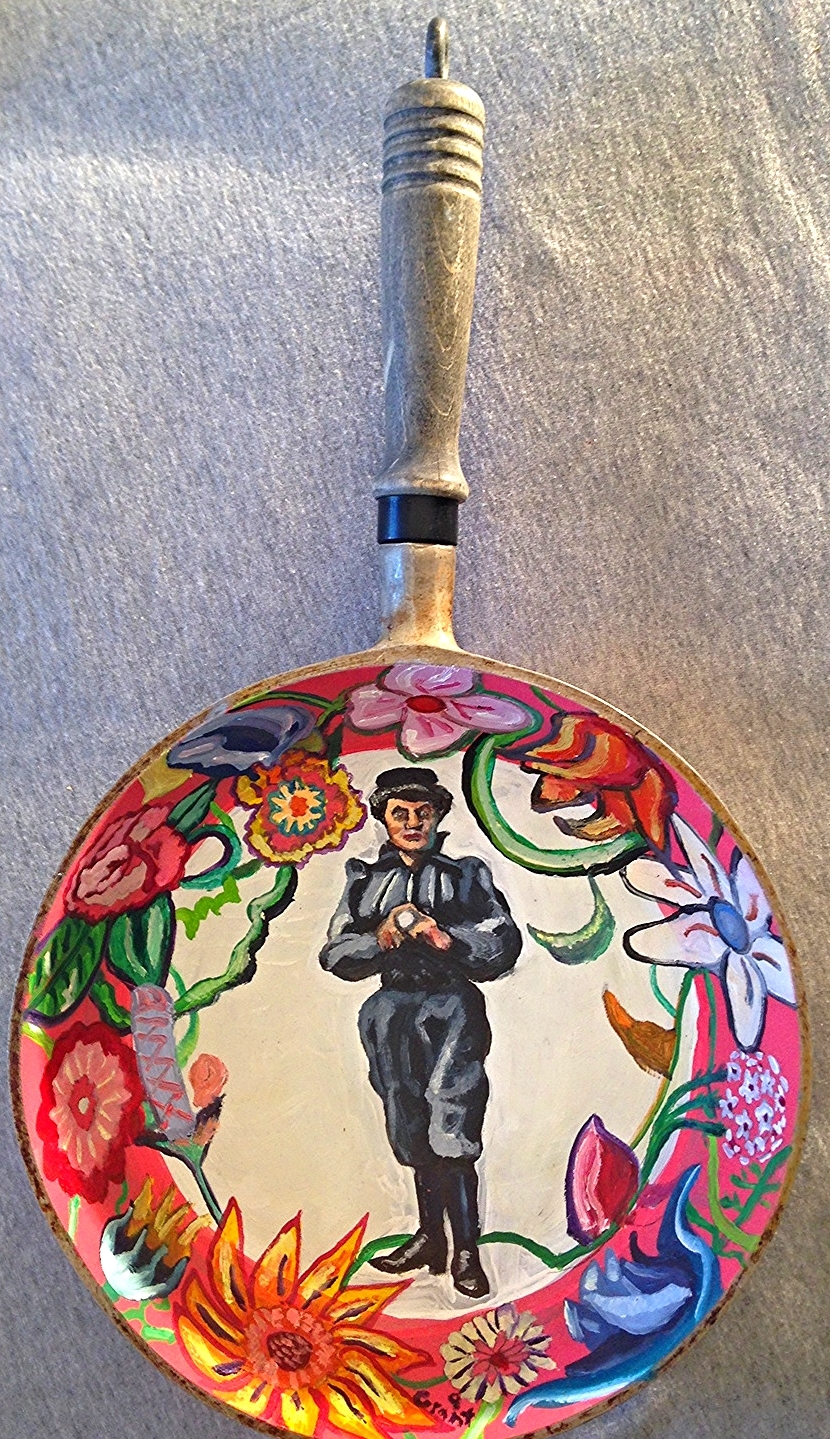 The Bloomer.
For over forty years, Maud Nelson was active in every facet of women's baseball. She played pitcher, third base, scouted, and owned or managed some of the finest women's teams to play in the earliest days of the game. In 1908, one reporter wrote that she was "the greatest all-around female ball player in existence." In the 1930s, she retired to a house in the neighborhood of Wrigley Field, living there until her death in 1944. I painted Maud's image incorporating flowers, and a frying pan. Symbols of femininity, or sexism that she spent her life battling.
Oil and Acrylic on metal frying pan. Private Collection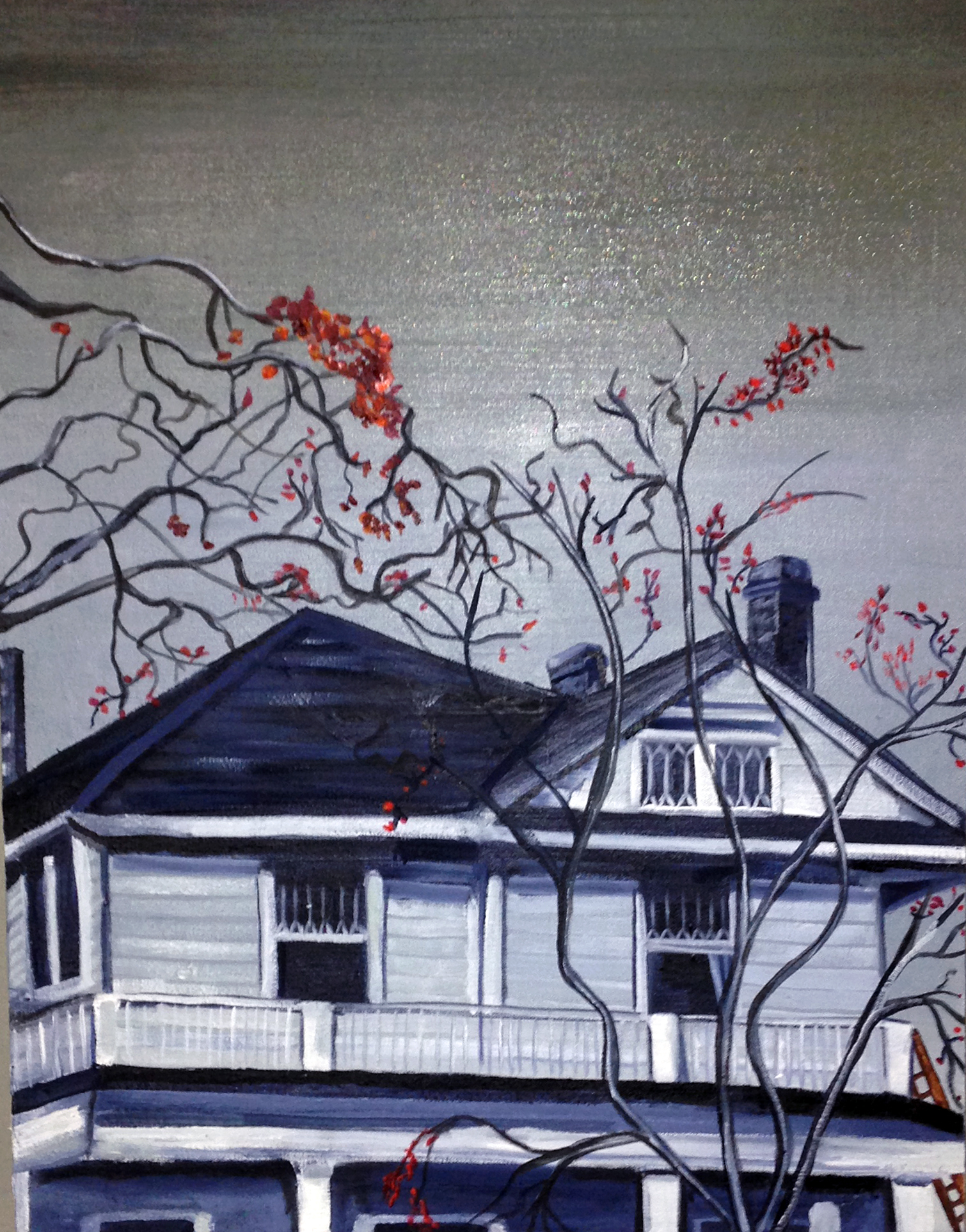 Be Great... close up
Oil and Acrylic Mixed Media 2014. Dimensions LAdder 48"x 12", portrait of woman 10"x 8", and house 23"x 18". $2500
Don't You Know Who I am?
Our society often allows athletes to play by their own sets of rules. This sense of grandiose entitlement makes one wonder if the old adage, Never meet your heroes is good advice. 2011- 15, 10 x10" Oil on masonite panels $3000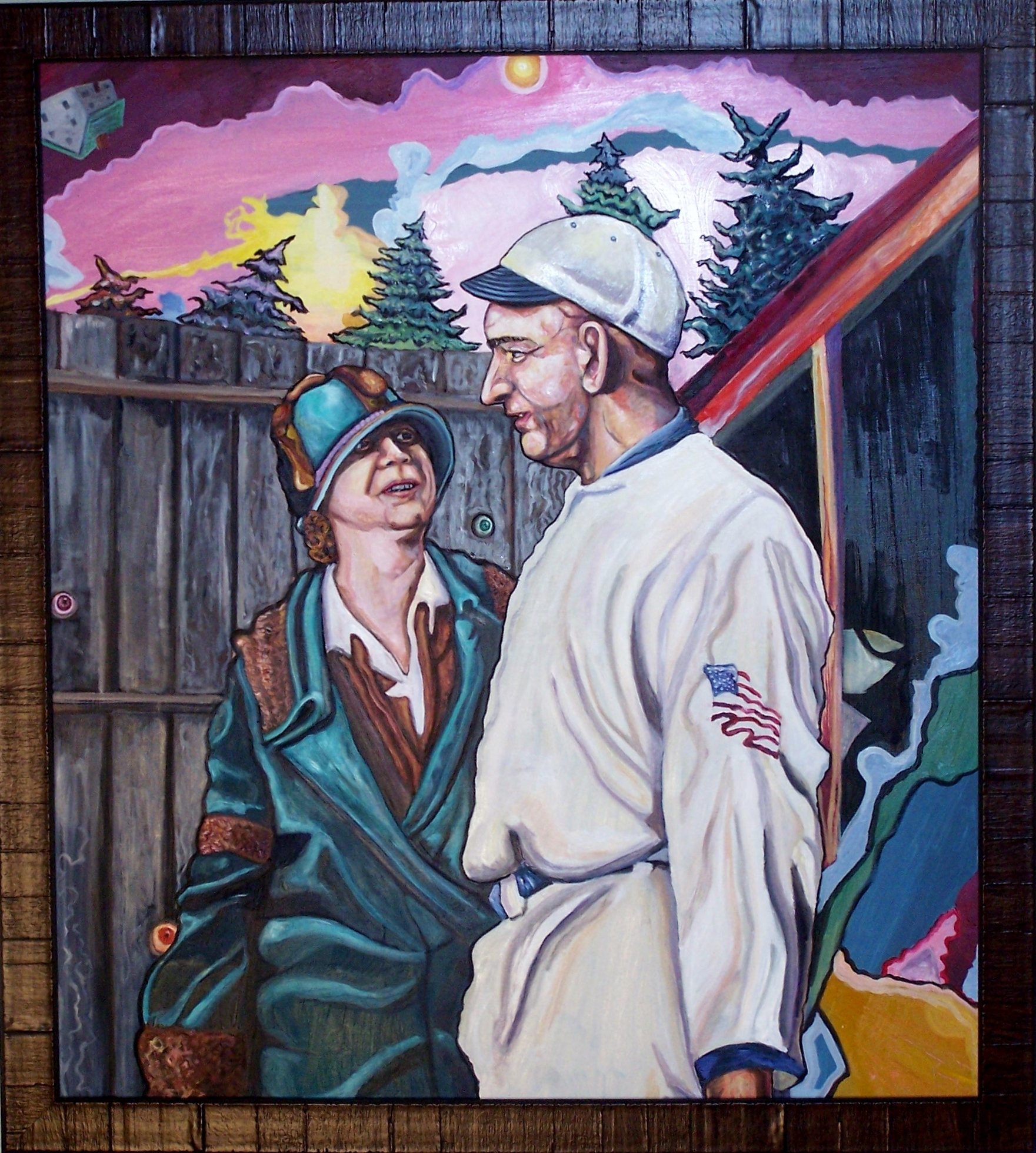 Fortune and Love Favor the Brave.
Joe Jackson and his wife Katie. She stares at him as their world swirls around them. Their home is upside down in upper left and eyes peer at the couple through the fence. Joe just told her he is banned form Baseball. 2012, Oil on Masonite Panel 36"x 30".
$4000
The Meeting Of The Minds.
A not so happy meeting on the mound that found John Roseboro with a bat across his head courtesy of Juan Marichal. Sandy Koufax looks on in shock. 30"x40" Oil on Canvas. 2014 $3750
He Who Dares Not Grasp the Thorn Should Never Crave the Rose.
Joe Jackson, possibly the greatest hitter ever, pictured with roses below. 2013, 24" x 20" Oil on Canvas.
$2500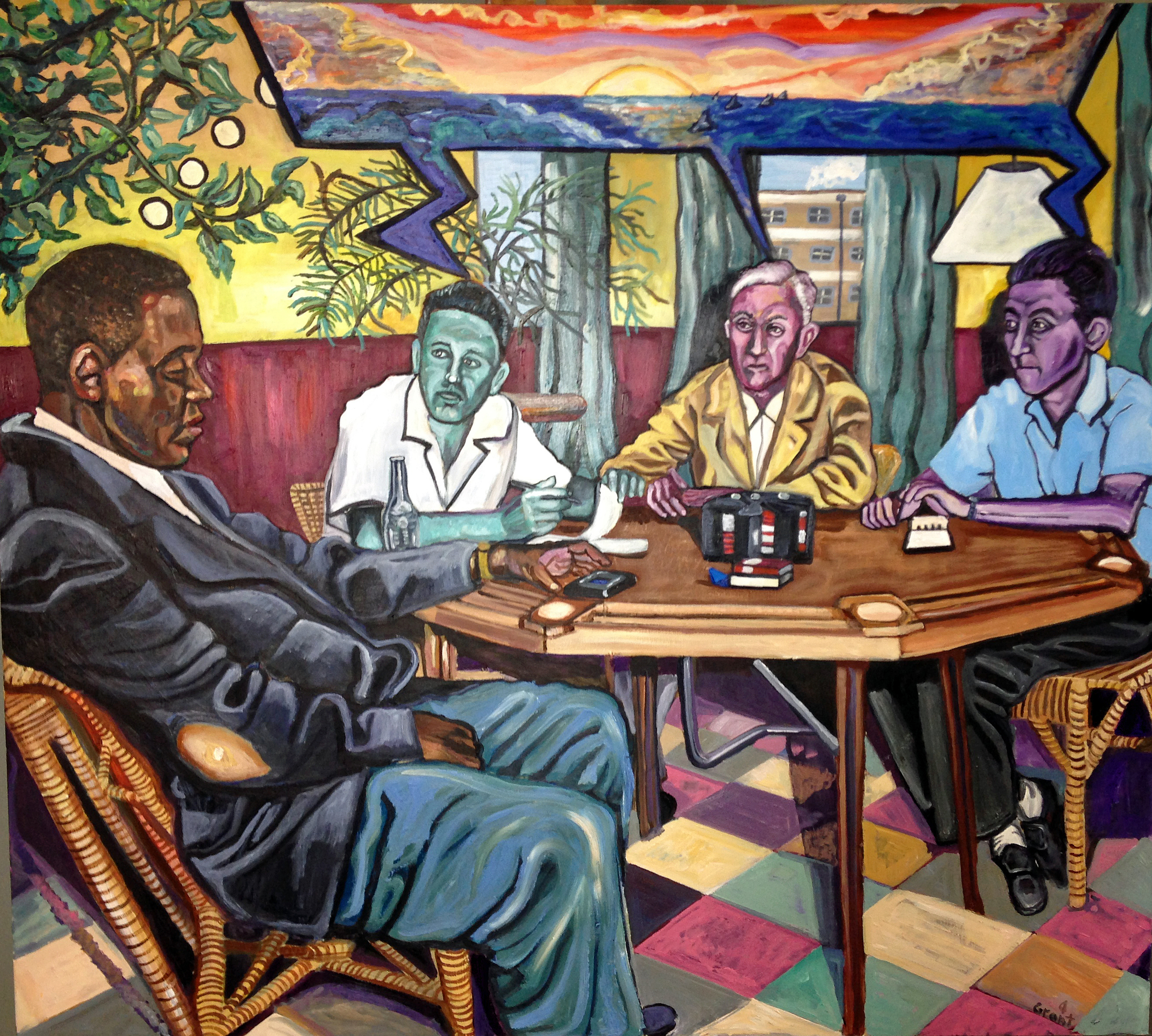 Sharks
Jackie Robinson playing cards with 3 men who have not so trusting expressions. The title refers to "card sharks" as well as the bubble above their heads which shows the ocean with sharks on the hunt. Oil on Masonite Panel 31.75"x 35.5" 2014. $3250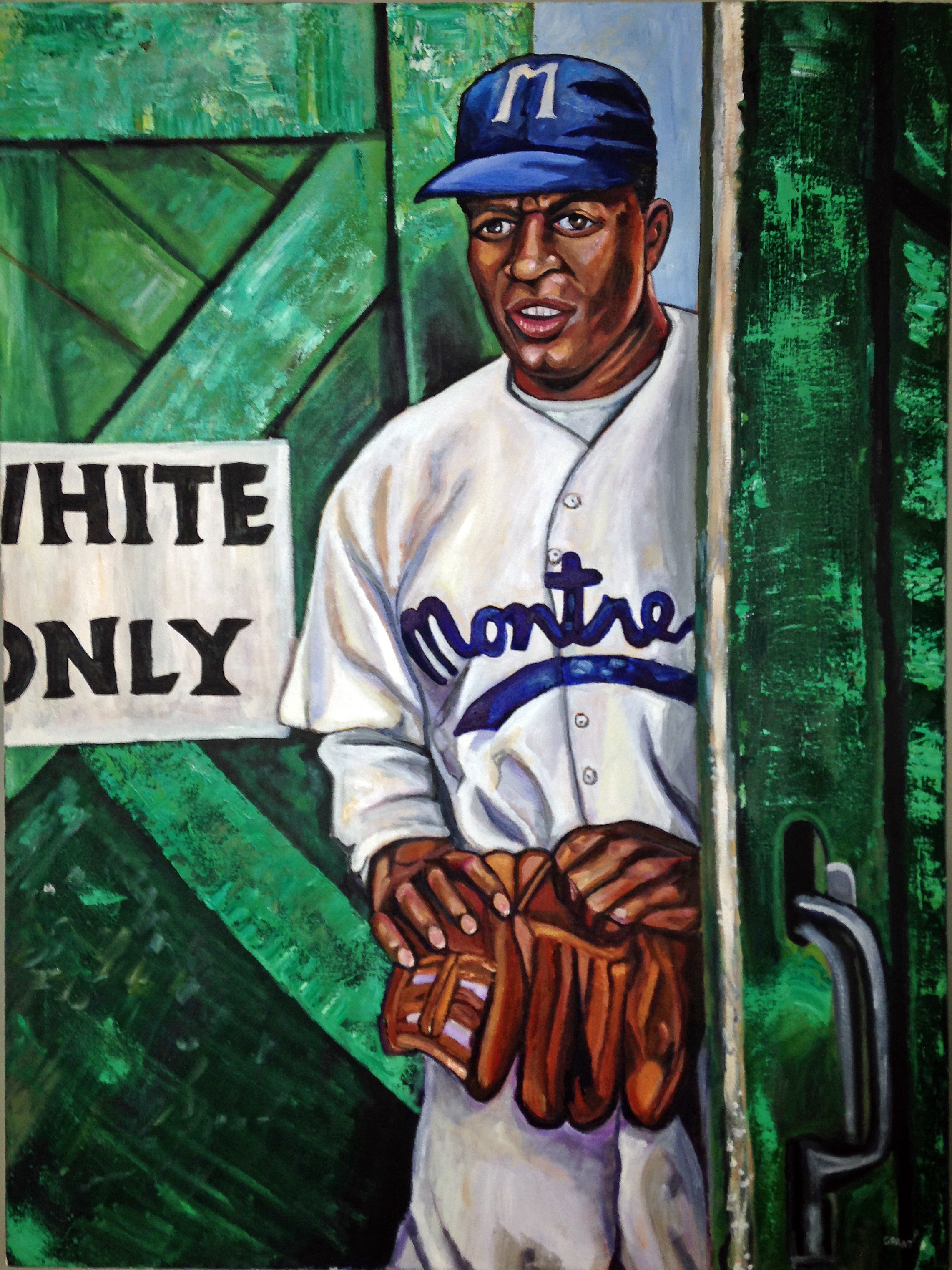 Aperture.
In 1946 Jackie Robinson played minor league baseball for the Montreal Royals. The Canadian populous was much more tolerant of the African American population. Robinson was preparing for a less hospitable reception in the U.S. as Branch Rickey introduced him as a member of the parent club, the Brooklyn Dodgers.
Oil On Canvas 40"x30", 2014. $3500
Pandemic
Joe Jackson and his wife Katie with an image of a vulture and a coyote battling for food. I am intrigued as to what happened to their relationship once he was banned from the game. The broken telephone wires in the background signify a lack of communication. 2012, Oil on Canvas 24" x 36"
$3500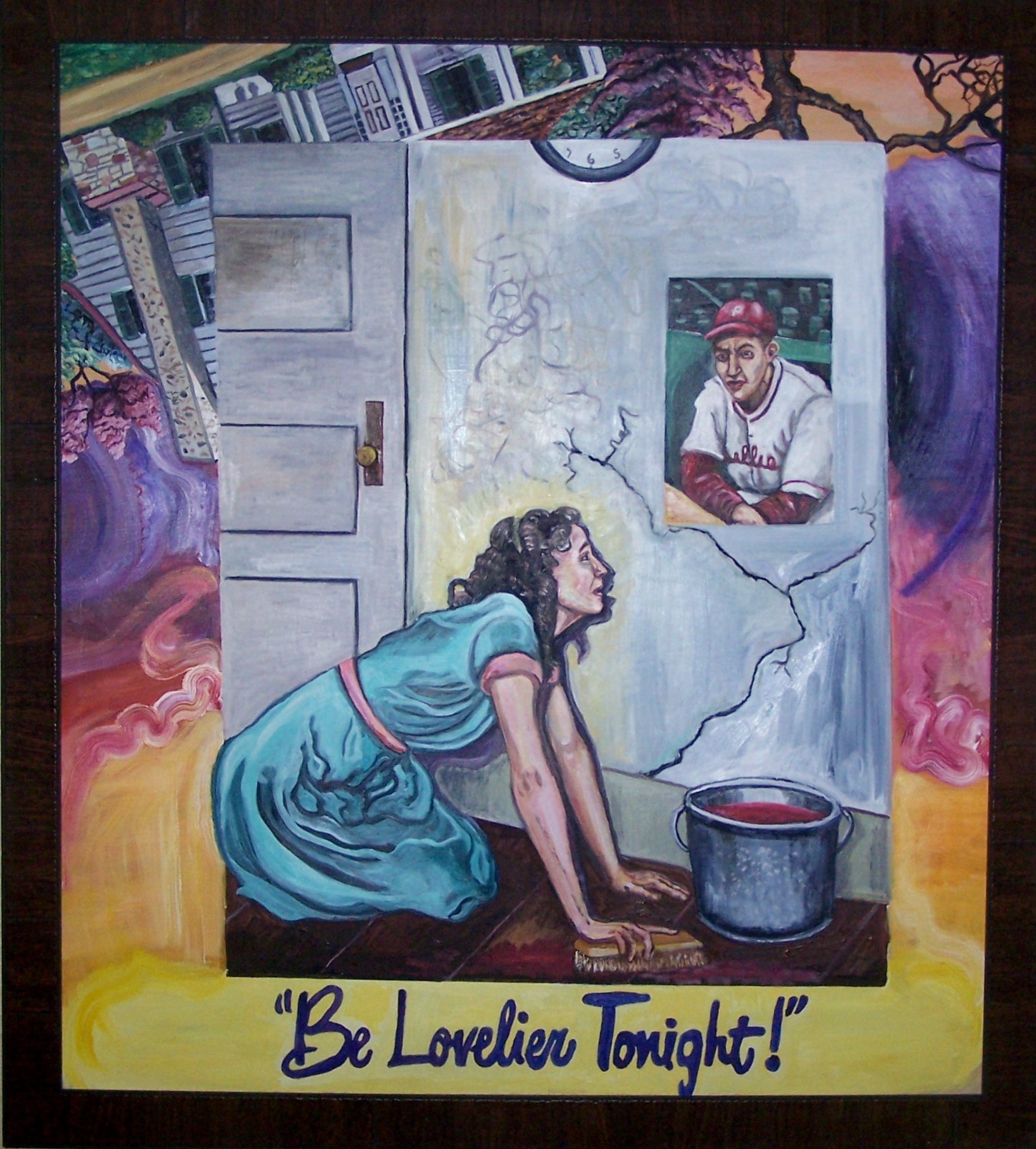 I'll Love You Until The Day You Die.
Ruth Ann Steinhagen became obsessed with Phillies first baseman Eddie Waitkus. She shot him in the Edgewater hotel in Chicago in 1949. This painting shows Ruth and Eddie with an upside down crumbling home spiraling above their heads. 2010 Oil on Masonite Panel 36" x 30" $3000
Pandemic (Closeup)
Joe and Katie / Vulture and Coyote
Roy Hobbs "My Life Didn't Turn Out The Way I Expected."
"The Natural" is by far my favorite baseball film. The protagonist, Roy states, "My life didn't turn out the way I expected" upon meeting Iris after a 17 year absence. I feel this quote can pertain to any person's life. It can be seen as a positive or negative statement. This print measures 11"x 17". A letterpress edit on of 20, with 2 Artists Proofs. Note: Each print has unique ink application so mild variations are to be expected from this image. $99
Image of the letterpress "My Life Didn't.."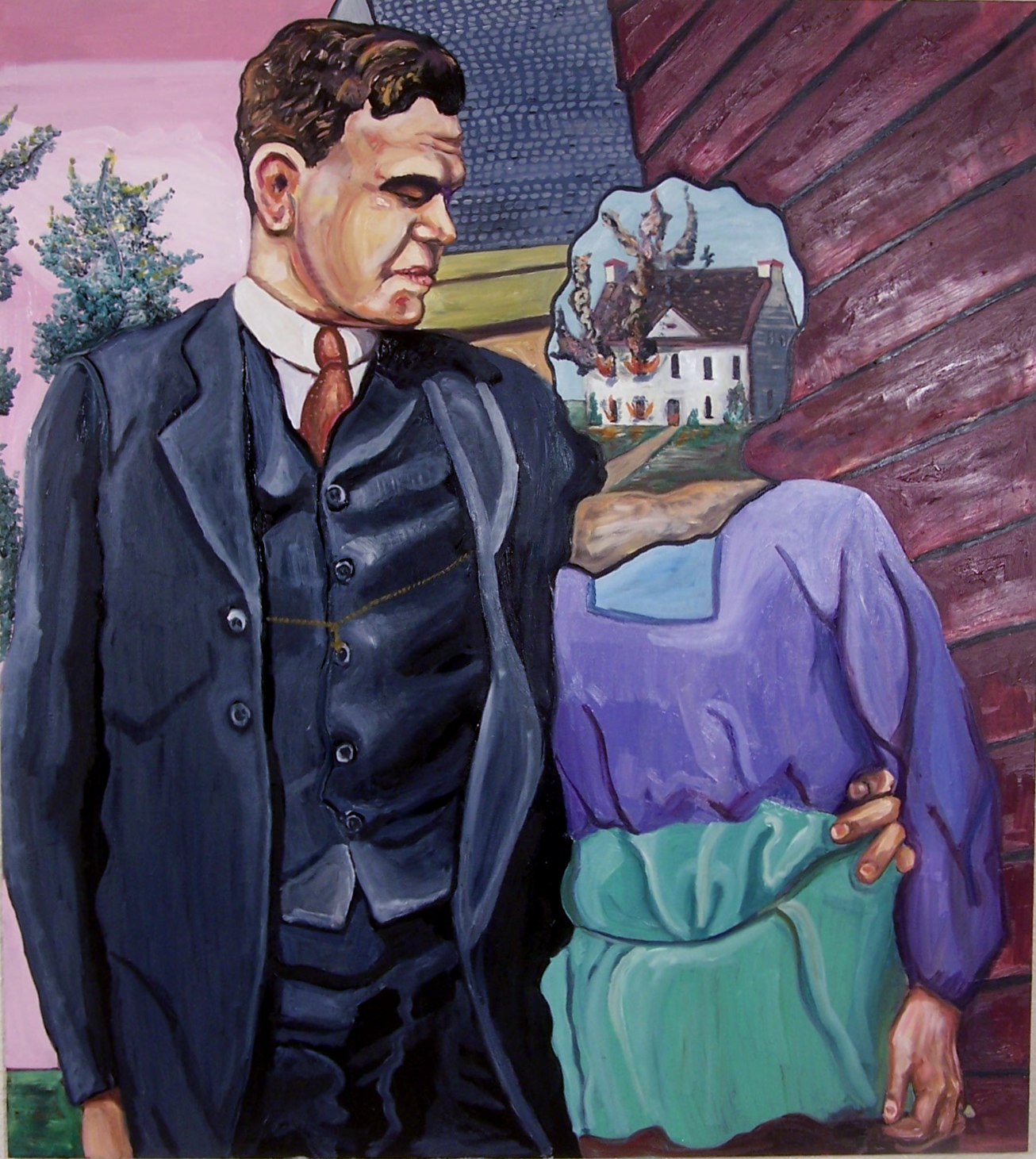 Should I Kiss You Or Kill You?
© 2009 • 36 by 30 inches • oil on Masonite board
$3500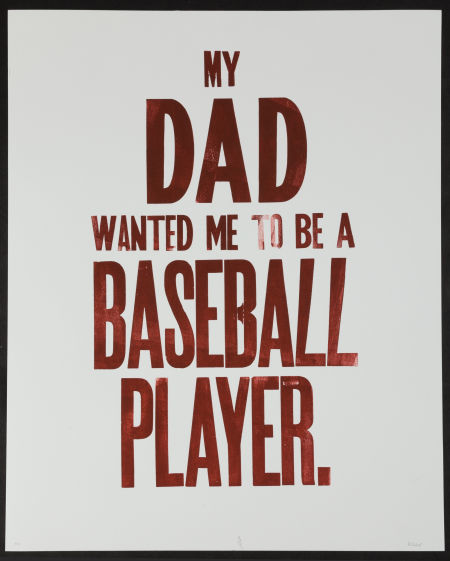 Roy Hobbs "My Dad Always Wanted Me To Be A Baseball Player."
Another quote from "The Natural," Roy states, "My dad wanted me to be a baseball player" after Pop Fischer tells him, "My mother wanted me to be a farmer." The second print is larger measuring 15.75 x 19.75. Twenty regular edition prints and 2 artist Proofs. Note: Each print has unique ink application so mild variations are to be expected from this image. $99
Bring Home The Bacon
An image of an aged Joe Jackson about to crack an egg on a burner that is far too hot. Eight pieces of bacon are nailed to the wall representing the 8 White Sox to gamble on the 1919 Series. The flies that buzz around the rotting meat represent the gamblers and the owners, who promised the players a $20,000 payday but only delivered $5000. Outside the window is Katie, Joe's wife, her world turned upside down with their livelihood taken away.
© 2007 • 48 by 48 inches • oil, plastic flies on canvas
$5500
The Birdman.
Charles "Old Hoss" Radbourn was known as one of the most dominant 19th century hurlers, but he gained notoriety of another sort. During a Boston/New York team photograph in 1886, he became the first public figure to be photographed extending his middle digit to the camera.
2013, Oil On Canvas 24"x 30"
$2750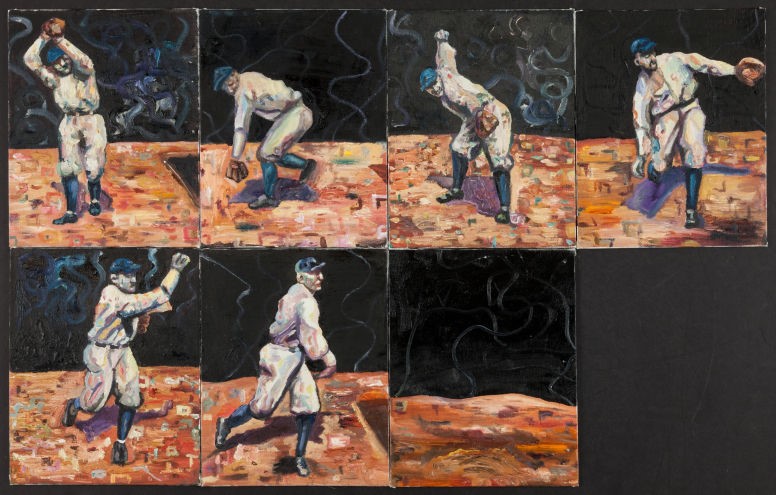 Ray Chapman Is Dead.
Carl Mays delivers one of his spitballs using his deceptive submarine delivery. In August 1920 he beaned star shortstop Ray Chapman in the temple killing him. 9x12" panels(7) Oil On canvas 2010. SOLD Private Collection
Happy Accident.
Mordecai Centennial Brown lost two fingers on his right hand in a farm-machinery accident, later gaining him the name "Three Finger Brown." Overcoming this handicap and turning it to his advantage, he became one of the elite pitchers of his era. This painting shows a pair of severed fingers in a pool of blood.
2012, 20"x 20" Oil on Canvas with ceramic fingers.
$2000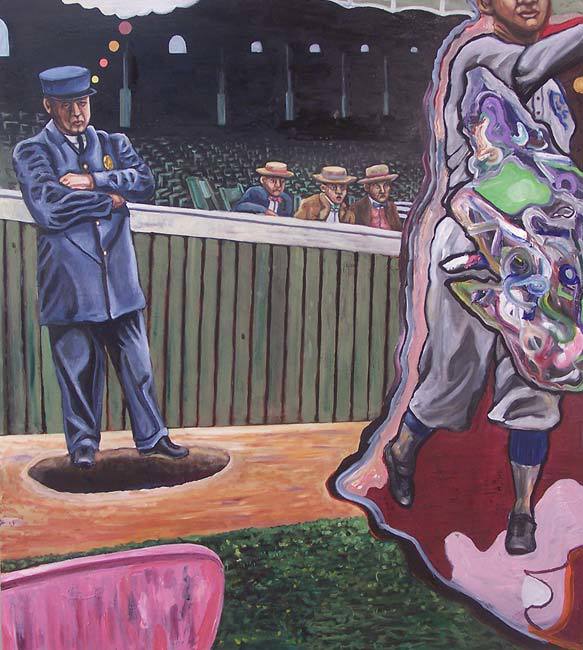 It's Sinking In.
A guard watches Cubs pitcher Orval Overall warming up and realizes that this is his life. He is normal, boring, and unspectacular. He will never receive the adulation of the famous but drown in the boring, mundane anonymity he loathes.
© 2010 • Oil on Masonite, 36 inches by 30 inches
$3000
Say It Don't Spray It.
Joe Jackson sits on trial. A panel of gossiping mouths spreads rumors of gambling. They all promised to keep their mouths shut, but it just didn't work out that way. The cork pops off the champagne bottle.
© 2009 • 40 by 30 inches, and 48 by 24 inches • oil on Masonite panel; mouth molds on wood panel
$4500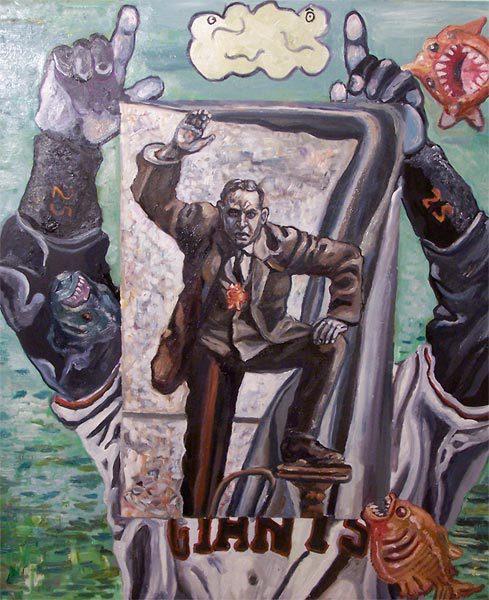 Don't Worry About Me, Save Yourself.
Billy Sunday played professional baseball during the 1880's, and later became a religious con man. Between 1908 and 1920, Sunday earned over a million dollars. An average worker during the same period earned less than $14,000 annually. I find the correlation that those who are successful see between success and religion interesting. When modern athletes point to the sky giving thanks for a home run I wonder whether their actions might speak louder than their public posturing. In this image the Jesus fish have turned into piranhas.
© 2008 • 24 by 20 inches • oil on Masonite panel
$1500
Joe Jackson
You're A Pawn In The Game
Christy Mathewson, master pitcher and chess player. I made this painting as a comment on war in the age of the military industrial complex.
©2007 • 48 by 60 inches • oil, plastic army figures on canvas
$5000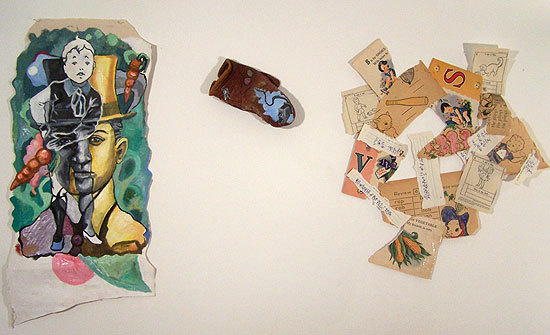 It's Hard To Look In The Mirror
The Black Sox scandal. Abe Attell was the middle man between the players and fix mastermind Arnold Rothstein. Abe is shown with an image of a young boy, a boxing glove in the middle and torn children's school work.
© 2008 • mixed media collage
$2000
For The Benefit Of Lillian.
SOLD- Private Collection- An image of the Addie Joss benefit game with Joss in the background. Baseball player turned Evangelist Billy Sunday performed the sermon, that is the text in the background. Lillian was the name of Addie's wife. 2014, Oil on Canvas 36"x48".

The Bughouse Victor.
Sold -Private Collection- Charles "Victory" Faust is the subject of this dyptich. Faust suffered from a mental condition limiting his cognitive ability. He was told by a fortune teller that he would pitch the NY Giants to the World Series. He met John McGraw the manager of the team who allowed him to hang around the team because of his eccentric behavior. It just so happened they went on a winning streak and Victory had earned his stay as a mascot. He was even allowed to pitch in a few mop up games. Once the team stated to lose he was sent packing, and ended up in a mental institution, where he eventually died. The painting on the left shows a postcard view of the mental institution with the words "Victory" above it and a fortune teller hand. The canvas on the right is the back of the postcard written to John McGraw asking to get back with the team. 2014 Oil on Canvas 44"x30" each canvas.
Headache Funeral
Cy Young ties his shoes, and asks if the game is over. The game is metaphoric for life. Headache funeral is written in the background with a series of 0's and 9's representing the concept of heaven and hell.
24"x 36"
$3500
Yesterday has gone on too Long.
This painting is of Ty Cobb. The shotgun behind his head symbolizes the anxiety he had throughout his life stemming from the fact that his mother shot his father eight days before he was called up to the major leagues. The billboard in the background reads Pop's Root Beer. There is also a painting of a man, and underneath the man reads Home and Away.
The crows in the painting are symbols of African American players and Jim Crow laws of racial segregation. Cobb was purportedly in the KKK. The mask on the field represents the masks that we all wear in our interaction with others. Cobb was born in Georgia 30 years after the Civil War ended, and his grandfather was a colonel in the Confederate Army. It would be rare to meet a person in his situation who wasn't racist.
© 2004 • 48 by 48 inches • oil on canvas
$5500
Unwind Your Mind
The unraveled baseball draped over the hands symbolizes the mind and heart of every individual. A person should be judged on these characteristics rather than outward physical appearance.
© • 10 by 24 by 8 inches • mixed media on wood
$2500
Money Won't Buy A Soul.
Joe Jackson at bat. A stage is to the right of the picture plane. Once we start trying to impress with material possessions, it can never stop.
© 2005 • 20 by 10 inches • oil on canvas •
$1000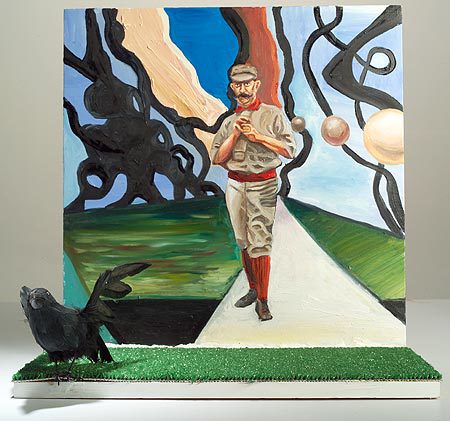 Black Bird Fly
The crow is a recurring symbol I use for Jim Crow laws. The bird is turned away from a white path with the player in front of a red, white, and blue color scheme.
© 2003 • 20 by 20 by 11 inches • mixed media on canvas
$2500
Forget Yesterday
The player jumping is Jimmy Collins, a Red Sox great. Collins' leadership and keen play helped the Red Sox win their first World Series in 1903. I painted this a week after the Red Sox Won the World Series in 2004.
2004, 48"x 48" Oil On Canvas.
$4500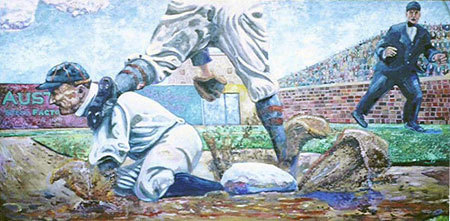 The Descent Of Man.
This is a famous shot of Ty Cobb sliding hard into Jimmy Austin at third base. A billboard in the background reads, "Austin Steel Factory" in reference to Cobb spiking him with his steel cleats. Another billboard reads, "Damn Yankees," as Cobb was from the South and once said the reason he didn't speak to his teammates was they were all, "Damn Yankees."
The title of the painting refers to a Charles Darwin book.
©1998-2004 • 48 by 96 inches • oil on Masonite
$8500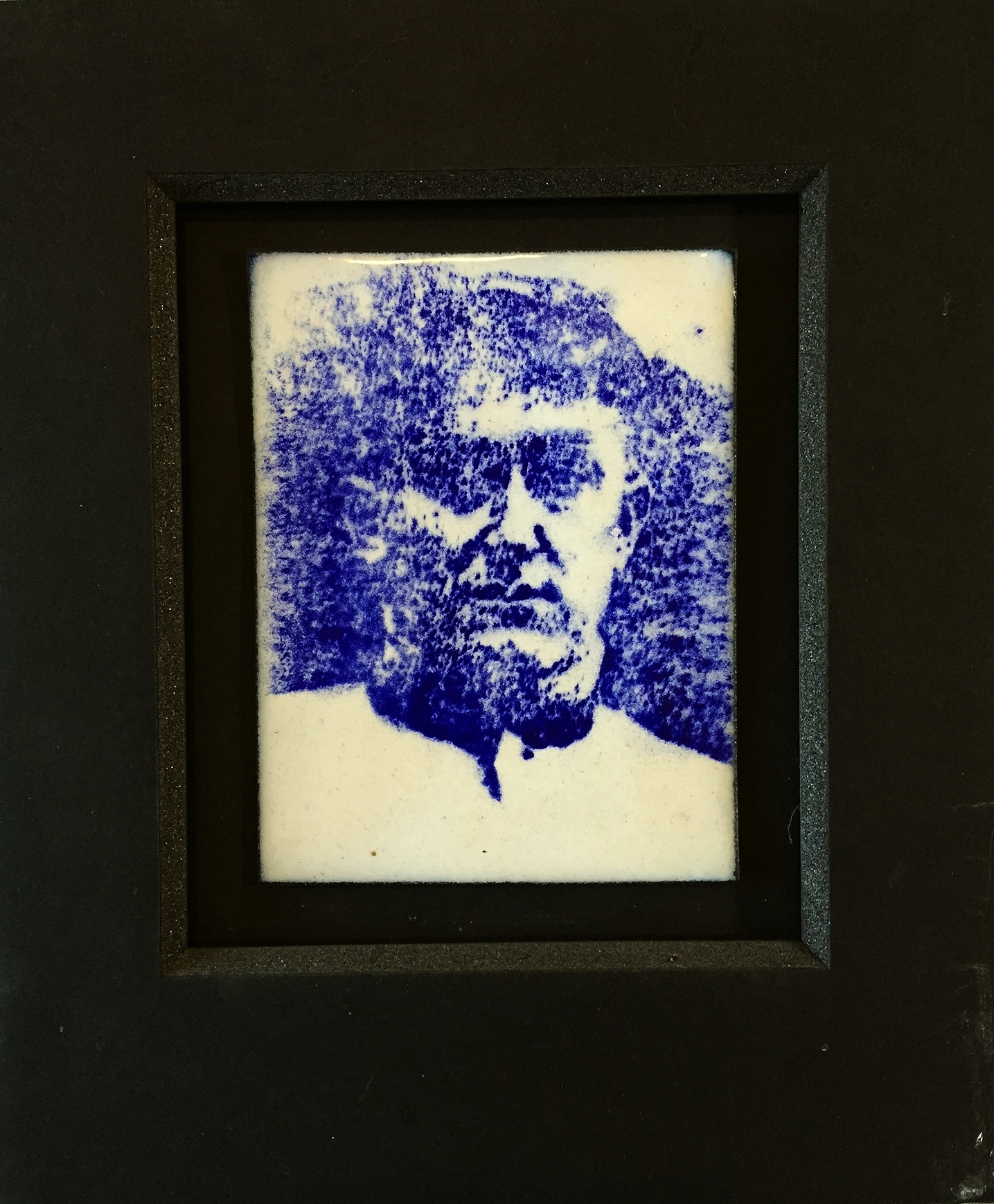 Rectify My Will.
Ty Cobb featured in a enameled tile. An eerie image in which his face fades into the foreground and background.
Enamel on Metal mounted 5"x 3.75", mounted piece measures 9.5"x8", 1999. $500
8 Men Out.
Shoeless Joe Jackson and his seven teamates who were banned from baseball in 1919 are the subject of this painting. Although it was obvious by his play Jackson was innocent of throwing the series, Judge Landis banned him for life. The painting is on a 2" deep wooden box with 8 holes drilled in the face. When you look through the holes you see money attached to the back of the box.
2002. 36 by 30 by 2 inches • oil on wood
$4000
Trapped In A Box (Detail)
Mold of face has tear streaming down the cheek.
Trapped In A Box.
This piece represents Josh Gibson drowning in racism. The face is in front of red, and white stars, and surrounded by blue as if drowning or suffocating. The title is about being trapped in a world in which many people only understand their own microcosm.
© 2000 • 25 by 36 by 6 inches • mixed media on wooden box
$4000
A Way Out.
Jack Johnson fought his way out of the poverty of the deep south to become Heavyweight Champion of the World. Jack also had a penchant for white women, often traveling with more than one at a time. The Mann Act was created to put Johnson in jail for bringing women across state lines for immoral purposes. Jack came from nothing and was pushing the envelope 40 years before anyone had heard of Jackie Robinson.
$2000
Fear Your Inhibitions.
© 2001 • 48 by 60 inches • oil on canvas
$4000
Feed Your Ego.
Ty Cobb with various symbols illustrating his desire to be the best at everything by any means. This behavior was based in his insecurities and occurrences that have scarred him mentally.© 2005 • 58 by 60 inches • oil on canvas
$3250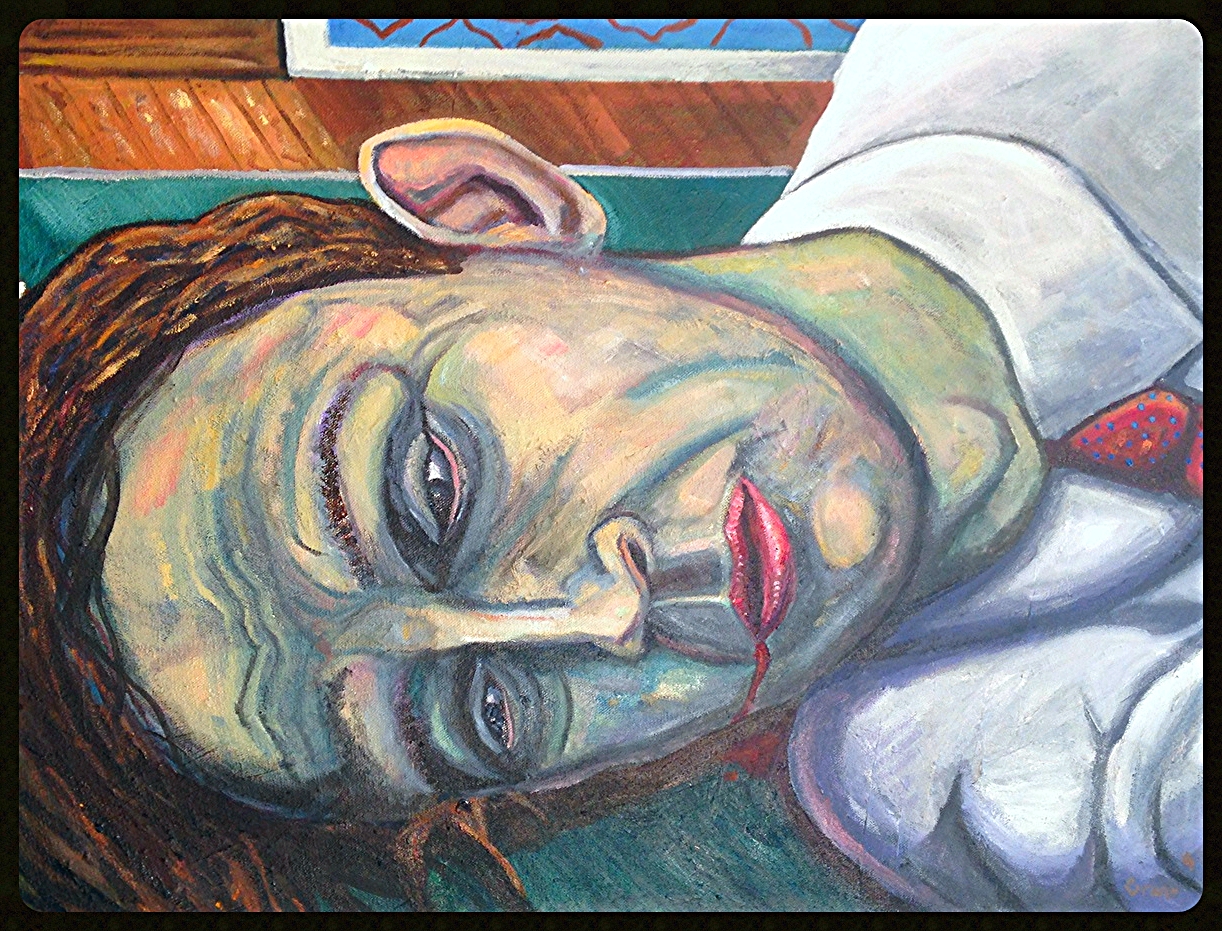 Eddie Waitkus Has Been Shot.